A court in Skagit County, Washington, will consider Friday whether the state should impose enforceable emergency safety rules to protect farmworkers from the coronavirus.
The case, which pits the labor advocacy group Familias Unidas por la Justicia and the United Farm Workers of America against the state's labor and health departments, is among the first agricultural labor lawsuits filed in the country since the COVID-19 outbreak began.
Smithfield Foods was sued April 23 in federal court over working conditions at a Missouri pork processing facility.
In the Washington case, the labor groups are seeking adequate social distancing in farm labor housing and transportation and to ensure that protective gear is available at work sites, among other concerns.
"We know as farmworker advocates that farmworkers are living with a threat of retaliation if they speak up for themselves over safety and health issues, constantly," said Andrea Schmitt, the plaintiffs' attorney.
"We knew that workers would have a tough time as opposed to people in other industries saying, 'Hey, I don't think you're observing social distancing.' That would be hard for a farmworker to bring up with his or her employer," she said.
Full coverage of the coronavirus outbreak
Brionna Aho, a spokeswoman for the state attorney general's office, which is representing the health and labor departments, referred NBC News to the agencies.
Health Department spokeswoman Annie Johnson said in an email: "The Department of Health is working closely with the Governor's Office, other state agencies, growers, community advocates and other stakeholders to address worker and public health safety needs in temporary worker housing."
"We are currently working with other state agencies to draft emergency rules to help keep COVID-19 from spreading among farmworkers," she added.
The Department of Labor & Industries did not immediately respond to a request for comment Thursday afternoon.
Skagit County Superior Court Judge Dave Needy is set to hear the motion for injunctive relief Friday morning.
Workers would be unable to pay hospital bills, organizer says
Skagit County (pronounced SKA-jit), between Seattle and the Canadian border, primarily grows strawberries, blueberries, raspberries and tulips. Typically, farmworkers start to move into the berry farms to get ready for the summer harvest, labor organizers say.
Under normal circumstances, many laborers would already be working in nurseries that serve the Skagit County Tulip Festival, an annual monthlong event that was canceled this year because of the virus. Usually, they work in crews of up to 120 workers, but the number has been reduced to 20 to prevent spread.
Farm labor advocates say they are concerned because 13 people in the county have died from COVID-19.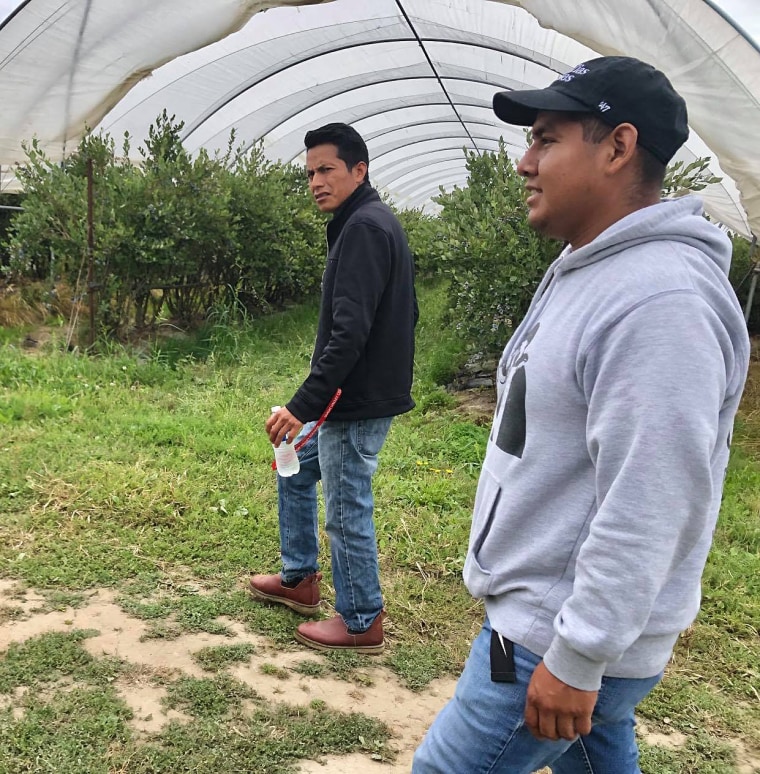 "We don't want to wait for the worst thing to happen, so that's why we pursued this lawsuit so these farmworkers are included," said Marciano Sanchez, a union organizer with Familias Unidas.
Because of the cancellation, far fewer people are working than under normal conditions, he said. Some would have moved temporarily to farms in California while they waited for the berry fields to be ready, but that has become difficult because of stay-at-home orders, he said.
"Most of the farmworkers in this community, they're indigenous [Mexican] farmworkers or undocumented — they're not sure if their information is getting released to ICE, if it's going to be used against them," he said, referring to U.S. Immigration and Customs Enforcement. "If they go to the hospital, they're going to be getting these hospital bills that they're not going to be able to pay for."
Lawyers representing the state said in their reply to the court that the plaintiffs have "not exhausted administrative remedies" and that the court does not have the power to "determine the substance" of new rules. They said "there is no actual and substantial injury" to the plaintiffs.
The labor groups responded Wednesday, arguing that the agencies must provide "enforceable, specific mandates."
Download the NBC News app for full coverage and alerts about the coronavirus outbreak
Jennie Zwagerman, director of the Agricultural Law Center at Drake University in Des Moines, Iowa, said in an email that the labor groups' arguments may overcome the conventional administrative rule-making hurdle.
"The big unknown here though is what a novel, national emergency situation does when it comes to setting enforceable rules versus guidance, suggested procedures," Zwagerman said. "What is our duty to protect essential workers when there is an executive order requiring these employers to operate?"