The Fashion Institute of Technology in New York City is placing two top administrators on leave after an alumni fashion show included models adorned in large prosthetic ears, lips and bushy eyebrows — accessories one black model at the event called racist and refused to wear.
On Friday, two weeks after the Feb. 7 show, the president of the public college, Joyce Brown, announced that Mary Davis, dean of the School of Graduate Studies, and Jonathan Kyle Farmer, chair of the MFA Fashion Design Department, had been placed on administrative leave pending the conclusion of an outside investigation into origins of the show.
"Those in charge of and responsible for overseeing the show failed to recognize or anticipate the racist references and cultural insensitivities that were obvious to almost everybody else," Brown wrote in a letter to students. "That's inexcusable and irresponsible — but also why we are commissioning an independent investigation."
The school has retained the law firm of Bond, Schoeneck & King to look into the incident, "including what led up to the show and what followed," the college president said.
Even just prior to the show, there were concerns.
Model Amy LeFevre, who is black, said she learned just prior to when she was supposed to walk down the runway that she was expected to wear certain accessories.
She told NBC News that she told the show's organizers the items recalled caricatures of black people that exaggerated their features.
But the show went on, producing numerous photos such as those below, which some readers might find offensive or disturbing.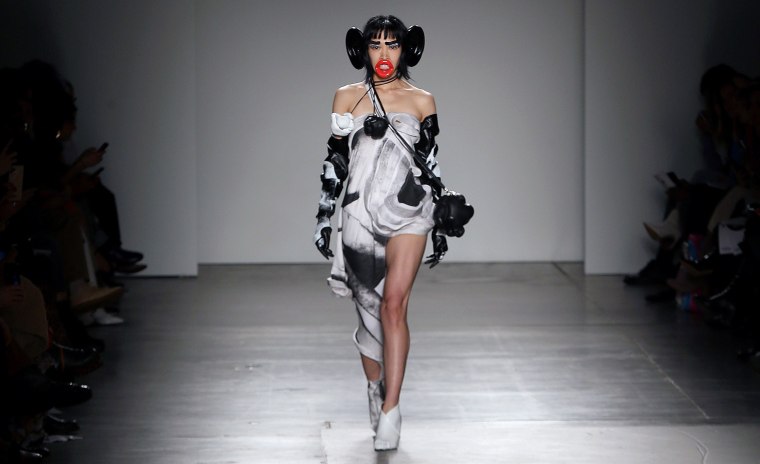 "I almost broke down in tears when the leadership of the show was pressuring me to wear these accessories," LeFevre said.
She said students from the school "did come to support me, realizing how inappropriate (the accessories) were, but they were yelled at to move away from me."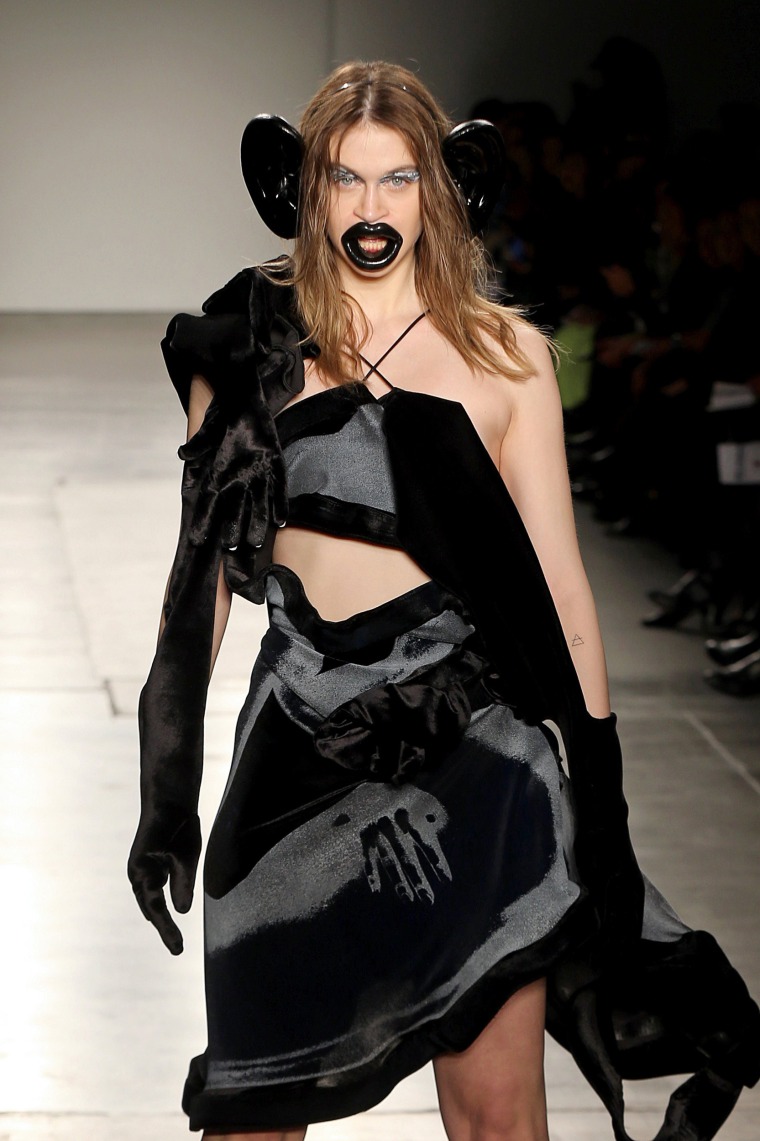 Farmer, the chair of the school's masters of fine arts program, apologized in an Instagram post.
"I deeply apologize for any harm and pain I've caused to those involved with the show, including Amy LeFevre," he wrote. "It was never our intent for the show's styling to be interpreted as racist or to make people feel uncomfortable but I now fully understand why this happened. I take full responsibility and am committed to learning from this situation and taking steps to do better."
Other fashion brands have received heavy criticism for producing pieces that carry offensive racial overtones, as the industry appears to grapple with pushing the envelope while missing racist tropes.
Last year, Gucci apologized and stopped selling an $890 sweater that resembled blackface. Prada announced earlier this month that it would require employees and executives to undergo racial-equity training after one of its window displays in New York City included figurines deemed racist.
What would help stop these incidents from occurring, Lefevre said, is if people of color were put in positions of authority to provide some much needed oversight.
"In general, we should always strive for more common understanding," she said. "I think as a community, we need to keep moving forward and understanding between different peoples and cultures is key to a better future."