Outrage continued to grow Thursday over the fatal shooting of a Minnesota man whose girlfriend captured the aftermath of the incident on live video.
Philando Castile's grief-stricken fiancée Diamond Reynolds, claims he was shot five times during a traffic stop in Falcon Heights, a suburb of the Twin Cities.
"He didn't have any last words," Reynolds tearfully recalled Thursday morning, hours after she said police released her and her young daughter, who was also in the car. "His eyes rolled into the back of his head and he was gone instantly."
Minnesota Gov. Mark Dayton said in a statement Thursday morning that he asked the White House to compel the U.S. Department of Justice to begin an independent federal investigation into the death of Castile, who would have turned 33 on Friday.
He added that the Minnesota Bureau of Criminal Apprehension has already begun "collecting all necessary evidence, and interviewing witnesses, to determine what happened, and to assure that justice in this case is served."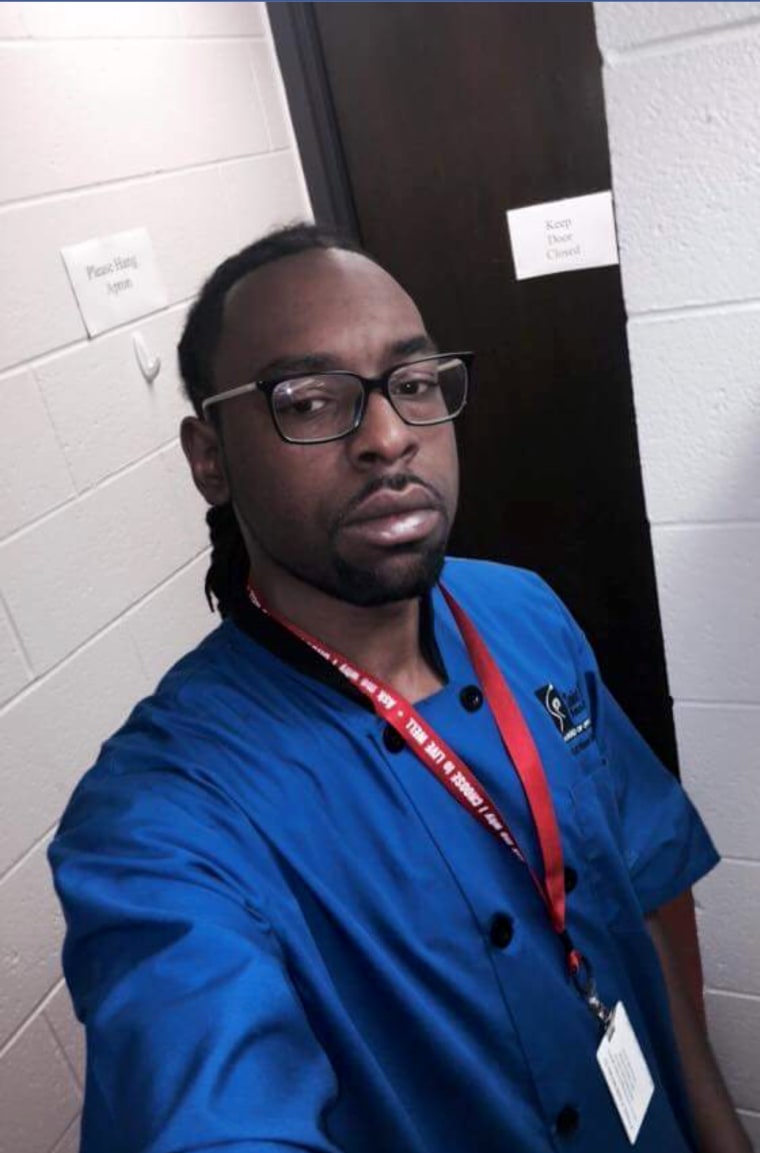 The Justice Department said Thursday that it was aware of the incident and was "assessing the situation."
Castile died at the hospital following the incident around 9 p.m. local time Wednesday.
Crowds shouting "no justice, no peace" have remained outside the governor's mansion in protest to the incident — the second police-involved shooting of a black man to gain nationwide attention in as many days. The fatal shooting early Tuesday of Alton Sterling, of Baton Rouge, Louisiana, has led the Justice Department to head an investigation.
President Barack Obama on Thursday said he was "deeply troubled" by the latest police-involved shootings, and promised a fair federal investigation in Baton Rouge.
"But regardless of the outcome of such investigations, what's clear is that these fatal shootings are not isolated incidents," the president said in a statement. "They are symptomatic of the broader challenges within our criminal justice system, the racial disparities that appear across the system year after year, and the resulting lack of trust that exists between law enforcement and too many of the communities they serve."
Related: Philando Castile Shooting in Falcon Heights, Minnesota, Sparks Protests
The St. Anthony Police Department, which covers Falcon Heights, did not immediately detail what led up to the shooting in his community of 5,300. Castile was identified by his family.
Reynolds told reporters that the couple and her daughter had gone to get groceries and Castile had just been to the barber for his upcoming birthday when they were stopped by a St. Anthony cop.
She said the officer asked them if they knew they had a broken taillight, and they responded no.
Then, Reynolds said, the officer asked them to put their hands in the air, and they complied. The officer then asked Castile, who was driving, for his identification.
Reynolds said he kept it in a thick wallet in a right-back pants pocket.
"As he's reaching, he lets the officer know, 'I have a firearm on me,'" Reynolds said. "I begin to yell, 'But he's licensed to carry.' After that, he began to take off shots — bup bup bup."
Reynolds said that "nothing in (Castile's) body said intimidation," but the officer ordered him, "Don't move, don't move."
"He killed him for no reason at all," Reynolds said, adding that the cop appeared to be crying. "He was frantic and very, very nervous."
The officer, she added, never checked for a pulse.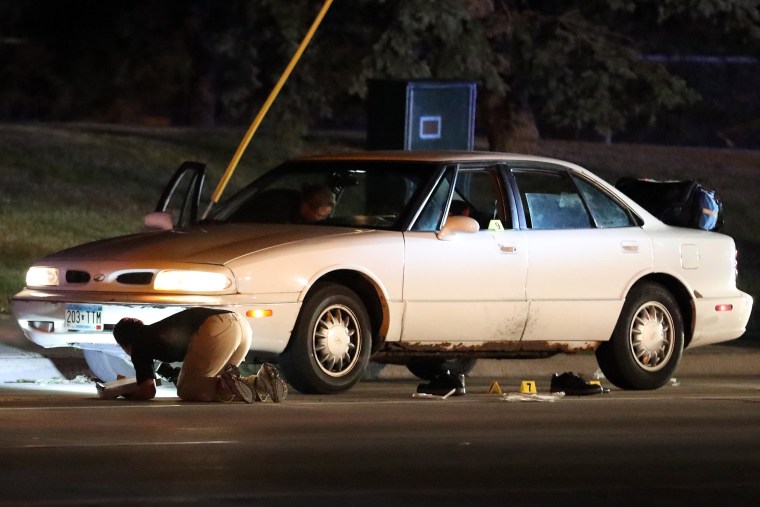 She said that she used her cellphone to record the aftermath and put it on Facebook because "I wanted everyone to know that no matter how much the police tamper with evidence ... I wanted to put it on Facebook and go viral so that the people can see."
In the video, Reynolds remains calm.
The officer, who is not identified, continues to point his gun at Castile, who apears slumped in his seat in a blood-soaked T-shirt.
"Oh my God, please don't tell me that he's gone. Please, officer, don't tell me that you just did this to him," Reynolds says.
The officer is heard saying, "I told him not to reach for it!" to which the woman replies: "You told him to get his ID, sir, his driver's license."
Reynolds described Castile as a "very, very sweet man" who wasn't involved with street gangs and only wanted to take care of his family.
The officer "took a part of my heart," she said. "He took a part of my soul."
Castile was a cafeteria supervisor at J.J. Hill Montessori School in St. Paul; he had worked for the district since 2002 and was promoted in 2014. A statement from the school district described him as a "team player" with a "cheerful disposition" who greeted people with a smile and a hug.
Interim St. Anthony police chief Sgt. Jon Mangseth said overnight Wednesday that he did not have details on what prompted the traffic stop, telling a press conference that he was aware of Reynolds' livestream but hadn't seen the video. The officer involved has been with the police department for around five years, he added, and has been placed on paid administrative leave.
Police did not say how many times the driver had been shot by the officer. An autopsy was pending Thursday.
Castile's mother, Valerie Castile, said her son had a concealed weapons permit to carry a firearm. She told NBC News they had previously talked about what to do if he was ever stopped by police.
"'You tell them you have a weapon on you, and whatever they ask you to do, you do it,'" Valerie Castile said she told her son. But "what's the difference if you comply and you get killed anyway?"
Records show Castile had been pulled over and charged 31 times since 2002 for traffic-related misdemeanors. None of the cases were felonies and none of the charges were for violent or serious crimes.
Castile's younger sister, Allysza Castile, said she learned about what had happened when Reynolds' video was broadcast live on Facebook. She immediately told her mother, and they rushed out to be with him.
Allysza Castile said she was upset to see in the video how the officer pointed the gun at her brother after he was shot and didn't appear to help him as he bled out.
Valerie Castile said her only thought was to "get over there, be with my son — I don't want him to die alone."
Others who knew Castile said he was "one of the good guys."
Donn O'Malley, the J.J. Hill Montessori School's Parent Teacher Organization chairman, said that he was a "cherished" member of the community.
"We entrusted our children to him during the school day and our children loved him," he told NBC News. "When I saw the news this morning and told my children about it, they were sad, confused and immediately started sharing with me how great Phil was."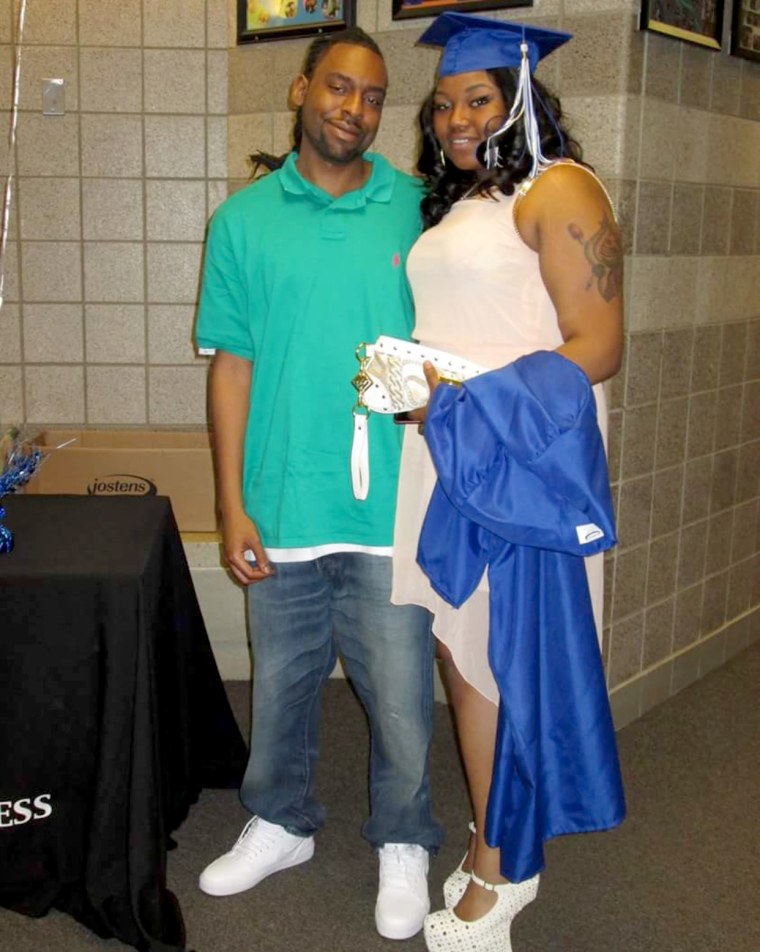 The PTO was planning a march Thursday night in honor of Castile, added group member Tony Fragnito.
"Working in a school, your job is about enhancing the life of young learners," Fragnito said. "He took that to the next step. He had a lot of pride and passion in taking care of kids and making sure that they are productive and passionate adults."
Rebecca Penfold Murray, whose children attend J.J. Hill Montessori School, wrote about Castile on Facebook after learning he was killed. She said he was friendly with all of the kids on the breakfast line in the morning.
She added that her 5-year-old son, who she says has a "sensory processing disorder," was always excited to see Castile.
"Philando was gentle, he was calm and really attentive. My son is a picky eater and rarely took more food," she told NBC News. "Phil would always say, 'Hey, come here, take an extra cracker.' He was always making sure that kids had what they need."
"He showed up for everybody else's kid every day," she added. "I really want that to be known. He was a really valuable person in my young child's life."