In December, Sarah Hartsfield told a friend that her husband and marriage had become a "nightmare" and that she had a plan to get out, according to private Facebook messages the friend provided to NBC News. 
Weeks later, the husband was dead; Hartsfield, a former Army sergeant, was charged with first-degree murder; and authorities in Minnesota had decided to re-examine the death of a former partner who they had previously said Hartsfield killed in self-defense in 2018.
In a Dec. 19 message, Hartsfield, 48, called her husband, Joseph Hartsfield, 46, an "empty person" and derided his "financial irresponsibility."
"I've paid for everything to the point I have nothing left," she said. "He was just looking for a meal ticket and way back to a lifestyle he could never attain on his own," she wrote in the messages, which NBC News confirmed came from an account that belonged to Hartsfield.    
Hartsfield, who did not detail any specific plans to her friend and neighbor, wrote that "it's now a matter of implementing / executing."
The friend, who asked not to be identified for fear of being publicly linked to Hartsfield, said she'd thought her friend's message meant she wanted out of her marriage and to get on with her life — not that she was "planning to kill him."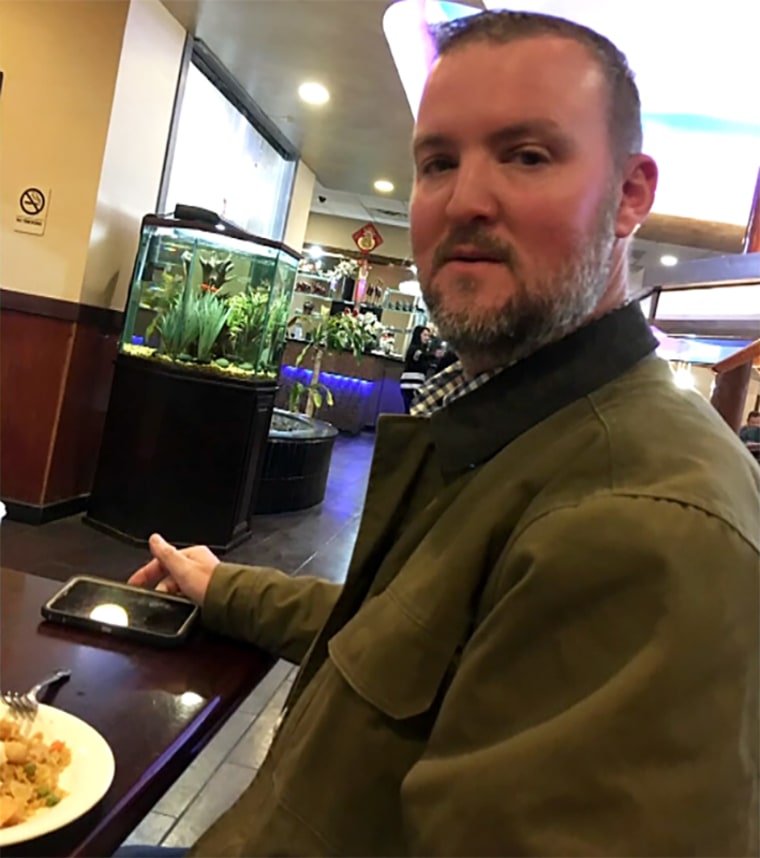 Sarah Hartsfield has pleaded not guilty.
Five years before she was accused in her husband's death, Hartsfield fatally shot another partner. Authorities in Minnesota determined that she fired in self-defense and that the killing was justified. But days after her Feb. 3 indictment in the killing of Joseph Hartsfield, authorities said they had reopened the investigation into the 2018 death of David Bragg. 
Chambers County, Texas, Sheriff Brian Hawthorne alluded to other episodes in Hartsfield's past, telling NBC affiliate KPRC of Houston that she had been married five times in relationships that often ended under grim circumstances.
"Everybody wants out of it because they fear for their life," Hawthorne told the station.
Her first ex-husband, Titus Knoernschild, was among them. He told NBC News that he was afraid of her while they were married and after their divorce.
"I'm very surprised I got out of the marriage alive," he said. 
Joseph Hartsfield was scared for his life, too, and he told a family member so, according to Hawthorne, who declined to comment on the Facebook messages.
"He felt like his wife was trying to kill him," Hawthorne said in an interview, adding that Joseph Hartsfield shared the concern with a relative before a nurse summoned deputies to the medical facility east of Houston where he was hospitalized.
A suspicious illness
When Joseph Hartsfield was hospitalized on Jan. 7 with what authorities described as a suspicious illness, he was already "brain dead," according to a search warrant affidavit.
He was pronounced dead 11 days later, public records show. A cause of death has not been determined.
Sarah Hartsfield is being held in lieu of $4.5 million bond, court records show. Hawthorne said she was placed on suicide watch after her March 1 arraignment.
Hartsfield's lawyer, Keaton Kirkwood, did not respond to requests for comment. In a statement to KPRC last month, he said his client "maintains her innocence and will assist in the investigation of her husband's untimely death." 
"We are engaged in the discovery process and would remind the public to withhold any judgment until due process has been satisfied," he added.
Joseph Hartsfield was diabetic, and before he was hospitalized, his blood sugar levels had dropped precipitously, a search warrant affidavit shows. Sarah Hartsfield told investigators that she went to get him juice and jam and that when she returned to their bedroom, he'd vomited on himself, according to the affidavit.
Hawthorne said that by the time Joseph Hartsfield arrived at Houston Methodist Hospital in Baytown, he was unconscious and in "dire straits."
According to the affidavit, a nurse believed there may have been foul play because he was failing to respond to the glucose that medical staff members were pumping into his body.
"The amount should have been enough to last for hours," the affidavit says. "In Joseph's case, his blood sugar kept crashing."
"This could be a sign of too much insulin in his system," the document says, adding that eight to 10 insulin pens were found on his side of the couple's bed at their home.
In the weeks after Joseph Hartsfield's death, Sarah Hartsfield posted on Facebook that she felt "numb and lost" without him and that she'd listened to old phone messages just to hear his voice.
"I guess I'm going to try to sleep, I can't possibly cry and weep anymore than I have this evening," she wrote on Jan. 27. "I love you Joseph Hartsfield."
Two days later, she wrote: "As I sit here trying to think of something to be grateful for in the midst of where I am, I'm so so glad Joe and I said the things that were said to each other so there'd be no regrets. We didn't have cross words, no raised voices, no cold shoulder or silent treatment. We were being ourselves, united, figuring it out together."
Army career
In the upscale central Texas neighborhood where the friend who provided the Facebook messages lived near Sarah Hartsfield for years, residents were "utterly stunned" by the allegations and the murder charge.
The neighbor said Sarah Hartsfield had always been "very nice" — someone who participated in a neighborhood-focused Facebook group and seemed more like a divorced housewife than a soldier.
"She moved away, got married and was happily married," the friend said. "She had beautiful wedding pictures. Then he goes to the ICU and never comes out of the ICU."
An Army spokeswoman said Sarah Hartsfield — then known as Sarah Donohue — served in the Army for a year in the late 1990s and again for a decade beginning in 2007. She was in the Army Reserve from 1998 to 2007.
Initially a motor transport operator, she later became an intelligence analyst and deployed to Iraq from November 2007 to August 2008, the spokeswoman said. At the end of her service, she held the rank of sergeant first class.
A woman who served with Sarah Hartsfield in Iraq said she was "in shock" over the arrest.
"At the time, she was a devoted squad leader, wife and mother," said the woman, who also asked not to be identified for fear of being publicly linked to Sarah Hartsfield.
Efforts to reach Hartsfield's adult children were unsuccessful.
Interactions with exes after divorces
The news of Sarah Hartsfield's arrest was hardly shocking to Knoernschild, her first ex-husband.
The two met at a small-town Missouri high school in 1991 when Knoernschild was a junior, he said. They married two years later and were separated by April 1995.
Knoernschild said that while they were splitting up, she appeared to threaten him, alleging she said: "Don't be surprised if you don't make it through this."
In the decades that followed, she continued to "interject" herself in his life, even after he remarried and had a family, Knoernschild said.
Knoernschild's wife, Angela, said: "She was like a bad penny — every time you'd turn around she'd be there. She doesn't do it to confront you. She does it to remind you she's there."
In a brief interview, Sarah Hartsfield's second husband, Michael Traxler, said their relationship was "super short" and in the "rearview mirror."
"I haven't spoken to her in 15 years," he said.
Another husband, Christopher Donohue, filed for divorce in 2017, court records show. A little over four years later, at roughly the same time the records show he requested an order of protection against Sarah Hartsfield, federal authorities asked a police detective in Sierra Vista, Arizona, southeast of Tucson, to monitor Donohue's home, Sierra Vista police said.
Details of the episode remain unclear. Court officials in Bell County, Texas, have not provided documents associated with the request, and a Sierra Vista police spokesman said the police department was not involved in the FBI probe that involved Christopher Donohue, his new wife and Sarah Hartsfield, who had remarried and was known then as Sarah George. (The FBI did not respond to a request for comment.)
The detective carried out "close patrols" of the home as asked, the spokesman said, adding that no criminal charges were filed.
On June 7, two months after Donohue sought it, a judge granted the protective order, according to court records in Bell County. The order barred Hartsfield from contacting Donohue and their children for two years.
Donohue did not respond to requests for comment. 
Kirkwood, Sarah Hartsfield's lawyer, did not respond to requests for comment. In the statement to KPRC, he said: "We adamantly denounce the misinformation that has been provided to the public regarding her past."
'Head over heels' before she shot him
In 2017, David Bragg met Hartsfield at Fort Hood, where she was stationed and he was working for a solar company, said Bragg's mother, Laura.
Initially, Laura Bragg said, her son was "head over heels in love" with Hartsfield and believed she was the "great love of his life."
"We looked at it through those lenses because what made him happy made us happy," she said.
Sarah Hartsfield moved to Minnesota and began working on a house with Bragg on a large plot of land in Douglas County, 150 miles northwest of Minneapolis, said the friend who provided the Facebook messages.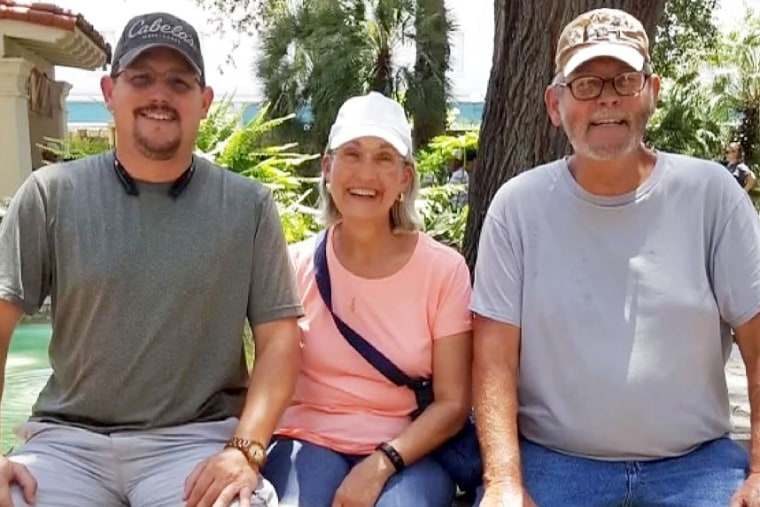 The friend recalled that Sarah Hartsfield would email her about the home, describing the pantry she wanted and what color paint she was considering.  
But after a couple of months, Laura Bragg said, her family started seeing "flaws and cracks." On May 9, 2018, Sarah Hartsfield fatally shot David Bragg in their home.
Hartsfield told investigators that she shot Bragg after he assaulted her and fired a gun at her, Douglas County Attorney Chad Larson said in a 2019 letter.
A forensic analysis of the weapons supported her version of events, as did witness statements, Larson wrote. The letter does not say who saw the shooting.
"Under the circumstances, Ms. Donohue was justified in shooting Mr. Bragg as a matter of self-defense as she was facing lethal force and had no reasonable possibility of retreating from the threat," Larson wrote.
But after Sarah Hartsfield's indictment in Texas this year, the top prosecutor in Douglas County said an investigation into Bragg's fatal shooting was "active" again after new information was provided to the sheriff's office.
In a statement, Larson did not offer additional details about the information. His office said this month that the investigation was still active.
Bragg's relatives said in a statement that they were relieved the prosecutor was taking another look at his death.
"Almost 5 years ago our family lost a son, a brother, an uncle, and a FATHER," the statement said. "With very little information regarding his death, we were unable to ever really move forward. All we knew is that the man that was described by his killer was in fact not the David we all knew and loved. His death was very random, and the circumstances that surrounded his death seemed farfetched, and almost made up."
"We are hopeful that this time around, we will be able to have that closure, and the knowledge that nobody else will be hurt by this woman," the family said.