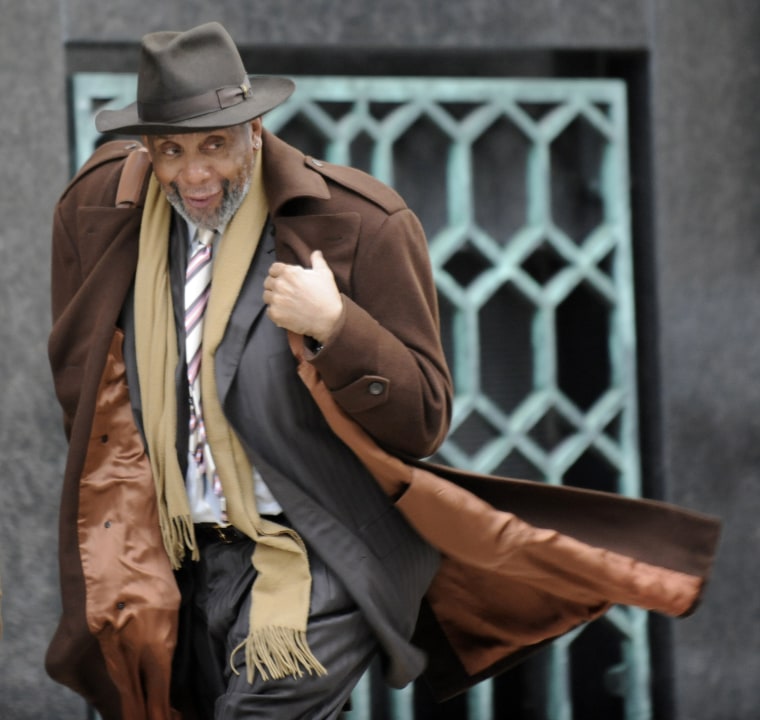 One week after former Detroit Mayor Kwame Kilpatrick was sentenced to nearly three decades in prison for a slew of corruption convictions, his father on Thursday was ordered to serve time behind bars for tax crimes stemming from his son's financial misdeeds.
Bernard Kilpatrick, 72, was sentenced to 15 months in prison for cheating on his taxes — the only crime he was convicted of in his racketeering trial.
He was also ordered to pay back upwards of $62,000 to the Internal Revenue Service, according to NBC News affiliate WDIV in Detroit.
Although the jury was stuck at an impasse on a racketeering conspiracy charge, U.S. District Judge Nancy Edmunds said she thinks the evidence presented demonstrated that the elder Kilpatrick played a key part in the fallen mayor's criminal enterprise, the Detroit Free Press reported.
Edmunds said the case "reflects an attitude of disrespect for the law and a culture of greed," according to the newspaper.
The elder Kilpatrick's lawyer, John Shea, had lobbied for probation or a "minimal" prison stay for his client, saying that he has no criminal history, was convicted on just a single tax charge and is too elderly for time behind bars.
Although Shea's requests went unheeded, he said after sentencing Thursday that "it could have been a hell of a lot worse," the Detroit Free Press reported.
In remarks in the courtroom before he was sentenced, Bernard Kilpatrick said he regrets the scars the ongoing legal saga has left on his loved ones
"I have brought misery on my family... I have messed up," he said, according to the newspaper. "No question about it."
He added: "I have nothing but deep regrets."
Related: Former Detroit mayor sentenced to 28 years for 'pay-to-play' bribery
His son was sentenced to 28 years in prison on Oct. 10 for a wide-reaching scheme to fill his and others' coffers via fixed contracts, bribes and kickbacks. 
Kwame Kilpatrick, 43, was found guilty in March of more than 20 charges, including racketeering and extortion. All the while, Detroit teetered on the brink of financial collapse.
Before his sentence was read in court last Thursday, Kwame Kilpatrick told the court he was "ready to go so the city can move on."
"The people here are suffering, they're hurting. A great deal of that hurt I accept responsibility for," he said, according to the Associated Press. "I want the city to heal. I want it to prosper. I want the city to be great again. I want the city to have the same feeling it had in 2006 when the Super Bowl was here."
In response to his remarks, Judge Edmunds slammed Kwame Kilpatrick's alleged greed.
"A man with the charisma and ability of Mr. Kilpatrick chose to use his talents on personal aggrandizement and enrichment when he had the potential to do so much for the city," Edmunds said before imposing the sentence on the former mayor.
Kwame Kilpatrick had little reaction as his sentence was read and was then handcuffed and removed from the courtroom, WDIV reported.
During his tenure in office, Kilpatrick allegedly shook down contractors and made sure that a friend received millions in city work.
He also allegedly converted a nonprofit fund to boost ailing Detroit residents into a personal war chest, according to evidence at his five-month trial cited by the AP.
"He created a 'pay-to-play' system for the provision of city goods and services, which compromised vast swaths of city government, including the water and sewer system, the convention center, the pension system, casino developments and recreation centers," prosecutors said in a court filing, according to the AP.
"City government essentially became up for grabs for the right price."
The Associated Press contributed to this report.