The wife of an Ecuadorean man detained by immigration officials after delivering pizza to an Army facility in New York is calling on the government to release him, saying his absence "feels like a death in the family."
The arrest and detention of Pablo Villavicencio, a 35-year-old father of two, has sparked outrage among his family, supporters and local officials. New York's Democratic governor has said his arrest and planned expedited removal reflects a pattern of conduct by Immigration and Customs Enforcement that he called "unconscionable."
"Today is Father's Day, and this is the first time my two little girls will spend it without their father, Pablo Villavicencio. They made handwritten cards and drawings telling him how much they love him, but sadly they won't be able to give them to him," Villavicencio's wife, Sandra Chica, who is a U.S. citizen, wrote in an op-ed for the New York Daily News published online Saturday evening.
Villavicencio was turned over to ICE after delivering pizza to the U.S. Army facility Fort Hamilton in New York City on June 1. The immigration agency has said he was granted voluntary departure in 2010 but did not leave, and then that became a final order for removal and he was considered an ICE fugitive.
Immigration officials sought to deport Villavicencio, but a judge last week issued an emergency stay preventing his removal. He remains in custody, with a hearing scheduled for July 24 according to court records.
"On Father's Day, this is a great opportunity for ICE to do the right thing and reunite this family," Gregory Copeland, supervising attorney of the immigration law unit at The Legal Aid Society, told NBC News in a phone interview Saturday.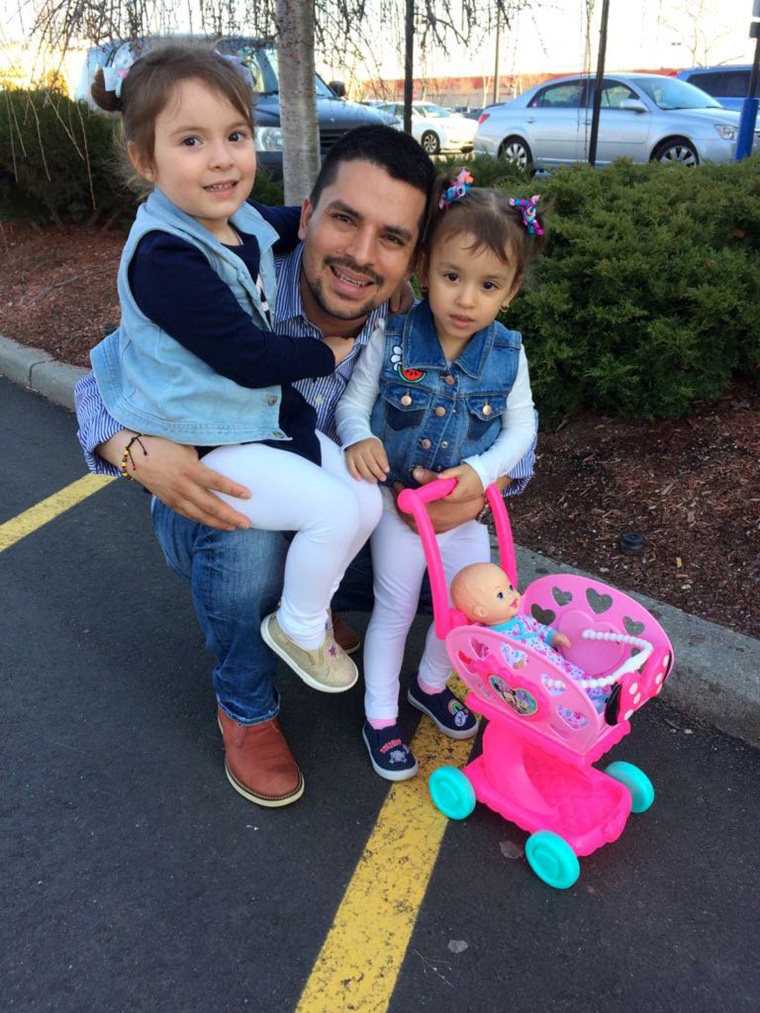 The Legal Aid Society is representing Villavicencio and won the emergency stay. Copeland said that Villavicencio has no criminal record and is not a flight risk, and since a judge has blocked his removal, detaining him serves no purpose.
Asked for comment late Saturday, a spokesperson for ICE did not immediately provide any updates to its initial statement.
ICE and United States Army Garrison Fort Hamilton have said that when Villavicencio made the delivery to Fort Hamilton he was directed to get a daily pass and submitted to a background check — something Fort Hamilton said is standard for all visitors — and an active ICE warrant was discovered. He was then turned over to immigration officials. Villavicencio's wife has said he has made deliveries there before and presented his New York City identification card with no problems.
Chica, 38, has said that Villavicencio has a pending green card application they filed in February.
She said that her husband faced the threat of being deported to "a country he has not seen in almost a decade" and said he is the family's main provider and a devoted father to their two daughters, the youngest of whom has a congenital heart defect.
Chica also said that when she has visited her husband in jail "Pablo describes a scene where individuals are deported daily."
"Like him, many of these people came to this country to provide a better life for their families," she said in the newspaper. "It is shocking that a government can behave like this and separate loved ones."
"When Pablo speaks to our daughters over the phone, we cry," Chica said in the New York Daily News. "The pain of being ripped away from our family is unspeakable."
The Trump administration has been criticized for its immigration policies, particularly its "zero tolerance" policy that results in the separation of children from their parents when families cross into the United States illegally.
Attorney General Jeff Sessions this week defended the policy and said that prosecuting those who cross the border illegally is what the law calls for. But no law mandates the separation at the border, and Sessions himself announced the new administration approach in April.
Some 1,995 children were subsequently separated from their families in the time from April 19 to May 31, a spokesman for the Department of Homeland Security said Friday.
The policy has been criticized by Democrats, Republicans, Christian groups and medical doctors, who said Friday that the children separated from their parents could suffer permanent damage.