A white man and his son who are accused of killing an unarmed black man in Georgia in February have been arrested after video of the incident sparked widespread outrage.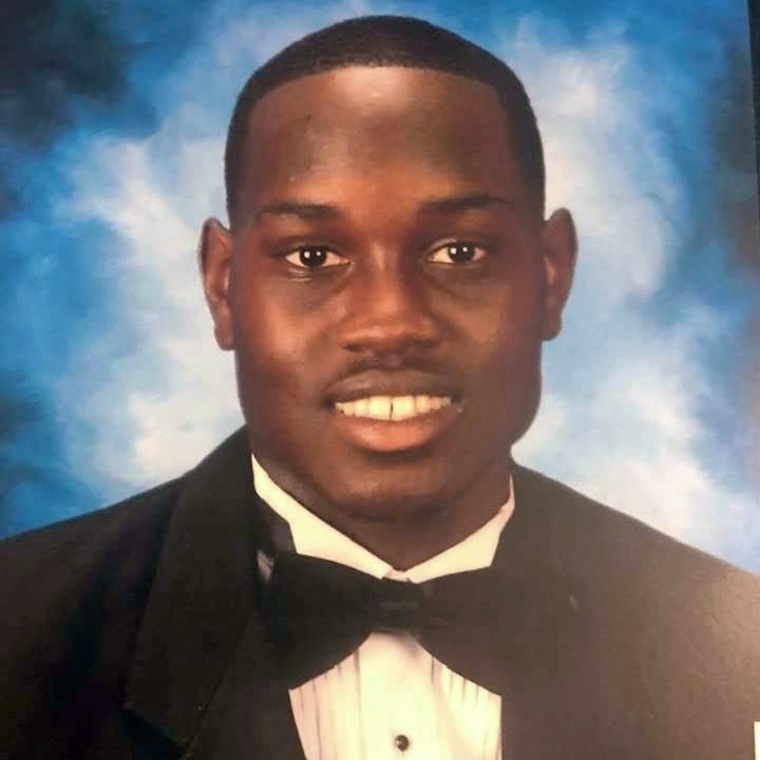 Gregory McMichael, 64, and Travis McMichael, 34, were arrested in the death of Ahmaud Arbery, the Georgia Bureau of Investigation announced. Both men face charges of aggravated assault and murder.
Arbery, 25, was shot to death in Brunswick, a coastal city about midway between Savannah, Georgia, and Jacksonville, Florida, on Feb. 23 as he was running through the Satilla Shores neighborhood. His family says he was out jogging, while the McMichaels claimed that they thought he was a burglar.
Video released Tuesday by attorneys for Arbery's family appears to show an altercation between a group of men before what is alleged to be the fatal shooting.
According to a Glynn County police report, Gregory McMichael first spotted Arbery on foot "hauling ass" down Satilla Drive and immediately thought he was a burglar who had recently been targeting the neighborhood.
Gregory McMichael armed himself with a .357 Magnum, and his son grabbed a shotgun. They jumped into their pickup truck and chased Arbery. Police said a third man, identified as a neighbor, joined the chase and jumped into the McMichaels' truck.
The police report did not specify whether Arbery had a gun, but lawyers for the family say he was unarmed.
In the video, Arbery is seen running down a road as a white pickup truck is stopped in front of him. Arbery runs around the vehicle. The video then shows Arbery and another man appearing to tussle as shots are fired.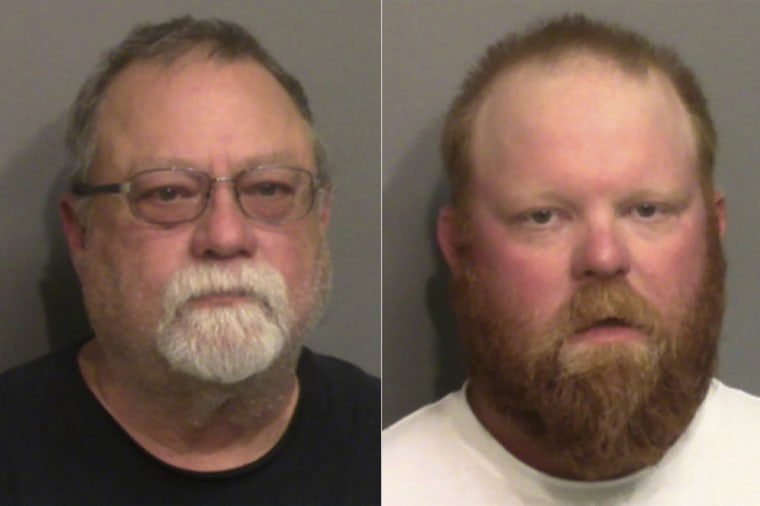 NBC News cannot verify what occurred before or after the events shown in the video.
George Barnhill, one of the prosecutors who first handled the case, defended the actions of the McMichaels and their neighbor in the truck. In a letter to the Glynn County Police Department obtained by NBC News, Barnhill wrote that the men had "solid first hand probable cause" to chase Arbery, a "burglary suspect," and stop him.
Barnhill also said that after he watched the video of the incident, "given the fact Arbery initiated the fight" and grabbed the shotgun, he believed Travis McMichael "was allowed to use deadly force to protect himself" under Georgia law.
The office of Tom Durden — the district attorney in Liberty County, who is now handling the case — asked that the GBI begin an inquiry Tuesday, and the bureau's Kingsland Office began investigating Wednesday.
Arbery's death sparked nationwide outrage, with many activists, politicians and celebrities sharing a social media post urging people to contact the Liberty County prosecutors to demand that the McMichaels be charged.
Georgia Gov. Brian Kemp called the video of the shooting "absolutely horrific" and said Georgians deserve answers.
"I have full confidence in Vic Reynolds and the Georgia Bureau of Investigation," Kemp said. "I know that they will be working around the clock to thoroughly and independently investigate Mr. Arbery's death to find the truth."
Download the NBC News app for breaking news and alerts
"Black Panther" and "Creed" actor Michael B. Jordan shared the call to action Wednesday, saying on Instagram that the video made him sick to his stomach.
"Just because you may not experience racism, doesn't mean it doesn't exist and if you don't think anything is wrong with this video or try to defend this in any way, you are a part of the problem," Jordan said.
Joe Biden, the apparent Democratic presidential nominee, called Arbery's death a "grave injustice" during a virtual roundtable with African American lawmakers in Florida on Thursday.
"This family and the country deserves justice, and they deserve it now. They deserve a transparent investigation of this brutal murder," Biden said. "But our nation deserves it, as well. We need to reckon with this. This goes on. These vicious acts call to mind the darkest chapters of our history."
The McMichaels were to be booked at the Glynn County Jail. It was unclear whether they have retained an attorney.