The FBI said Sunday they were in contact with local police in a Pennsylvania town in the case of a self-proclaimed Satanist teen — who claimed Friday that she has murdered more than 22 other people and admitted to stabbing a man to death in November.
Miranda Barbour, 19, made the bizarre confession in an interview with The Daily Item from the Columbia County Jail that she fatally stabbed Troy LaFerrara, 42, and said he was one of many victims in many states.
"I can pinpoint on a map where you can find them," she told the Sunbury, Pa., newspaper, adding that most of the people she murdered were in Alaska.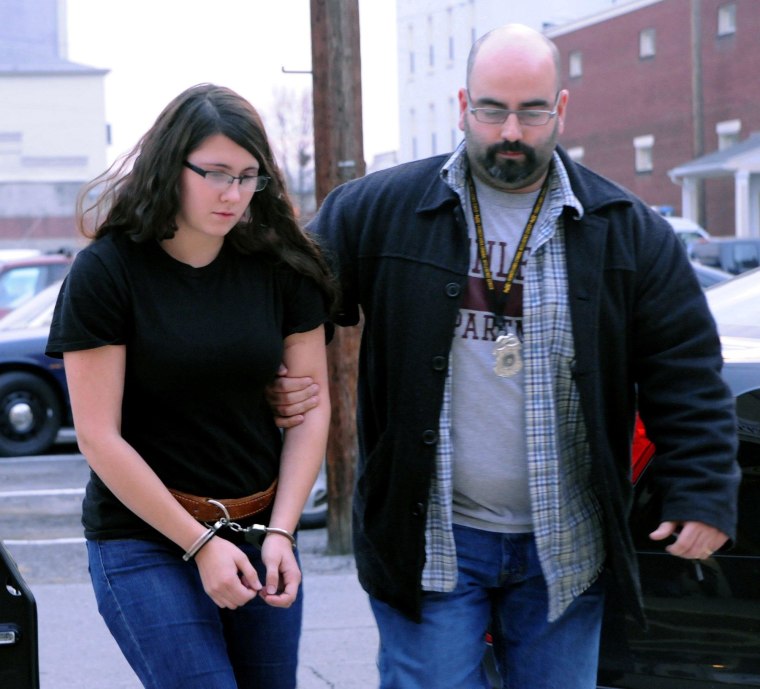 "The FBI's Philadelphia Division has recently been in contact with the Sunbury Police Department regarding Miranda Barbour, and will offer any assistance requested in the case," FBI spokeswoman Carrie Adamowski told NBC News on Friday.
Barbour told The Daily Item she started murdering people when she was 16, shortly after she joined a satanic cult in Alaska.
Barbour said she wanted to admit to the killings because "if I were to be released, I would do this again."
Barbour and her husband, Elytte Barbour, originally pled not guilty to the slaying in which Elytte strangled LaFerrara from behind while Miranda stabbed him over 20 times, after luring him into a car with a Craigslist ad for sex.
LaFerrara's body was found dumped in an alley in Sunbury.
The Sunbury Police Department and Columbia County Jail declined to comment Sunday.
Barbour said she believes she killed only "bad people" and has no regrets.
— Elisha Fieldstadt