After going down for two years, the number of violent crimes in the U.S. was up nearly four percent in 2015 compared to the year before, according to the FBI's annual data report on Monday.
Violent crime overall rose by 3.9 percent, though the total was still lower than levels from five and 10 years ago, in 2011 and 2006, the FBI said.
Rape and aggravated assault were up 6.3 percent and robberies were up 1.4 percent.
Property crimes dropped 2.6 percent, down for the 13th year in a row.
The figures were reported by law enforcement agencies through the FBI's Uniform Crime Reporting Program, which compiles data on murders, aggravated assault, car thefts and other crime.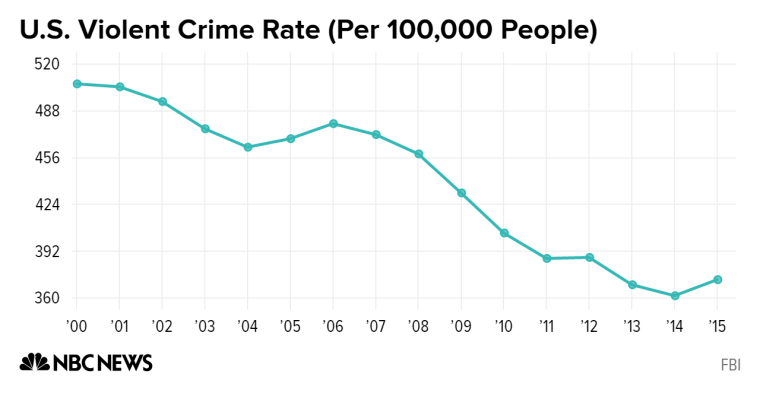 The statistics show an estimated 15,696 murders and non-negligent manslaughters in the country in 2015, a 10.8 percent increase from the year before. Those totals do not include killings that agencies have deemed justifiable.
Attorney General Loretta Lynch, speaking Monday at an event in Little Rock, Arkansas, noted that crime in many communities has remained stable or decreased.
The new FBI data, she said, "reminds us of the progress that we are making. It shows that in many communities, crime has remained stable or even decreased from the historic lows reported in 2014."
She said the new data also shows that "we still have so much work to do."
"And it is important to remember that while crime did increase overall last year, 2015 still represented the third-lowest year for violent crime in the past two decades," she added.
The FBI's crime totals have attracted scrutiny in recent years because of the inconsistent reporting by law enforcement agencies on use of force by police officers.
In a message accompanying this year's report, FBI Director James Comey called for more transparency and accountability in law enforcement and said the FBI is working toward developing a database chronicling incidents of police use of force.
"Information that is accurate, reliable, complete and timely will help all of us learn where we have problems and how to get better," he said.