Haz-mat teams and federal investigators responded across Oregon on Monday after numerous sheriffs received suspicious mail, some of it delivering an unknown substance, authorities told NBC News.
Beth Anne Steele, a spokeswoman for the FBI, told NBC News that it had joined Oregon State Police and the U.S. Postal Inspection Service in investigating suspicious mail deliveries at multiple locations.
"At this point, it is too early to say where this investigation may lead," she said.
The Tillamook County Pioneer newspaper said it had obtained a state police memo to local officials reporting that the agency had learned of suspicious letters to the sheriff's offices in Grant, Jackson, Umatilla, Harney, Wasco and Sherman counties.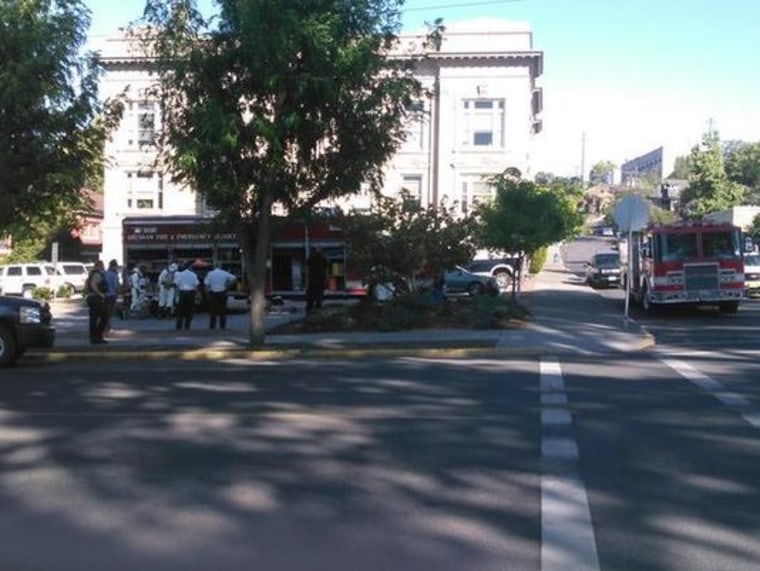 Authorities in Jackson, Grant and Wasco counties confirmed that they had received the letters, either at their sheriff's offices or at their county courthouses. They would give no further details and referred all calls to state police, who would say only that they were conducting a statewide investigation and were urging Oregonians to be alert for suspicious letters and packages.
A fourth, Washington County, confirmed to NBC station KMTR of Springfield that its sheriff's office received one of the letters, saying it didn't appear to include any suspicious materials.
The East Oregonian newspaper of Pendleton reported that Grant County Sheriff Glenn Palmer was taken to a hospital in the early afternoon after he opened the envelope that was addressed to him. It contained a white substance, and Palmer quickly developed a rash on his arms, a county official told the newspaper.
NBC station KGW of Portland reported that Palmer was released from the hospital Monday night. No injuries in other counties could be confirmed.