The FBI on Thursday released video showing the fatal shooting of an Arizona rancher who was killed as authorities arrested leaders of an armed group occupying an Oregon wildlife refuge.
The video, taken from an aircraft, appears to show Robert "LaVoy" Finicum reaching into a front shirt pocket before being shot by a state police trooper, FBI Special Agent in Charge Greg Bretzing said at a news conference.
A loaded 9 mm handgun was found in that shirt pocket, Bretzing said. The shooting is under investigation by the Deschutes County Major Incident Team, he said.
"Actions have consequences, and the FBI and Oregon State Police tried to effect these arrests peacefully," Bretzing said. "It was a reckless action that resulted in the consequences that you see here today."
Finicum was killed after the FBI and state police moved in to arrest members of an armed group that has occupied the Malheur National Wildlife Refuge since Jan. 2. Four people were still at the refuge Thursday night, Bretzing said.
Related: How the Feds Intercepted Occupation Leaders
Law enforcement tried to stop two vehicles as the group's members drove to a meeting in the town of John Day at around 4:25 p.m. Tuesday, the FBI said. A Jeep containing the group's leader, Ammon Bundy, Brian Cavalier and a driver who wasn't charged, stopped.
But a truck driven by Finicum sped off and eventually swerved to avoid a spike strip and became stuck in the snow, Bretzing said.
Finicum is seen in the video getting out, holding his arms to his sides and then apparently reaching toward his chest. Bretzing said Finicum reached toward the pocket containing a handgun twice before he was shot.
Authorities used flash bangs and pepper spray on the people in the truck and arrested Ryan Bundy and Shawna Cox, Bretzing said. Police found two rifles and a revolver in the truck, he said.
A fifth person arrested, Ryan Payne, left the truck earlier and surrendered, Bretzing said.
The FBI released the full video showing Finicum's death online. Bretzing said the video was released in the interests of transparency. There have been claims made online that Finicum had his hands up before he was shot.
Related: Occupier Killed by Police Said He'd Sacrifice Life for 'Freedom'
Officials said four people remained at the wildlife refuge Thursday night, and the FBI and police have set up checkpoints around the building.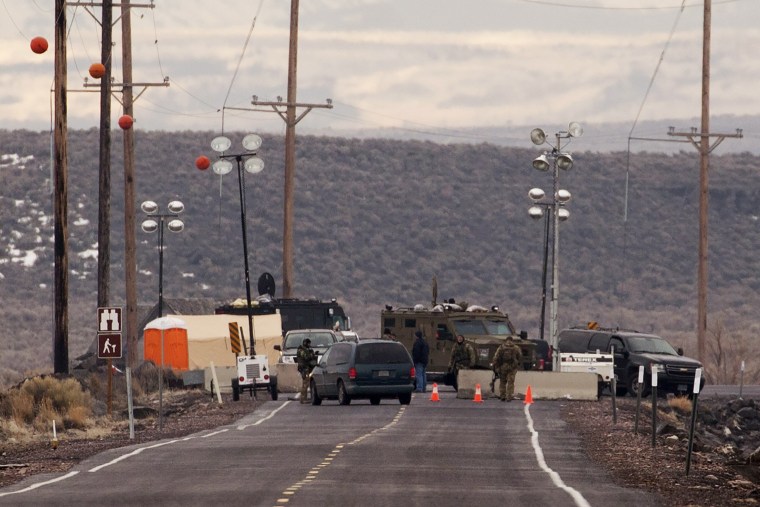 Earlier Thursday, Ammon Bundy repeated his call for the group to surrender and fight for their cause in the courts. The group has called for the federal government to turn over public land to local control.
"My message still remains: turn yourselves in. Do not use physical force," Bundy said in a statement released by his attorneys.
There had been five people still at the refuge Wednesday night, but one of the occupiers left Thursday morning, Bretzing said.
Terry Forman, a Burns resident who visited the occupation sporadically and was there the last two days, described the occupation after the arrests as "total chaos."
"They were always just workers — guards and cooks and cleaners," Forman, who left Wednesday, said. "When it got down to that point, the leadership was out and there was nobody left in there that had any organization."
"I don't support the militant occupation, but I do support the conversation that needs to happen, that the occupation was trying to bring attention to," Forman said Thursday. "Most people around here do agree with that."
Seven people connected to the occupation were arrested in Oregon Tuesday and one person was arrested in Arizona, authorities said. Three more turned themselves in and were arrested Wednesday, the FBI said.
Since the arrest of the group's leaders Tuesday nine people left the refuge. Six of those were not charged, Bretzing said.
All 11 arrested have been charged with conspiracy to impede officers of the United States from discharging their official duties through the use of force, threats or intimidation.
Forman said he hopes those remaining at the refuge turn themselves in.
"I knew it had to wind down," he said. "I knew it just had to go where it was going to go, and I hoped they could be sensible enough to give up."