FBI agents surrounded the last four armed occupiers of an Oregon wildlife refuge on Wednesday night, a dramatic turn in the slow-moving, six-week ordeal.
Negotiations were under way and no shots have been fired, according to the FBI's Portland office. It said agents have been stationed at barricades in front of and behind the area of Malheur National Wildlife Refuge where the occupiers are camping.
The remaining occupiers have said they would turn themselves in Thursday morning. Sean Anderson, one of the four, said "We're not surrendering, we're turning ourselves in. It's going against everything we believe in," the Associated Press reported.
Followers of Ammon and Ryan Bundy occupied the refuge in central Oregon, near Burns, on Jan. 2. The group's stated goals were the release of two ranchers who were ordered back to prison for burning public land and that the federal government turn over public land to local control.
The Bundys were arrested Jan. 26 during what authorities have described as a "traffic stop." The protest's main spokesman, Robert LaVoy Finicum, 54, was killed during a confrontation with police and the FBI during the stop.
Related: Oregon Occupation: Federal Grand Jury Indicts Ammon Bundy, Followers
Wednesday's confrontation began about 4:30 p.m. (7:30 p.m. ET) when one of the occupiers drove an all-terrain vehicle outside the group's own barricades, the FBI said. When agents approached the driver, he speeded back to the encampment.
"We reached a point where it became necessary to take action in a way that best ensured the safety of those on the refuge, the law enforcement officers who are on scene and the people of Harney County who live and work in this area," said Greg Bretzing, special agent in charge of the FBI in Oregon. "It has never been the FBI's desire to engage these armed occupiers in any way other than through dialogue."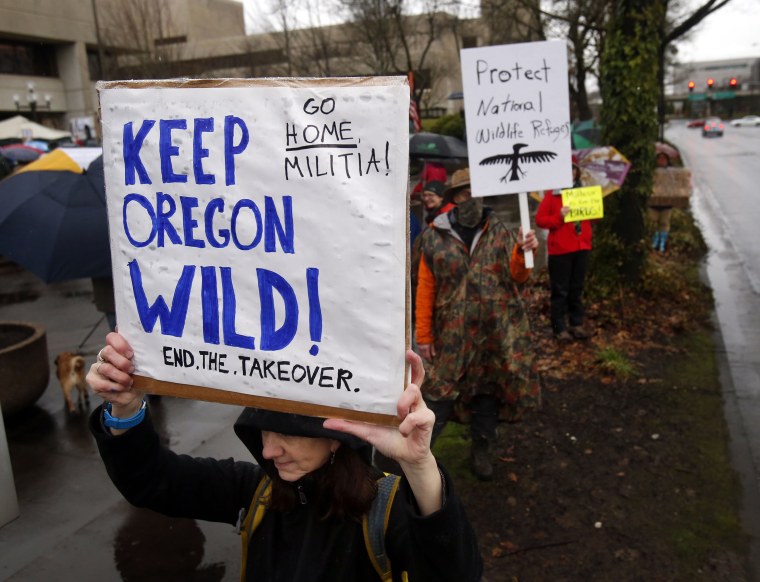 Tens of thousands of people listened in to a live stream of a phone call which appeared to include the four occupiers and several supporters. Amid prayers and anti-government diatribes, the participants in the call repeatedly expressed distrust of the FBI's intentions and of their chances in the legal system.
The four occupiers appeared to yell at officers to back off and prayed with supporters. The call was being livestreamed by an acquaintance of occupier David Fry.
Fry, 27, of Blanchester, Ohio, sounded increasingly unraveled as he continually yelled, at times hysterically, at what he said was an FBI negotiator. "You're going to hell. Kill me. Get it over with," he said. "We're innocent people camping at a public facility, and you're going to murder us."
"The only way we're leaving here is dead or without charges," Fry said, who told the FBI to "get the hell out of Oregon."
The three others inside Anderson, 48, his wife Sandy Anderson, 47, of Riggins, Idaho; and Jeff Banta, 46, of Elko, Nevada.
By around 9:30 p.m. local time (12:30 E.T.) the tone of the call — posted by Gavin Seim, a Washington state writer and activist allied with the so-called patriot movement — had cooled significantly.
As the confrontation unfolded in Oregon, Ammon and Ryan's father Cliven Bundy was taken into federal custody. It was not immediately clear what charges he faced. Cliven Bundy led a Nevada standoff with federal officers in 2014.