Want to sell more guns? Talk about gun control — or offer customers a killer deal.
Fear of a crackdown in the wake of the recent massacres in Las Vegas and Texas appears to be one of the reasons why Black Friday was a banner day for gun buyers, with the FBI reporting a record 203,086 background checks for weapons purchases on the day after Thanksgiving, arms merchants and gun control experts told NBC News on Monday.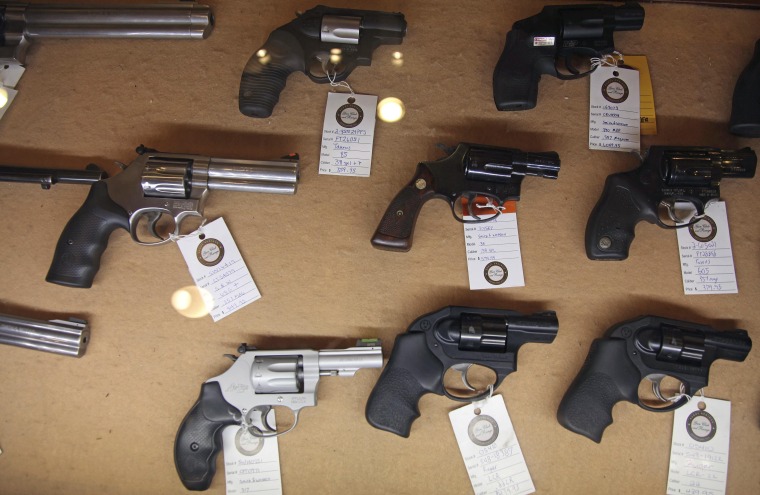 "We had the best Black Friday day of sales ever," said Michael Cargill, owner of Central Texas Gun Works in Austin, Texas. "We just had a church shooting here in Texas, so people are talking about increasing security and buying guns for security teams."
Related: Attorney general orders review of gun background check records
Cargill was referring to the Nov. 5 mass shooting at the First Baptist Church in Sutherland Springs by a disgraced Air Force vet named Devin Patrick Kelley that left two dozen worshippers dead.
At the same time, Cargill said, many of his customers are worried about bipartisan pending legislation to improve background checks that emerged after the tragedy — and is designed to keep weapons out of the hands of people like Kelley, who was armed with a Ruger assault-type rifle.
"People are really unsure about what's being proposed," he said. "So they are not waiting and buying now."
But out in South Dakota, it was glut of available guns that propelled Black Friday sales at Sodak Sports in Aberdeen.
"There was an abundance of great deals and great manufacturer rebates," owner A.J. Hoffman said. "They were offering $100, $200 rebates, which are unheard of."
Related: How Pennsylvania created a model gun background check system
"We do a lot of ammo specials," he said. "We had some discounted gun specials. I really think that on Black Friday Americans are trained to spend and we could offer some great deals."
Still, it's been documented that after major mass shootings, when politicians and others starting talking about gun control, gun sales go up, Daniel Webster, director of the Johns Hopkins Center for Gun Policy and Research, said.
"Some gun owners tend to be skeptical about any measure of gun control and buy into this notion that it's a slippery slope towards much stricter laws and even gun confiscations," Webster said.
Perhaps the best-known example of this happened five years ago after the massacre of 20 first graders and six staffers at the Sandy Hook Elementary School in Newtown, Connecticut by a disturbed young man armed with a Bushmaster AR-15 rifle. Sales of the assault-type rifle soared as the push to ban them grew louder, Webster said.
More recently, revelations that Las Vegas mass shooter Stephen Paddock had modified some of his weapons with bump-fire stocks — devices that enable semi-automatic rifles to be fired like illegal machine guns — caused a run on bump-fire stocks.
"After Sandy Hook, people were looking for AR-15s because they were afraid they were going to be banned," Cargill said. "Right now, people are constantly asking about bump stocks, which we don't have in stock anymore."
The United States is awash with guns. Currently, there are about 270 million firearms in civilian hands, but half of those weapons are owned by just 3 percent of the population, according to a national survey conducted last year by Northeastern University researcher Matthew Miller, a professor of health sciences and epidemiology.
"Most people who own guns do not own lots and lots of guns," Miller said.
Asked to explain the Black Friday gun check surge, Miller said one the reasons could also very well be as mundane as people having more expendable cash to spend on weapons.
"Are people doing better economically now?" he said. "I think a lot of this has to do with guns being on sale. That's my hunch."
Gun sales, which skyrocketed when President Barack Obama was in office, have actually "declined or at least levelled off under President Trump," Webster said.
That's largely because Trump hasn't pushed for gun control, not even after some of the deadliest massacres in U.S. history, experts said. And because there's "some degree of saturation."
"Those who want guns have them and have enough of them," Webster said. "Obama was good for the gun lobby to use as a foil to make people believe that Obama was after their guns. I don't think Barack Obama did anything that would have warranted that response. But the people who were most vulnerable to the gun lobby's claims may also have greater suspicions about the first African-American president."