Vivian Acevedo's husband is serving a 20-year sentence at the Mississippi State Penitentiary in Parchman, and she anguishes over his safety, she said, "every waking moment." Parchman, the only maximum-security prison for men in the state, has been the focus of several lawsuits and a recently opened federal investigation into poor sanitary conditions, inadequate medical care, chronic understaffing and deadly violence.
The fears that have kept Acevedo up at night are only exacerbated by the coronavirus pandemic. So far, state officials say, no inmates at Parchman or Mississippi's other state prisons have tested positive for COVID-19, the disease caused by the virus. However, a federal prison complex in Yazoo City in the Mississippi Delta reported Tuesday that 25 inmates and three staff members have the coronavirus.
Parchman isn't immune from a similar fate, Acevedo believes.
Full coverage of the coronavirus outbreak
"It's beyond my comprehension to think how my husband could die in there because he was arrested on marijuana charges," she said. "He has a home, a family, and he is living in something similar to being in hell."
Acevedo's husband, in his 50s, was sentenced last year on charges of possession of marijuana with intent to distribute and conspiracy to commit a crime, court documents show.
She would like for him to be released early, and he is eligible for parole after his fifth year behind bars. NBC News is not identifying her husband because Acevedo said she fears for his well-being.
She said her husband told her that there isn't any protection, such as masks, being made available to inmates. She reminds him to wash his hands after using the shared phone in his unit and to put a cloth over his face.
Acevedo, who lives in Florida, hasn't seen her husband in a year. She was planning to visit him a few months ago, but the trip was put on hold when the prison was placed on lockdown following a spate of riots and violent attacks that claimed the lives of several inmates. Now, the coronavirus has led the Mississippi Department of Corrections, or MDOC, to suspend visitations, except for attorneys.
Mississippi's prisons remain overwhelmed with one of the highest per capita incarceration rates in the nation, born out of the state's tough-on-crime legacy and a circumstance that has prompted criminal justice reform advocates to seek changes to the legal system.
A push in Mississippi to release certain prisoners, in particular low-level offenders and those who are already sick and elderly, has also become a nationwide issue as some prisons have become inundated with a rise in COVID-19 among staff and inmates.
In New York City, a 53-year-old inmate with underlying health conditions at the Rikers Island facility died after contracting the virus, his legal team announced Monday. Across the city's jails, more than 270 inmates and 320 staffers have tested positive, and legal and civil liberties groups have filed a lawsuit asking for the release of higher risk inmates.
The federal prison system, which has more than 174,000 inmates nationwide, is also grappling with the coronavirus. One inmate who became infected with COVID-19 at a low-security prison in Oakdale, Louisiana, died last month, and the American Civil Liberties Union filed a class-action lawsuit Monday after more deaths and infections there.
Last week, U.S. Attorney General William Barr said he would expedite the process of sending certain federal inmates in Connecticut, Louisiana and Ohio to home confinement because of the threat caused by the outbreak in those states.
With cases prevalent elsewhere, prisoner advocates and attorneys aren't convinced a place like Mississippi, where prisons have been under scrutiny for documented health and civil rights violations, ranging from inoperable toilets and sinks to filth and mold in cells, can handle an outbreak.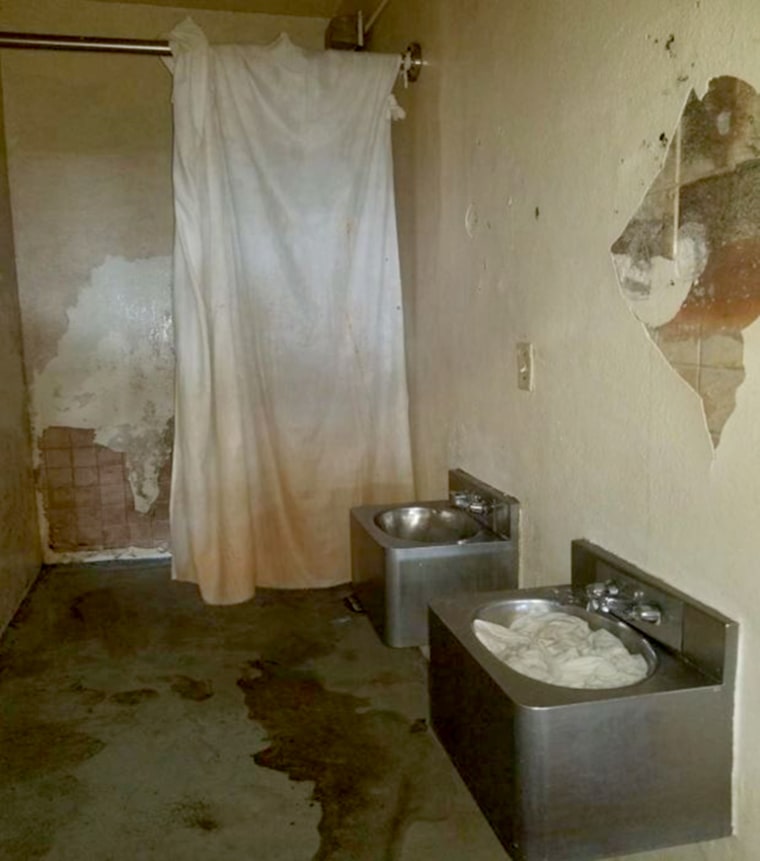 "How can you practice social distancing in a prison system? Keeping people 6 feet apart in a small cell is impossible," said attorney Jordan Siev, a partner at Reed Smith LLP in New York, which is working with rapper and entrepreneur Jay-Z's Roc Nation philanthropy team to assist Parchman prisoners.
"Lay on top of that the workers who go in and out of the prison the whole day, and you have guards who are potentially bringing it into the prison. It's an absolute disaster to put people in this situation," Siev added.
Last week, the REFORM Alliance, a justice reform organization started by Jay-Z and the rapper Meek Mill, helped to donate more than 130,000 surgical masks for inmates at Rikers Island, the Tennessee Department of Corrections and Parchman. Siev said Tuesday that prisoners at Parchman had not yet been provided those masks.
Download the NBC News app for full coverage of the coronavirus outbreak
On Monday, Mississippi Gov. Tate Reeves gave a glimpse into how the spread of the coronavirus is affecting the state prison system, revealing at a news conference that three MDOC employees have tested positive for COVID-19. In addition, he said, two inmates who were tested had negative results, while a third inmate's test is pending.
Reeves did not provide further details about the situation, but said that "to my knowledge, none of [the employees] were working at specific facilities." State and prison officials did not immediately return requests for comment Tuesday about whether the employees worked closely with state prisoners and at which facilities the inmates are housed.
The perceived lack of transparency has led to an online petition urging Reeves and the MDOC to prevent the spread of the virus by granting reprieves to certain inmates and the early release of elderly and sick prisoners.
Mississippi Dreams Prisoner Advocacy and the nonprofit Families Against Mandatory Minimums are urging the state to create a public dashboard so people can know how many inmates and staff have been tested, what the results are, the total hospitalizations and deaths, and if prisons are on lockdown or quarantine.
"Family members along with the inmates have little faith in MDOC due to all the previous issues and everything that had been exposed prior to the riots," Ashley Lukens, president of Mississippi Dreams Prisoner Advocacy, said.
Even before the pandemic, the hope for advocates was that substantive changes could be made at Parchman and other prisons in the state under Reeves, a Republican who took office this year and had pledged to close Unit 29 at Parchman, an area plagued by violence and alleged corruption.
"We will do better," Reeves said during his State of the State address in January. "We will right the wrongs of the past, and we will do everything in our power to protect the dignity of every Mississippi life."
But now, the unit's closing appears to be in limbo. Acevedo is still nervous for her husband's safety at Parchman.
"Families like mine are begging and praying that this prison doesn't become a death trap," she said. "If this virus reaches Parchman, they have no way out."