Rain-swollen rivers won't stop rising in North Carolina.
Several of them teetered at record levels Tuesday as officials warned of relentless flooding and hazards in areas already swamped by historic rainfall produced by former Hurricane Florence.
The storm made landfall as a Category 1 on Friday before it was downgraded. Its remnants lingered along the East Coast days later, spawning deadly tornadoes in Virginia and dumping rain as far away as New York and in Massachusetts, where roads were flooded on Tuesday.
In Fayetteville, about 100 miles from the North Carolina coast, the Cape Fear River was anticipated to crest by early Wednesday, reaching nearly 62 feet — about 4 feet higher than during Hurricane Matthew in 2016 and close to double its flood-stage level.
The Cape Fear River is expected to remain at flood stage through the weekend, deluging Fayetteville, a city of 204,000 near the home of the Army base Fort Bragg.
"Even though the heavy rains have ended, the flood hazard to life and property is real," city officials said in a statement Tuesday. "Do not become complacent."
President Donald Trump is scheduled to visit storm-ravaged parts of North Carolina on Wednesday, the White House said.
Trump turned the natural disaster into a political issue Tuesday, tweeting that Democrats "will start ranting" how federal emergency officials, the military and first responders are "not doing a good job."
Local officials and the Coast Guard said they were focusing on rescues, which remain their "highest priority."
A mile-long stretch of people living along the banks of the Cape Fear River was evacuated as a precaution.
The Little River, a tributary of the Cape Fear, was expected to crest Tuesday at more than 35 feet — surpassing the record 32.2 feet and the flood level of 18 feet, officials in the town of Manchester said.
More than 80 rescues have already occurred along the river in the past two days.
Meanwhile in Lumberton, the Lumber River was projected to crest at 25 feet, remaining at a major flood stage through next week, reported NBC affiliate WRAL.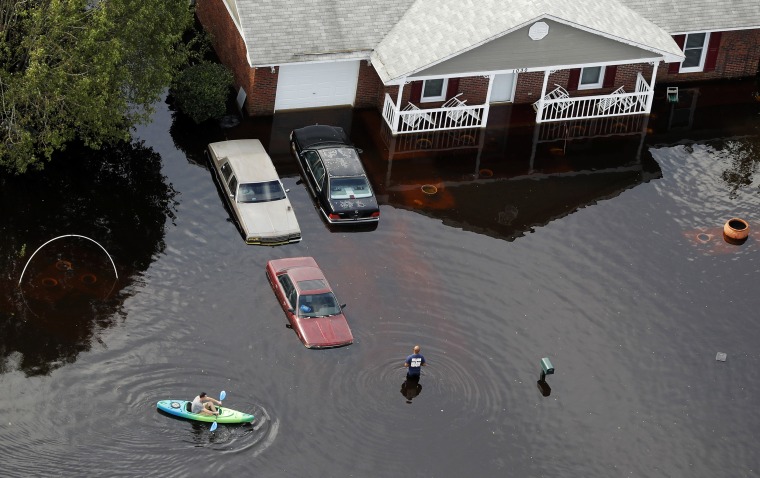 At least 35 people have died, mostly in North Carolina, during Florence and its aftermath, officials said. The storm is now a post-tropical cyclone.
"Days after Florence first hit our state, we continue to feel the effects of this massive storm," North Carolina Gov. Roy Cooper said in a statement Tuesday. "Even though there is no substantial rain in the forecast and the sun may be shining across many parts of our state, rivers continue to rise and we will see more flooding."
Even before the storm made landfall, forecasters warned that intense flooding rather than destruction from the winds would burden the region for the days and weeks ahead. With rivers at varying stages of rising and receding, whole communities have been cut off and highways have been awash in floodwaters.
North Carolina Emergency Management said Tuesday that first responders have reported more than 4,000 rescues in the wake of the weather system. There were more than 1,100 road closures across the state.
Soldiers from Fort Bragg were among those conducting high-water rescues. Helicopters were ready to assist in bringing much-needed supplies as well.
While the skies were sunny Tuesday over North Carolina, waterlogged communities — from Wilmington to New Bern to Crusoe Island — grappled with the fallout from Florence.
"In Lumberton, we watched the town start to flood out," Jason Murphy, a Coast Guard machinery technician, told NBC News. "Everywhere we go it'll be hit or miss. There'll be spots where it's high and dry and then that."
More than 250,000 customers in North Carolina were still without electricity Tuesday evening, according to the state Department of Public Safety. The lack of power, food and fuel were still a concern in New Hanover County, where Wilmington is located.
Woody White, chairman of the New Hanover County Board of Commissioners, said the Cape Fear River, which runs through the county, was expected to crest at record-breaking levels over the coming days.
He said crews were scrambling to restore power and evacuees from towns where flooding has not been as harsh were being allowed to survey their properties Tuesday — although that didn't apply to Wilmington, where an overnight curfew remained in effect.
"People want to get home, they want to see what's going on with their house and resume their normal lives," White said, adding, "Use your own common sense."
Cooper, North Carolina's governor, inspected damaged areas and visited Wilmington Tuesday, and he said those who evacuated from New Hanover, Brunswick and Pender counties should stay put and not return to check on their homes yet. "The roads are still dangerous," he said, and there are only a few routes into those areas and they are being used by emergency and supply vehicles, and utility crews.
"We know that we have a long road ahead," Cooper said. "It is a monumental disaster, and it affects a lot of our state," he said.
Cooper said that rescue and other personnel or assistance was sent from 32 states, and he also praised volunteers and other organizations who have pitched in to help.
NBA legend Michael Jordan — who went to the University of North Carolina and is the owner of the Charlotte Hornets — is donating $2 million to Florence relief and recovery efforts, he announced on Tuesday.
Flood warnings affected areas with a population of more than 5 million people on Tuesday evening, according to data from the National Weather Service. The remnants of Florence produced a line of storms running from Washington, D.C., up through New England, including Boston.
Parts of Massachusetts had received more than 2 inches by Tuesday afternoon, with New Salem getting neatly 4 inches, the weather service said.
Meanwhile, one person was killed in Virginia after a building collapsed due to a tornado Monday in Chesterfield County, south of Richmond, officials said.
The National Weather Service confirmed that the tornado was an EF2 with 120 mph winds, according to Chesterfield County. The person who was killed was an employee at the flooring company building that collapsed, a fire official said Monday.
Powerful tornadoes created by Florence's weather system left debris and toppled cars across an 18-mile stretch of the state, officials said.