Federal agencies, including the FBI, have "seized" controversial classified advertising website Backpage.com, which has been accused of being used in sex trafficking, according to a notice posted overtop the site's front page Friday.
Backpage.com and its "affiliated websites" were seized Friday "as part of an enforcement action" by the FBI with the support of several federal and state agencies, according to the notice.
The notice provides few details for the seizure and the Department of Justice declined to comment on Friday.
Backpage has previously been accused of facilitating sex trafficking and prostitution. Backpage in the past has denied knowingly facilitating sex trafficking, and has insisted it helps authorities track down victims of illegal activity.
A representative from Backpage could not be reached for comment on Friday.
The notice on Backpage.com said the Department of Justice would provide additional details about the enforcement action later Friday evening, but a department spokesperson then said in an email that a court had ruled that the case would remain sealed.
A Senate investigations subcommittee published a report early last year that said Backpage had "knowingly concealed evidence of criminality by systemically editing its adult ads" for as many as 10 years.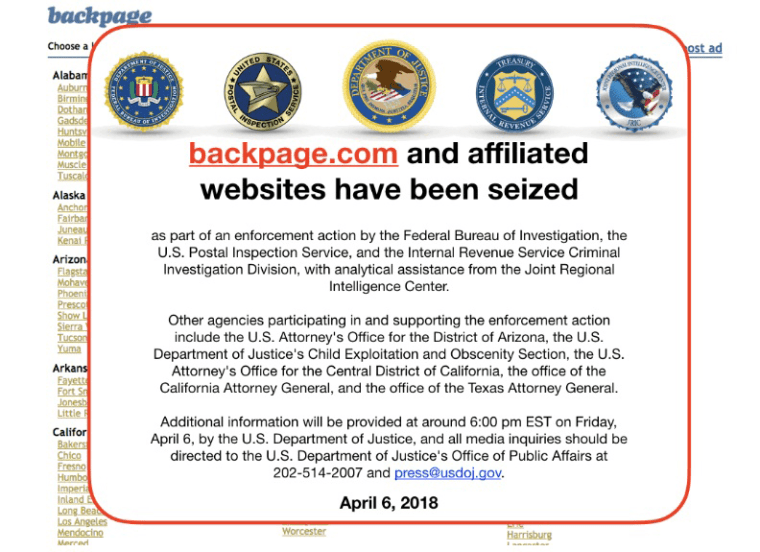 According to the report, executives told the site's moderators to edit ads "to conceal the true nature of the underlying transaction" by filtering out words such as "lolita," "teenage," "rape," "young," "amber alert," "little girl," "teen," "fresh," "innocent," and "school girl." The report also said that the company coached "its customers on how to post 'clean ads' for illegal transactions."
"Backpage knows that it facilitates prostitution and child sex trafficking," the report said.
CoStar, a U.S. company that runs Apartments.com, accidentally uncovered in July of last year that Backpage had used a Philippines-based company named Avion to grow business in overseas sex trade.
Backpage had defended itself by claiming that it is not responsible for ads posted on its pages and said it attempted to abate illegal activity by hiring moderators to flag inappropriate content.
A Phoenix FBI official told CNBC that there was "law enforcement activity" at the Sedona, Arizona, home of Backpage founder Michael Lacey. Reports characterized it as a search.
A spokesman at the FBI's Phoenix field office would not confirm that and directed all questions to the Department of Justice, which declined to comment.
Sen. John McCain, R-Arizona, said in a statement Friday that the apparent seizure of the website "marks an important step forward in the fight against human trafficking." McCain in the statement called the website a "malicious sex marketplace."
"This builds on the historic effort in Congress to reform the law that for too long has protected websites like Backpage from being held liable for enabling the sale of young women and children," McCain said. "Today's action sends a strong message to Backpage and any other company facilitating online sex trafficking that they will be held accountable for these horrific crimes."
At the end of 2016, Texas and California attorneys general raided the company's Dallas headquarters and arrested chief executive Carl Ferrer and other former company executives on pimping-related charges. But the judge in the case ruled that the site was protected by the First Amendment, and the site should not be liable for the speech of third parties, Reuters reported.