A federal civil rights investigation is underway after U.S. Park Police fatally shot a Black teenager last month in Washington, D.C., and his family called on authorities Wednesday to charge the officers involved in the incident.
The probe, which was announced after police released videos showing the March 18 shooting that led to Dalaneo Martin's death, comes amid other high-profile cases across the country that have forced departments to re-evaluate their interactions with Black people.
"The loss of a life is always tragic but is especially heartbreaking when it involves a child," the U.S. attorney's office said in a statement. "On Saturday, March 18th, 17-year-old Dalaneo Martin tragically died after a shooting involving the U.S. Park Police, and we recognize that the body-worn camera footage just released of his death is extremely upsetting. We extend our condolences to Mr. Martin's family and friends."
The statement continued: "In coordination with the FBI Washington Field Office, the United States Attorney's Office has opened a civil rights investigation into the circumstances leading to Mr. Martin's death. That investigation—which we are committed to conducting diligently and thoroughly—is ongoing. As this is an open matter, we are not able to provide additional comment or release further information at this time."
At a news conference Wednesday, attorney Andrew O. Clarke, who is representing Martin's family, invoked the names of George Floyd, Breonna Taylor and others before he asked how long would the Black community have to endure disparate treatment from police.
"Dalaneo did not have to die," he said. "How long will they be able to hide behind their badge to justify taking a life? How long will we as a community have to continue to have the talk with our young Black children because they are treated differently by police? ... We will continue to pursue justice for Dalaneo with or without the help of the federal government or the District of Columbia."
The police account
Police said in an initial statement that a Park Police sergeant and an officer responded to a report of a stolen vehicle shortly before 9 a.m. March 18.
"While officers were attempting to detain the driver, the car fled from the scene with one USPP officer inside the car. A second officer, the USPP sergeant, was dragged by the fleeing car from outside the vehicle," police said. "The USPP officer inside the car gave verbal commands for the driver to stop. After the driver did not comply, the USPP officer discharged their firearm. A male was pronounced dead on scene. A firearm was recovered inside the vehicle."
Both officers were taken to a hospital for treatment. Their names and conditions have not been released.
The officers are on paid administrative leave during the investigation, which is standard procedure.
The police union that represents the officers was not immediately available for comment.
The videos
Police released two body camera videos Tuesday from the vantage point of the officers involved and a 12-minute explainer video that included officers giving medical aid to the driver before emergency medical personnel arrived. One of the two body camera videos is about 37 minutes, and the other is about 29 minutes. Officers' faces are concealed, and some of the audio is muted.
In the explainer video, Park Police said Washington's Metropolitan Police Department responded to a suspicious vehicle. The SUV was running, and a driver was sleeping in it. Washington police learned the SUV was stolen, Park Police said.
That's when Park Police assisted.
One video shows officers from both departments strategizing ways to get into the vehicle without waking up the person in the driver's seat and putting themselves in danger that the vehicle could flee.
A Washington police officer can be heard in the video talking to Park Police. "Please don't get caught inside," the officer says in the clip, adding, "Don't get inside that car."
One of the body camera videos shows an officer opening a rear driver's side door. Commands of "Police! Don't move!" are heard.
Additional video shows an officer appearing to struggle with the driver, who then begins to accelerate with the officer in the back seat.
"Stop, man. Just let me out," the officer says, according to the video. "Stop, stop or I'll shoot."
The officer then shoots the driver multiple times from the back seat before a loud crashing noise is heard. The SUV plowed into a home after the shooting, Park Police said.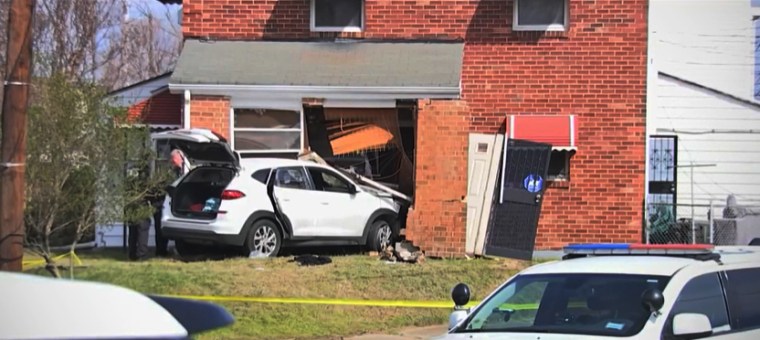 Investigators recovered a gun in the vehicle, Park Police said.
Park Police said in a statement the videos are "intended to help members of the community gain a better understanding of what occurred."
"This incident is still under investigation, and all statements in this briefing are based on the details we know at this point. We are committed to being transparent with our community, and it's our priority to release this information and inform our community as soon as possible," police said.
'I want him arrested'
Martin's mother, Terra Martin, appeared at Wednesday's news conference and demanded the name of the officer who fatally shot her son be released immediately. She said she wanted all officers involved in his death to be punished criminally.
"I want him arrested. I want him to stop getting paid while he murdered my son and is still home with his family," she said. "Time and time again, I sit and I try to get my head wrapped around this, and I can't. I don't sleep. I don't eat. And justice needs to be served."
Terra Martin said she spoke to the medical examiner, who said her son instantly died from six shots.
She said Martin was a father, too. His child's age was unclear Wednesday.
"When he had his son, it changed his life," she said. "He wanted to start doing things different."
Terra Martin added that no amount of justice will make her feel whole from losing Dalaneo, the fifth of her 10 children, who was "always dancing."
"No type of money will make me feel better. I need my son back," she said.