WASHINGTON — A federal appeals court in Washington ruled Monday that the head of the Environmental Protection Agency overstepped his authority by trying to delay implementing a new rule requiring oil and gas companies to monitor and reduce methane leaks.
In a split decision, the three-judge panel from the U.S. Court of Appeals for the District of Columbia Circuit ordered the EPA to move forward with the Obama-era requirement, which aims to reduce planet-warming emissions from oil and gas operations.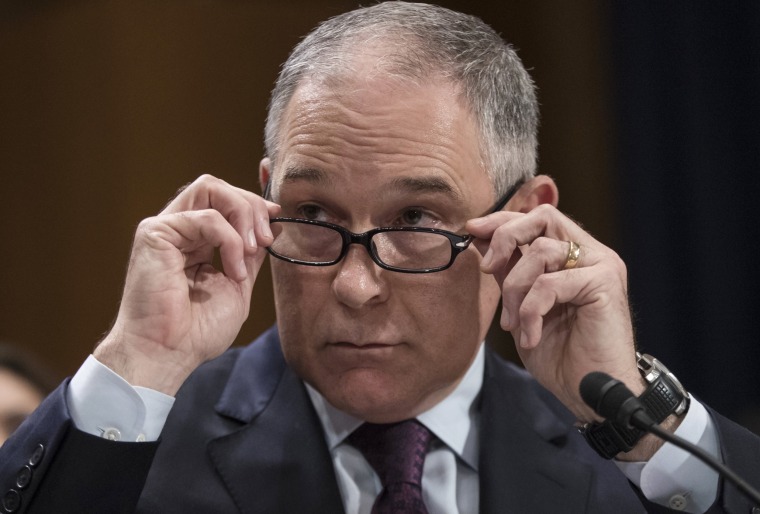 EPA Administrator Scott Pruitt announced in April that he would delay by 90 days the deadline for oil and gas companies to follow the new rule so the agency could reconsider the measure. The American Petroleum Institute, the Texas Oil and Gas Association and other industry groups had petitioned Pruitt to scrap the requirement, which had been set to take effect in June.
Last month, Pruitt announced that he intended to extend the 90-day stay for two years. A coalition of six environmental groups opposed the delay in court, urging the appeals judges to block Pruitt's decision.
In a detailed 31-page ruling, the court disagreed with Pruitt's contention that industry groups had not had sufficient opportunity to comment before the implementation of the 2016 rule was enacted. The judges also said Pruitt lacked the legal authority to delay the rule from taking effect.
"This ruling declares EPA's action illegal — and slams the brakes on the Trump administration's brazen efforts to put the interests of corporate polluters ahead of protecting the public and the environment," said David Doniger, director of climate and clean air programs for the Natural Resources Defense Council.
EPA spokeswoman Amy Graham said the agency was reviewing the opinion and examining its options. The EPA could seek to appeal to the Supreme Court.
Related: Scott Pruitt Questions Human Impact on Climate Change
Natural gas is largely made up of methane, a potent greenhouse gas that traps dozens of times more heat in the planet's atmosphere than the same amount of carbon dioxide. Environmental groups contend that actual methane emissions from leaks and intentional venting at fossil-fuel operations are many times greater than what is now publicly reported.
Oil and gas companies say that they were already working to reduce methane emissions and that complying with the new rules would make many low-production wells unprofitable.