A federal grand jury has indicted a Mexican man on immigration and weapons charges after he was acquitted of murder in the 2015 shooting death of Kathryn Steinle, the Justice Department said Tuesday.
Each of the the two new federal charges carries a maximum of 10 years in prison if Jose Ines Garcia Zarate is convicted, the government said. He was indicted on one count each of being a felon in possession of a firearm and ammunition and being an illegally present alien in possession of a firearm and ammunition.
The killing of Steinle became linked with the controversy over illegal immigration, and President Donald Trump referred to the case in pushing for stricter policies and in criticizing so-called "sanctuary cities."
Garcia Zarate has been deported and had returned to the United States five times. A San Francisco jury found him not guilty of murder on Thursday but he was found guilty of being a felon in possession of a firearm. The charge carries up to three years in prison, but he has been jailed for two years and could get credit for time served.
Steinle, 32, was fatally shot on San Francisco's Pier 14 on July 1, 2015. Defense attorneys argued that Garcia Zarate found the handgun and that it went off accidentally.
The Justice Department said that the federal charges are the result of an investigation by the federal Bureau of Alcohol, Tobacco, Firearms and Explosives.
Related: Experts say Steinle verdict based on reasonable doubt
Trump in a tweet called the not guilty verdict in the case "disgraceful" and said "No wonder the people of our Country are so angry with Illegal Immigration."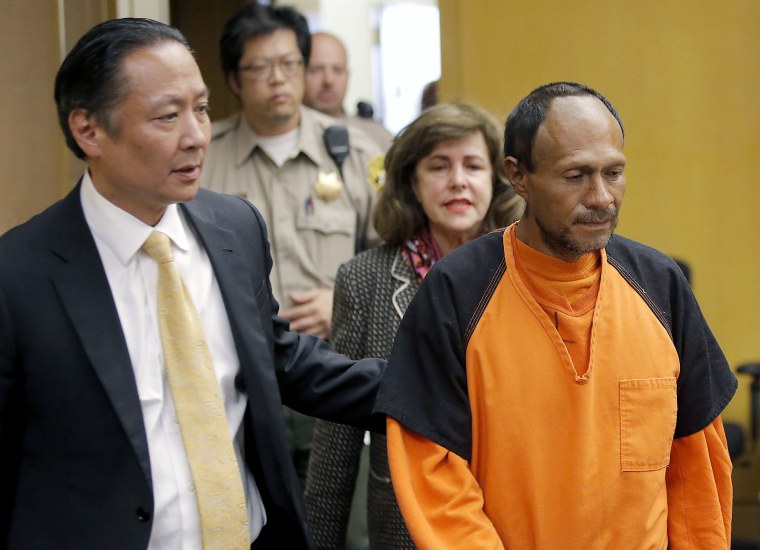 Garcia Zarate, who had served a federal prison sentence for illegal re-entry to the United States, was transferred in March of 2015 to San Francisco's jail to face a 20-year-old charge for selling marijuana.
But when the district attorney dropped that charge, Garcia Zarate was released despite a request by federal immigration authorities to detain him for deportation.
Related: San Francisco defends 'sanctuary city' policy after acquittal
San Francisco prohibits city law enforcement officers from asking about immigration status or detaining people solely on the basis of civil immigration detainers after they are eligible for release. The city says the policy helps people report crimes without fear of immigration status.
Lawyers for San Francisco have also argued that holding people on immigration detainers could expose the city to lawsuits over unconstitutional detention.
Immigration and Customs Enforcement Deputy Director Tom Homan said in a statement after the verdict that the agency would seek his removal from the United States, and blamed San Francisco's policies for him even being on the street when Steinle was killed.