Hundreds of inmates over the last year allege that a Kentucky corrections facility detained them past their release dates, in what local judges and lawyers are calling a repeated failure to follow court orders.
Three lawyers filed the federal class action lawsuit Monday on behalf of two former inmates who claim they spent extra hours in the Louisville Metro Department of Corrections.
One former inmate, Jacob Healey, was kept in jail for a 13 extra hours after serving his three-day sentence. He was not released until "he began making inquiries himself as to why he was being incarcerated past 72 hours," according to the suit, which was filed in U.S. District Court.
Another man, Larry Louis Hibbs Jr., a small business owner, was not allowed to work during the first 30 days of his sentence, even though a judge had granted work release.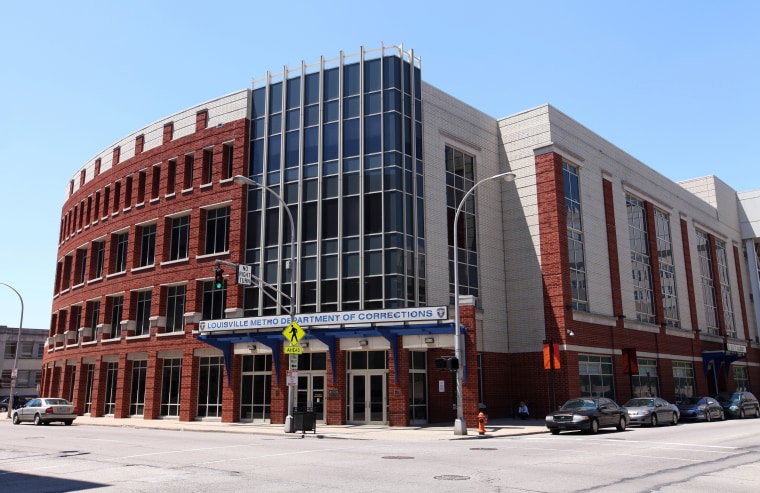 An attorney in that case, James Ballinger, blamed mismanagement for the facility's alleged unlawful imprisonments, which he said he believes have been occurring for years. Since local news outlets began reporting on the story, Ballinger said, he has received calls from dozens of former inmates who claim they were detained longer than their sentence.
"We're still hearing from people. ... I spoke with a woman who said she was kept in the jail 11 days longer than what she should've been," Ballinger said. "We're sticking up for the constitutional rights that we all have. They served their time, and they were ordered to be released. They should expect to be released."
A local union that represents the jail's employees is backing up claims made in the suit. In a letter to the court, the union, AFSCME Local 2629, said short staffing, lack of proper training and a hostile work environment had led to errors in releasing inmates on time.
"The administration is well aware of the issues and errors, but they continue to do nothing to work with [union members] or the staff to solve the problem," the letter reads.
Corrections staff appeared before a judge two weeks ago to explain why they should not be held in contempt of court, NBC station WAVE reported. During the hearing, Jefferson County District Judge Stephanie Burke cited 16 cases in which an inmate was released either too early or too late, calling it a "leadership problem."
"When we impose a sentence as a court, that must be followed," Burke said during the hearing. "Each time one of these errors takes place, it has a far-reaching effect for the defendant, particularly if someone is detained past the date of detention."
Inmates are seeking monetary compensation, which Ballinger did not specify.
"You can't give them back the time they spent sitting in jail or incarcerated when they shouldn't have been," Ballinger said. "We don't know a dollar figure yet, but we will be seeking compensatory damages."
The Corrections Department did not immediately respond to requests for comment.
Also named in the lawsuit is Mark Bolton, the department's director.