Over a dozen current and former principals in the Detroit public school system have been charged in a conspiracy scheme involving more than $900,000 in kickbacks and bribes, federal prosecutors announced Tuesday.
At least 13 principals are named in the federal complaints — including the principal of a school that was featured on "The Ellen DeGeneres Show" and received $500,000 in donations because conditions there were so poor.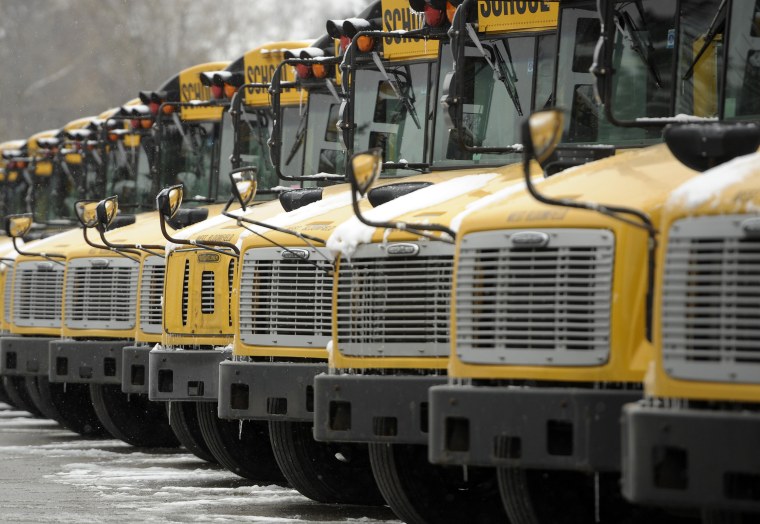 "The real victims in a case like this are the students and the families ... the teachers and the educators who want to make a difference," Barbara McQuade, U.S. Attorney for the Eastern District of Michigan, said at a news conference. "A case like this is a real punch in the gut."
The investigation started two years ago following a routine audit, prosecutors said.
Related: Teacher 'Sickout' Shuts Down Almost All Detroit Schools
As part of the alleged scheme, school supplies vendor Allstate Sales was used by the various schools to purchase items such as auditorium chairs, supplemental teaching materials, and paper. The principals submitted fraudulent invoices for payments to Allstate Sales for some items that were never received.
In exchange, those Detroit Public Schools principals received kickback payments, McQuade said. They've each been charged with conspiracy and face arraignments.
Norman Shy, Allstate Sales' owner, allegedly worked with Clara Flowers, a principal and assistant superintendent, from at least February 2009 to January 2015. She had the power to select vendors and order materials for various schools.
The scheme involved a total of $908,518 in kickbacks and bribes in exchange for Allstate Sales doing business with the Detroit Public Schools worth $2.7 million, McQuade said.
Shy allegedly kept a ledger to keep track of how much money he owed Flowers in kickback payments. Some of the payments were made via checks payable to contractors working on her residence; checks payable to her personal business, Always Together Travel; and prepaid gift cards, the federal complaint says.
Shy was also charged in the scheme, and faces conspiracy, bribery and tax evasion.
Five of the principals named don't currently work for the school district.
Detroit's public schools have been in financial straits, and the allegations against the city principals come as Michigan Gov. Rick Snyder announced that he signed a law releasing $48.7 million in emergency funding to help the state's largest school district stay open through the end of the school year.
McQuade said the announcement of the charges were not linked to the governor's actions.
"This continues to demonstrate that the challenges at DPS aren't just Detroit's problem, they are concerns for all of Michigan," Snyder said in a statement Tuesday.
One of the principals, Ronald Alexander, had received about $23,000 in kickbacks, the federal complaint says.
Alexander appeared on "The Ellen DeGeneres Show" in February when DeGeneres surprised his performing arts school with donations from Lowe's Home Improvement and pop star Justin Bieber, who pledged $1 from each ticket of his Michigan concert toward Spain Elementary-Middle School.
During the show, teachers told Degeneres how they did not have enough money for books for each of the students and how classrooms lacked heat.
"Of all the people in the whole world, I am the happiest principal on Earth," Alexander said at the time.
McQuade said most of the principals have been cooperative in the federal government's investigation. It was unclear if the defendants had lawyers, and they could not be immediately reached for comment.
McQuade had a stern warning for those who take advantage of the public's trust for personal financial gain.
"It may seem easy to take a bribe, but it's also easy to get caught," she said, "and we will hold you and make you accountable."