The National Highway Traffic Safety Administration said Thursday that it's expanding its investigation into reports of carbon monoxide leaks in some Ford SUVs.
The agency said it is now looking into 791 complaints of Ford Explorers model years 2011-2017. That's up from the initial 154 complaints regulators began investigating a year ago in model years 2011-2015. A report from the NHTSA says an additional 2,051 complaints were lodged with the manufacturer. There have been 41 reported injuries, the NHTSA said.
The potential carbon monoxide exposure in the SUVs has drawn pointed scrutiny in Austin, Texas, where the police department has already pulled more than 60 of its vehicles from the streets. A modified version of the Ford Explorer, called a Police Interceptor Vehicle, is popular with law enforcement agencies across the country.
Those vehicles make up 61 percent of Austin's patrol fleet. City officials are now considering whether to remove the 400 SUVs due to reports of dozens of officers becoming sick.
"Safety is our top priority," a Ford spokesperson said in a written statement. "A dedicated Ford team is working with police customers, police equipment installers, Police Advisory Board members and NHTSA to investigate reported issues and solve them. Customers with concerns about Explorers and Police Interceptor Utilities can call our dedicated hotline at 888-260-5575 or visit their local Ford dealership."
Austin Police Sergeant Zachary LaHood has been among those pushing the department to take action.
In March, dashcam video captured the moments LaHood realized something was wrong in his patrol vehicle. He asked another officer to check out the SUV.
"I almost hit the road twice and I think I'm going to get sick," LaHood is heard saying on the video. "I just need fresh air."
LaHood is now on medical leave — and he's suing Ford, alleging he was left with long-term neurological problems after being poisoned by carbon monoxide.
"I never thought my car would take me down," LaHood told NBC affiliate KXAN.
The head of Austin's police union said dozens of officers have complained of similar symptoms since March.
"It's very disturbing," said Ken Casaday, the president of the Austin Police Association. "Especially when you're sitting next to people and talking to them about neurological damage."
In a separate case in California, dashcam video from 2015 showed a police officer who passed out behind the wheel crashing into a tree. That civil case is still pending.
But federal regulators are now looking into whether the issues in Austin are "…related to a potential safety defect." Representatives from the agency were in Texas this week to inspect the department's vehicles. Ford engineers were there as well.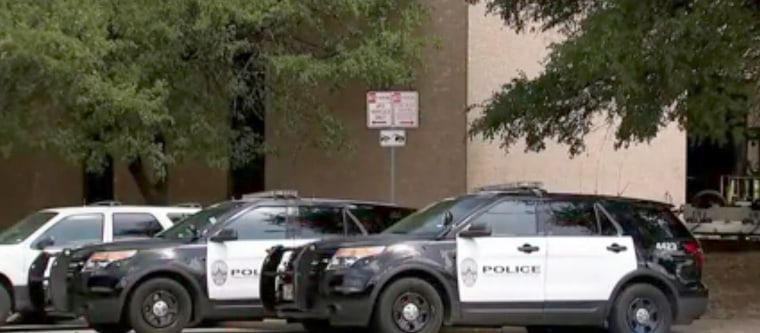 According to a NHTSA report released Thursday: "To date, no substantive data or actual evidence…has been obtained supporting a claim that any of the alleged injury or crash allegations were the result of carbon monoxide poisoning…however, that CO levels may be elevated in certain driving scenarios, although the significance and effect of those levels remains under evaluation…"
"We have investigated and not found any carbon monoxide issue resulting from the design of our Police Interceptor Utility Vehicles," Ford has said in a previous statement. "We know police modify these vehicles, which can contribute to exhaust-related issues. We have provided instructions to help seal these modifications and are ready to inspect any vehicles with this concern."
In addition to the more than 60 SUVs Austin PD parked over the concerns, the department has installed carbon monoxide detectors in the rest.
"We clearly are here to protect and serve but right now is that we are very, very concerned for the safety and well-being of our officers," said Troy Gay, Austin's assistant police chief.