Federal regulators have blocked new drilling on an Ohio natural gas pipeline owned by the same Texas-based company that was behind the controversial Dakota Access project, after millions of gallons of a drilling lubricant spilled into wetlands.
The Federal Energy Regulatory Commission on Wednesday ordered Rover Pipeline to stop new drilling in the $4.2 billion project until it addresses environmental concerns, after the company spilled 2 million gallons of a nontoxic bentonite mud used as drilling lubricant in Stark County.
"The action taken Wednesday by FERC is a step in the right direction," Ohio Environmental Protection Agency spokesman James Lee told NBC News. The spill could choke fish and plants, the state agency said.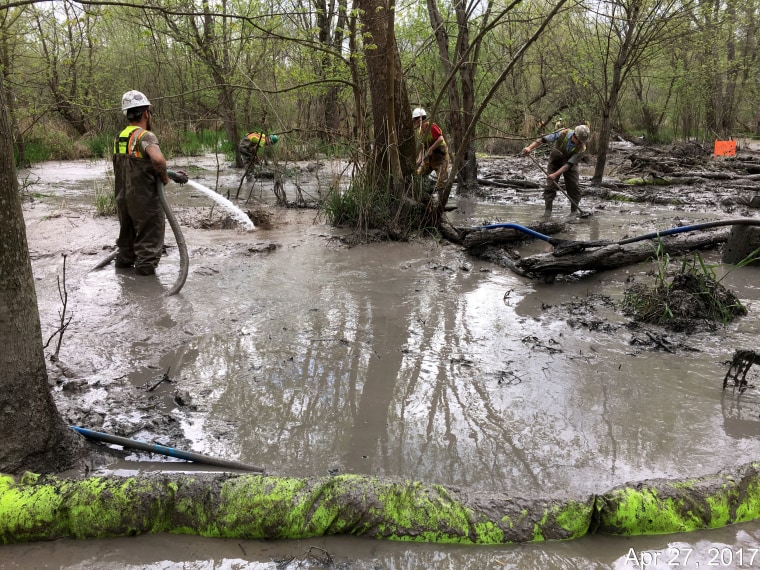 The Ohio EPA last Friday ordered the pipeline company to pay at least $431,000 for multiple water and air pollution violations that occurred across the state.
Lee said the state agency has recorded 18 pipeline-related incidents that affected 11 counties over the past two months, ranging from open burning violations, bentonite mud spills and water pollution. At least eight broke state laws and more are under review, according to the Ohio EPA.
The bentonite mud spill affected 500,000 square feet of wetlands, which act as a natural filtration system for the nearby Tuscarawas River. It could suffocate local fish and other wildlife and plants as well as affect the wetlands' water chemistry, the Ohio EPA said.
Related: Dakota Access Pipeline Springs Small Leak in South Dakota
FERC ordered that Rover not start new drilling until independent third party expert investigates the company's drilling plans and practices and makes some recommendations, and until it is satisfied the company has addressed environmental problems and taken appropriate precautions.
Energy Transfer Partners is the same company that financed the Dakota Access Pipeline, which runs near a Sioux reservation and sparked months of protests. The Dallas-based company said it is committed to working with regulators and cleaning up the spill in Stark County.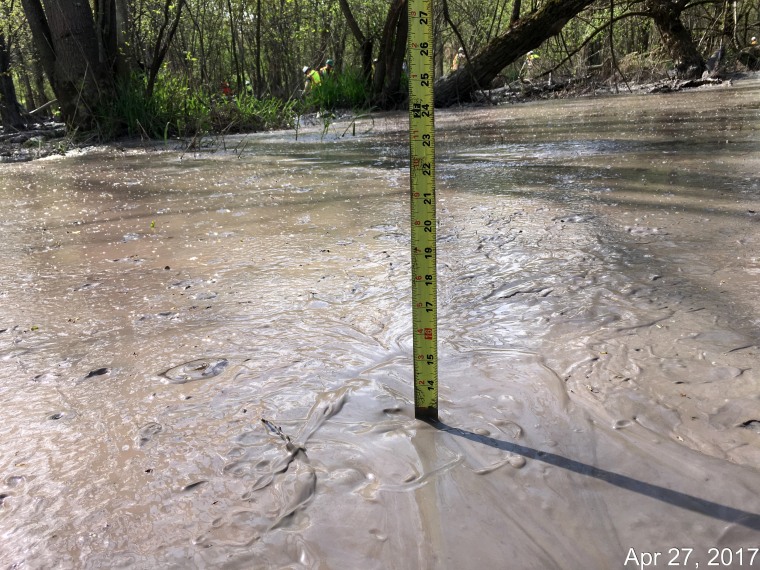 "We continue to work with the FERC and the OEPA to resolve any outstanding questions or concerns, and most importantly in a manner that ensures the complete remediation of the areas," Energy Transfer Partners spokeswoman Alexis Daniel said in an email. "To ensure this happens, we have increased the manpower and the equipment in Stark County in order to facilitate a thorough clean-up effort."
The project route stretches from Southeastern Ohio and parts of West Virginia and Pennsylvania to a hub in northwestern Ohio and on to Michigan, where it will connect with an exiting pipeline, according to Energy Transfer Partners.
The company says the pipeline has the ability to transport 3.25 billion cubic feet of gas, which has the potential to power serve more than 15 million homes.
One resident along the route of the pipeline said the project is an eyesore and her property value dropped by more than $30,000, and that the company doesn't seem to care about spills.
Sherry Miller bought six-and-a-half acres of land in Carroll County, which borders Stark County, 18 years ago and she and her husband built a barn, house and garage there over the ensuing years. Now when she looks out her window, she sees cranes and bulldozers as the pipeline is built through and around her property thanks to eminent domain.
"All these spills they arrogantly toss off as nothing, they bother me," Miller told NBC News in a phone interview. She added that her home's appraisal has dropped $34,000 because of the pipeline. "I hope FERC shuts them down completely," Miller said.