Federal safety regulators told NBC News on Tuesday night that they are investigating the death of a 14-year-old Texas girl whose family says she was electrocuted in a bathtub in an incident involving her cellphone.
Madison Coe, of Lubbock, Texas, was taking a bath when she either plugged in her cellphone or grabbed a phone that was already plugged in, Madison's mother and grandmother told NBC affiliate KCBD of Lubbock. She was visiting her father in Lovington, New Mexico, at the time.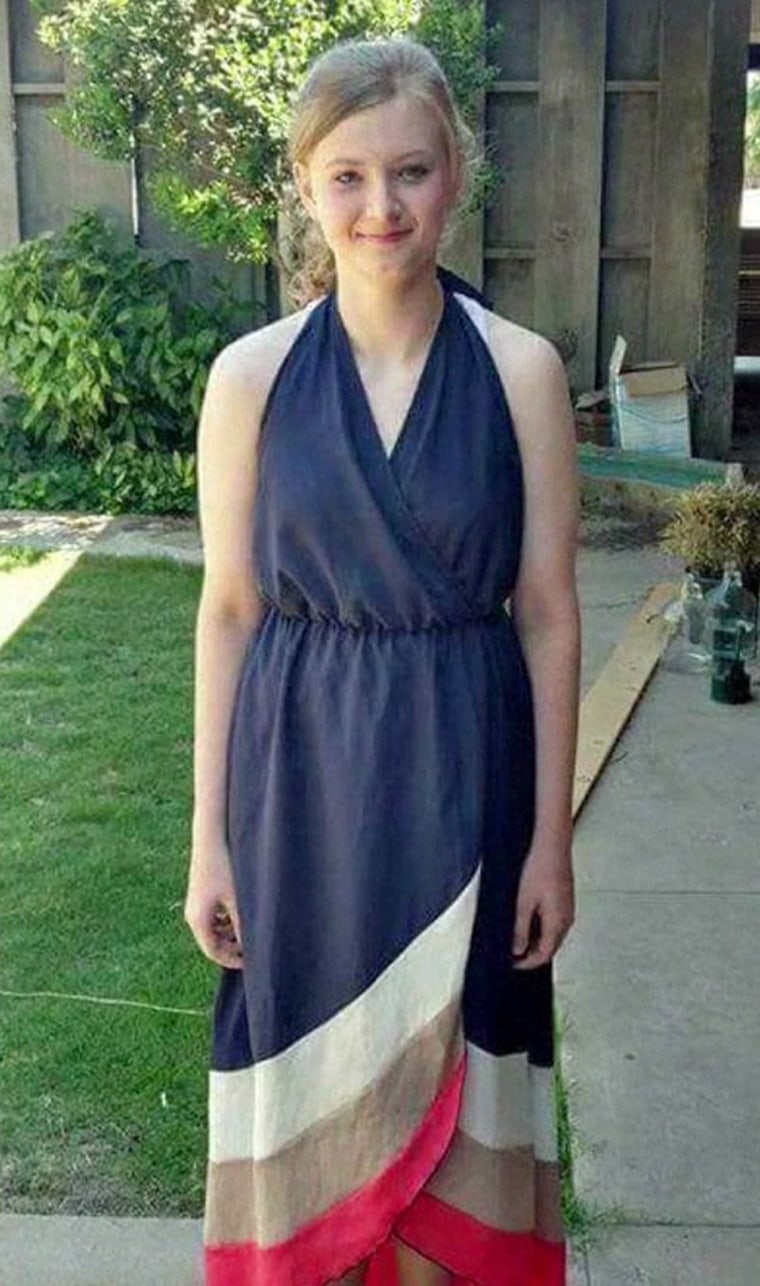 "There was a burn mark on her hand, the hand that would have grabbed the phone. And that was just very obvious that that's what had happened," Coe's grandmother, Donna O'Guinn, told KCBD on Monday.
Police in Lovington said in a statement sent to NBC News Wednesday that authorities were called to a home around 12:24 a.m. (2:24 a.m. ET) Sunday for reports of an unresponsive female. Police said they attempted lifesaving measures, but Madison was pronounced dead at the hospital a short time later. The statement did not identify Madison by name, as it is department policy not to disclose the name of minors.
"The cause of death has been confirmed as electrocution," police said in a followup statement Wednesday evening.
Lovington police Detective Sgt. David Miranda told NBC News on Wednesday that a cellphone, a charging cord and an extension cord were found at the scene. He said he could not confirm whether the phone had actually fallen into the bathtub, along with any other details related to the incident.
Miranda added later Wednesday that while the coroner's preliminary finding of cause of death was electrocution, investigators were still working to determine exactly what happened.
The U.S. Consumer Product Safety Commission told NBC News that it is looking into the report.
O'Guinn said she called Madison "my shining star."
"She was very smart, a very good student in school. She just loved life," O'Guinn said.
Madison had just graduated from the eighth grade from a middle school in the Frenship Independent School District, according to the station.
"It is with heavy hearts that Frenship ISD mourns the loss of Madison Coe," school district officials told KCBD. "We wish to share our heartfelt sympathy with her family and friends as we carry the burden of this tragedy together."
O'Guinn said the family hoped to raise awareness of her granddaughter's death in order to prevent a similar tragedy to occurring to other families.
"This is such a tragedy that doesn't need to happen to anyone else," she said. "And we want something good to come out of this as awareness of not using your cellphone in the bathroom as it is plugged in and charging."
"She's just going to be greatly missed by all of us," she later added. "She has a special place in my heart."
Services will be Friday in Lovington, Carl Christensen, the city's emergency management coordinator, said on a GoFundMe page set up to assist the family.