Five Manhattan doctors were paid more than $800,000 by a pharmaceutical company to prescribe a spray version of the highly potent and addictive opioid fentanyl to more and more patients whether they needed it or not, according to an indictment handed up Friday in federal court.
The money was earmarked as "speaker fees" for educational lectures on the drug that the doctors had agreed to give to medical professionals. In reality, according to federal prosecutors, the "lectures" were just booze-fueled social gatherings, and the fees were kickbacks paid to prescribe the drug, Subsys.
And doctors who went along with the arrangement got other perks, prosecutors say: tickets to sporting events, free meals delivered to their office workers, casino and nightclub outings and an evening of lap dances at a strip club -- all paid for by the drugmaker, Insys Therapeutics.
On Friday, the five physicians, several of whom are affiliated with prestigious hospitals, were indicted on conspiracy and other charges that carry up to 20 years in prison. Drs. Gordon Freedman, Jeffrey Goldstein, Todd Schlifstein, Dialecti Voudouris and Alexandru Burducea all pleaded not guilty and were released on $200,000 bond each.
At the same time, prosecutors unsealed the guilty pleas of two former Insys executives, Jonathan Roper and Fernando Serrano, who were charged last year and are now cooperating. The company's billionaire founder, John Kapoor, and other Insys officials and employees are also under indictment in a scandal that has been unfolding since 2014.
The 75-page indictment, unsealed Friday in New York, alleges that as the doctors pocketed more money from Insys, the more Subsys they prescribed.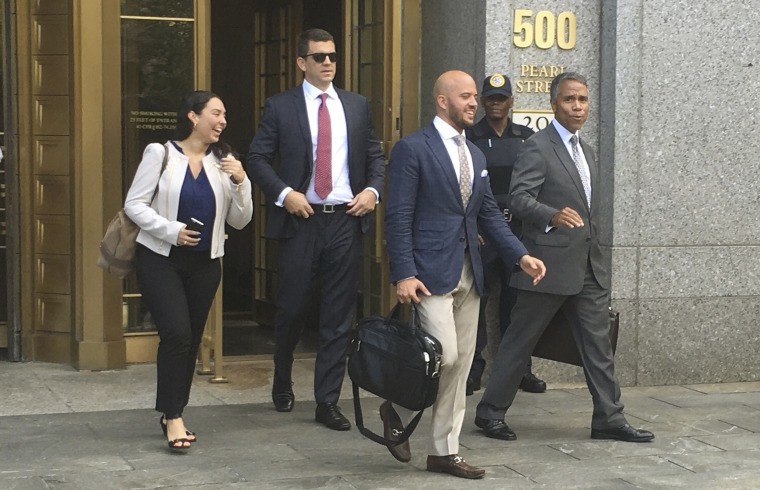 An email from one sales representative to Freedman gave explicit instructions on how many new patients were needed to help meet a company target, according to the indictment.
"I'd rather you put 20 (or more, of course LOL) new patients (commercially insured of course, as always) on it in April even if we wind up getting only 10-14 approved, rather than only have you go with the safe 6-7 that you think will all get approved," the email said.
Freedman replied: "Got it."
Prosecutors said Freedman received approximately $308,000 in "speaker program fees" and by the last quarter of 2014 was the fourth-highest prescriber of Subsys in the nation, accounting for more than $1 million in sales.
The indictment says that when Goldstein began prescribing a lot of a competing product, Insys put pressure on him and he began recommending Subsys more often. After a bitter argument with a company executive, he convinced Insys to send him a $9,800 check for a home security system and then dummied up an invoice without buying one, prosecutors alleged.
Burducea married an Insys sales rep and then lied to federal investigators about how long they had been dating so their relationship couldn't be linked to his high prescription rate, the indictment says. Voudouris had Insys' Serrano take an exam for her so she would be eligible to prescribe Subsys, prosecutors said.
When she didn't write enough prescriptions, the indictment says, Insys got upset. An email from Roper to sales reps said they had "invested way too much" to be satisfied with just a few patients.
"1 new PT [patient] a day is what was agreed upon," the email said. "Don't let the doctor sell you, you sell the doctor!"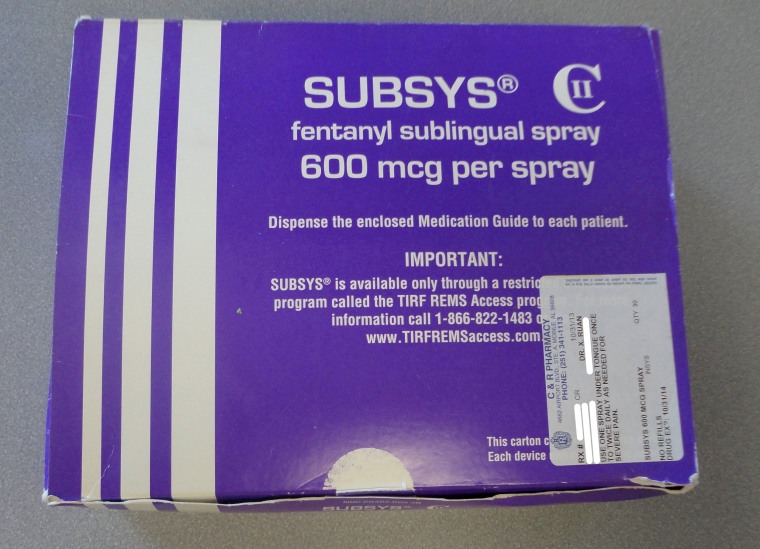 In a statement, Manhattan U.S. Attorney Geoffrey Berman noted that the doctors had sworn a "solemn oath" to put their patients' care above all else.
"Instead, they engaged in a malignant scheme to prescribe fentanyl, a dangerous and potentially fatal narcotic 50 to 100 times more potent than morphine, in exchange for bribes in the form of speaker fees," he said.
"Payments from pharmaceutical companies should not influence how doctors prescribe — especially when a potent and dangerous drug like fentanyl is involved."