Federal authorities in Texas on Wednesday released a sweeping racketeering indictment against the purported heads of the Bandidos motorcycle gang, accusing them of coordinating attacks on rivals and financing the group's operations through extortion, shakedowns, robberies and methamphetamine trafficking.
The arrests marked the culmination of a 23-month investigation by the FBI, the DEA and the Texas Department of Public Safety that revealed the inner workings of one of America's oldest and most notorious motorcycle gangs.
The 23-page indictment focuses on the Bandidos' rivalry with a smaller regional gang, the Cossacks, seemingly triggered by the smaller group's wearing of a Texas patch without permission.
The document describes Bandidos President Jeffrey Fay Pike's declaration of war, a campaign that resulted in attacks on Cossack members across Texas: beatings, stabbings, and the December 2014 murder of a member of a Cossacks-allied gang.
Authorities charged Pike, 60, along with vice president John Xavier Portillo, 56, and enforcer Justin Cole Forster, 31, with directing various aspects of that war. All three, from Texas, were arrested Wednesday and face life in prison, authorities said.
"Of course, the defendants will have their day in court, but today's arrests have stuck a significant blow to the Bandidos' criminal enterprise," U.S. Attorney for West Texas Richard Durbin Jr. said in a statement.
While the charges cover many violent acts in an ongoing biker war, they do not even reference the May 2015 melee and shootout at a Twin Peaks restaurant in Waco, Texas that left nine members of the Bandidos and Cossacks dead. That case remains under investigation.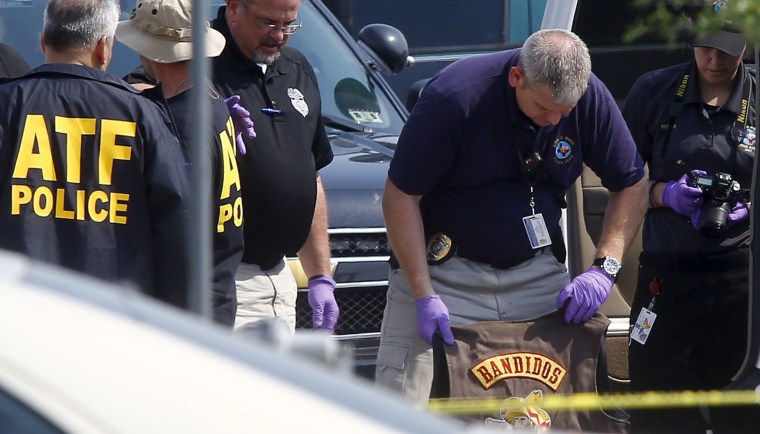 At the time of that battle, authorities were already deep into their investigation of the Bandidos, which has grown from one of the original "Big Four" outlaw motorcycle gangs of the 1960s to an international syndicate spanning dozens of chapters across 15 countries with more than 1,500 members.
The gang remains headquartered in Texas, with 42 chapters, authorities say.

In addition to the attacks on rivals, the indictment describes a vigorous trade in methamphetamines, leaders forcing chapter members to pay membership dues under threat of violence, and the stockpiling of guns.