BOSTON — Actress Felicity Huffman tearfully pleaded guilty to federal charges Monday, admitting that she paid a fixer thousands of dollars to boost her daughter's college admission hopes.
Prosecutors said Huffman, 56, shelled out $15,000 to have wrong answers corrected on daughter Sofia Grace Macy's SAT exam, leading to a remarkably improved score from the teen's PSAT performance, prosecutors said.
The "Desperate Housewives" and Oscar-nominated actress, who is married to actor William H. Macy, agreed to plead guilty last month to conspiracy to commit mail fraud and honest services mail fraud, according to court records.
Download the NBC News app for breaking news and politics
Prosecutors on Monday recommended the actress receive four months behind bars.
The actress broke down in tears while explaining that she had requested, for legitimate medical reasons, extra time for Sofia Grace to take her test. The teen has been seeing a neuropsychologist since she was 8, Huffman said.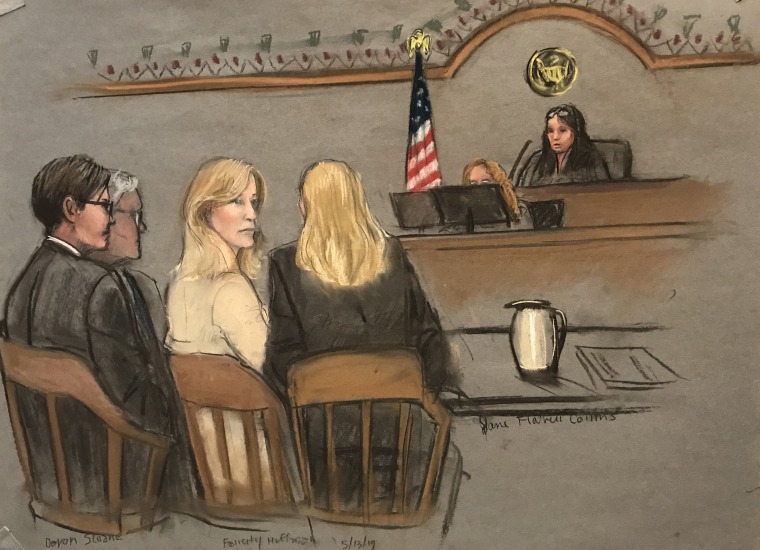 "I just didn't want to create the impression that the neuropsychologist had any involvement because she, like my daughter, didn't have any knowledge of my actions, of what I had done," Huffman said through tears.
The actress said she didn't know the names of all the people in on the scheme, as explained by Assistant U.S. Attorney Eric Rosen.
"Everything else that Mr. Rosen said I did, I did," Huffman added.
Huffman is scheduled to be sentenced Sept. 13.
Joining Huffman in pleading guilty in a federal courtroom in Boston on Monday was Los Angeles businessman Devin Sloane, who paid $250,000 for his son to be admitted as a phony water polo recruit at the University of Southern California.
Five parents have now formally pleaded guilty in connection with the wide-ranging prosecution. Nine others have made agreements with prosecutors to plead guilty at a later date.
The actress has said her daughter had no idea what her mother was doing behind her back. Sofia Grace was a student at Los Angeles High School for the Arts, when her mom was arrested in March.
"I am ashamed of the pain I have caused my daughter, my family, my friends, my colleagues and the educational community," Huffman said in a statement last month, after revealing her plans to plead guilty.
"I want to apologize to them and, especially, I want to apologize to the students who work hard every day to get into college, and to their parents who make tremendous sacrifices to support their children and do so honestly."
Huffman paid the money to a fund controlled by William Rick Singer, who ran a lucrative business getting the children of his clients into prestigious universities.
He took thousands of dollars from well-heeled clients to either boost standardized test scores of their teenage children or pass them off as elite athletes, deserving of special — lower — admissions standards.
Singer pleaded guilty in March to racketeering conspiracy, money laundering conspiracy, conspiracy to defraud the United States and obstruction of justice.
Schools such as Yale University, Stanford University, USC, Wake Forest University and Georgetown University, among others, were implicated in the far-reaching probe dubbed "Operating Varsity Blues" by federal agents.
Several of Singer's co-defendants have already pleaded guilty and are awaiting sentencing. They include former Yale women's soccer coach Rudy Meredith, the operation's paid test-taker Mark Riddell, and one-time Stanford sailing coach John Vandemoer.
Actress Lori Loughlin and her fashion designer husband, Mossimo Giannulli, have pleaded not guilty to allegations that they paid $500,000 in bribes to get their two daughters into USC as crew recruits even though neither of them participates in that sport.
Ezra Kaplan reported from Boston; David K. Li reported from New York City.