The remains of two railroad workers were found Wednesday, the day after a freight train collision in northern Texas, officials said.
A third worker hadn't yet been found, but he was presumed dead, National Transportation Safety Board investigator Richard Hipskind said in a briefing.
A fourth employee managed to jump from the train before it derailed and was taken to the hospital with non-life-threatening injuries, Joe Faust, a spokesman for Burlington Northern Santa Fe Railway, said late Tuesday.
The collision occurred near the tiny town of Panhandle, about 25 miles northeast of Amarillo. On Wednesday, the scene was one of devastation: Amid twisted metal and smoldering hot spots, first responders were on standby and work crews prepared to remove heaps of the charred train cars, which belong to BNSF.
Panhandle residents were forced to temporarily evacuate after the head-on crash created a fireball about 8:30 a.m. (9:30 a.m. ET) and released thick plumes of black smoke that could be seen for miles along Highway 60.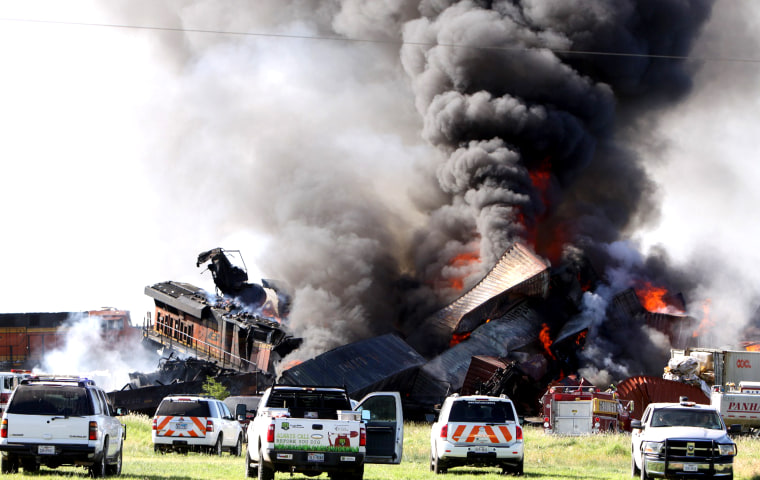 The families of the three BNSF employees were informed that their loved ones, who were not publicly identified, were missing, Faust said.
While the track speed in the area is 70 mph, neither train was traveling that fast, officials said. The cause of the collision remains under investigation.
The diesel-fueled trains were known as "mixed freights," carrying primarily consumer goods, Faust said. One was headed from Chicago to Los Angeles, and the other was traveling from San Bernardino, California, to Chicago.