The battle with the so-called Chimney Fire entered a 10th day Monday as California crews struggled to beat back a behemoth blaze that at one point got within two miles of the legendary Hearst Castle.
By Monday evening, the wind-driven wildfire was just 35 percent contained and had devoured 33,173 acres.
"Thankfully, no fatalities have been reported," Kenichi Haskett, a spokesman for the California Department of Forestry and Fire Protection, told NBC News.
But the iconic estate that was the inspiration for Xanadu in the 1941 Orson Welles movie "Citizen Kane" — and much of the rest of parched San Luis Obispo County — continued to be threatened by a fire that has already forced the evacuation of hundreds of homeowners from communities around Lake Nacimiento.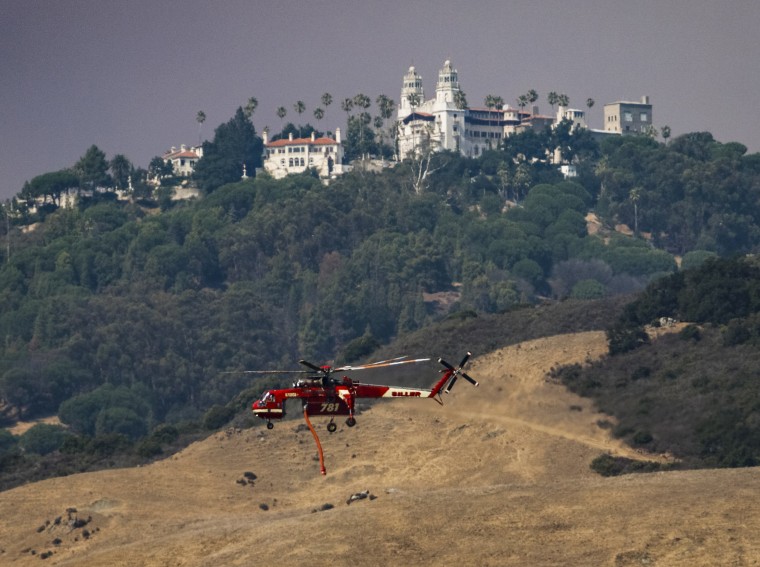 The fire had been diverted to about 3 miles from the castle by Monday afternoon, but the tourist attraction will remain closed at least through next Sunday.
"A fire has never come this close before," State Parks supervising ranger Robert Chambers told The Associated Press earlier.
One firefighter has been injured, said Haskett, but his condition was not immediately available.
"The cause of the fire is still under investigation," Haskett added.
Whipped by winds and feeding off the bone-dry terrain, the blaze that began about 4 p.m. on Aug. 13 is now moving north and northeast toward Monterey County. It has destroyed at least four dozen structures so far.
The fire has posed unusual challenges, said Orange County fire Capt. Larry Kurtz, one of the 3,700 or so firefighters on the scene.
"This fire ... has had an interesting setup in that we have lots of different microclimates going on around the fire," Kurtz told NBC station KSBY of San Bernardino on Monday.
"Winds that occur down in the southern area of the fire are different from what's in the northern end of the fire," he said. "Plus, as the day progresses, we get what's called 'sundowner' winds, and that makes the winds shift."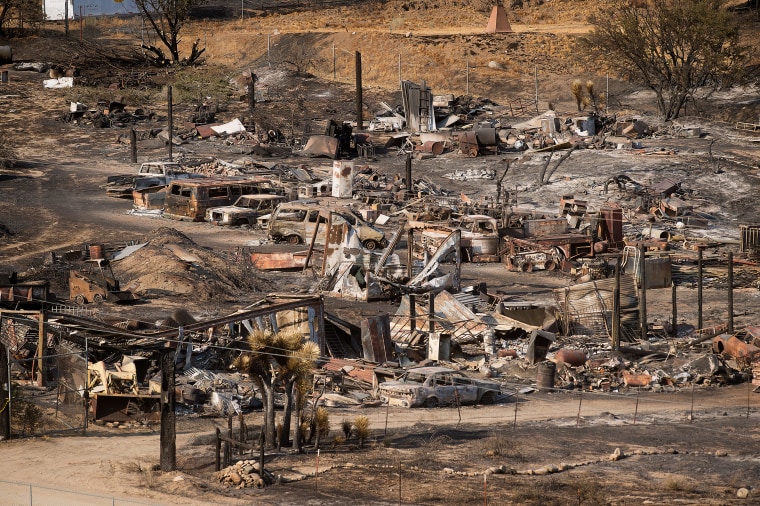 Meanwhile, firefighters reported significant progress in the battle against another wildfire — this one east of Los Angeles in San Bernardino County.
The Blue Cut Fire, which has consumed 37,020 acres and about 300 buildings and other structures during seven days, was about 89 percent contained, officials said. And most of the 80,000 people who were evacuated were allowed to return home Saturday.