Tonia Sina, one of the founders of the non-profit Intimacy Directors International, began acting in live theater in the 1990s at the age of 14. During her teenage years, she said she participated in six or seven productions with simulated sex in the script — all without guidance on how to prepare or stay safe. Then, at the age of 23, while playing a part on a graduate school set, she was sent into a hallway to practice kissing with a male actor.
When they got to the isolated hallway, the rehearsal stopped being acting and, instead, became personal. Without guidance, it had a lasting impact on both actors, negatively affecting their relationships with their respective partners at the time. The two ended up just kissing in a hallway, said Sina.
When she later went on to become an instructor specializing in movement, Sina vowed to provide students with the guidance she wasn't offered.
"I told myself I would never put my students through that," Sina, 38, told NBC News. The event was the catalyst that led her to become an intimacy coordinator, a field that has taken on increasing relevance amid the national conversation on sexual assault and misconduct, according to the coordinators that NBC News spoke to.
Intimacy coordinators and intimacy directors gained attention particularly in the past two years, with outlets such as The New York Times, Rolling Stone and Huffington Post writing about the roles. The search terms also reached peak popularity in 2018, according to Google Trends.
Before 2016, although sometimes a movement or combat choreographer might have been asked to stay and monitor intimate scenes, there was no one dedicated to the work, said Adam Noble, fight director and associate professor of acting and movement at the University of Houston.
An intimacy coordinator, or intimacy director, works on set to make sex scenes less awkward and safer for all parties involved. The intent is that they provide support to the actors and troubleshoot any issues that might come up during a production.
This attention to actor safety came amid accusations of sexual assault leveled at Hollywood mogul Harvey Weinstein — and the wave of misconduct claims against many in the industry that followed — which have focused the national conversation on consent, on-set and off.
"Before Weinstein, the idea of being able to say no in a positive way wasn't really a part of the narrative in the industry," said Ita O'Brien, who first worked as an intimacy coordinator on the Amazon Prime set of "Electric Dreams" in 2017. "Anyone who said no was considered troublesome as an actor."
Prior to Weinstein and the national conversation of #MeToo, actors were often expected to assent to sex scenes and play them out until a director's vision was realized, according to the intimacy coordinators who spoke with NBC News. If a director told two actors to "improvise," there were many times no boundaries to let either party know what wasn't OK.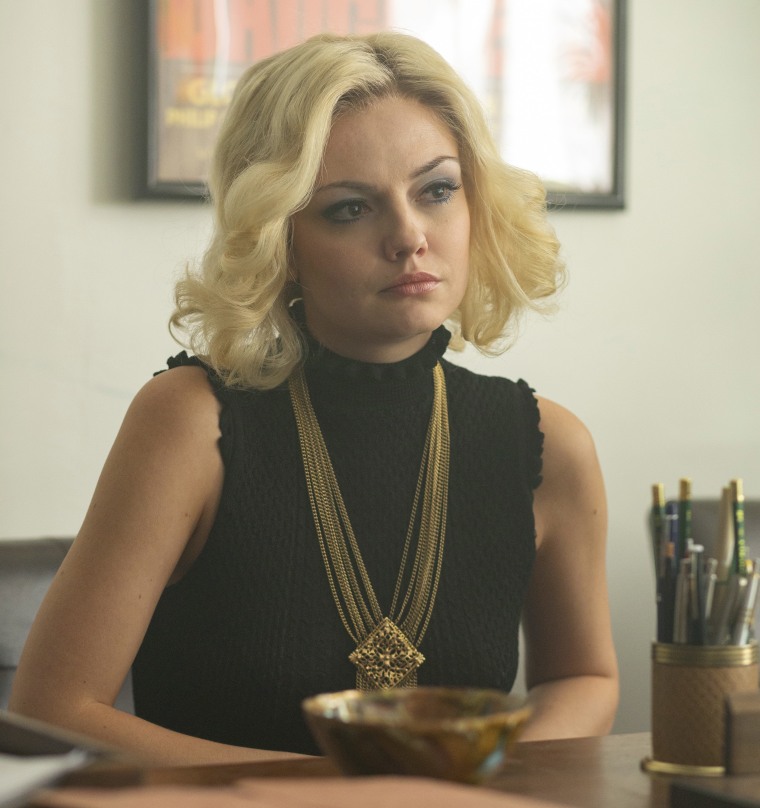 Intimacy Directors International, founded by Sina along with Alicia Rodis and Siobhan Richardson, received attention earlier this year when actor Emily Meade told the creators of "The Deuce," an HBO drama about a prostitute turned porn star, that she needed an advocate on set to support her during scenes where she was exposed or simulating sexual acts. HBO choose Rodis of Intimacy Directors International to fill that role, according to the HBO blog post in which Meade detailed her experience.
Together, Sina, Rodis and Richardson developed the five pillars by which Intimacy Directors International abides: context, consent, communication, choreography and closure. The non-profit later brought on three more to its certified staff, one of whom was Noble.
Following Rodis' hiring, HBO announced that it would not film any intimate scenes without an intimacy coordinator present. Director David Simon of "The Deuce" also said he would never work without an intimacy coordinator again because of how taxing sex scenes could be on actors, according to a Rolling Stone article.
Actors have also taken note.
Actor Sarah Scott reported sexual misconduct to California police in August, alleging Kip Pardue acted inappropriately with her on the set of a pilot for the show "Mogulettes" in May. She claimed that he placed her hand on his erect penis while filming an intimate scene. She also alleges that Pardue masturbated in front of her after the sex scene. Scott told the Los Angeles Times in October that she thought the incident would not have happened if an intimacy coordinator had been present.
In a statement given by Pardue's representative, the actor apologized for placing her hand on him, saying that he "misread" the situation. He denied all the other allegations.
According to O'Brien, 53, when an intimacy coordinator understands actors' physical boundaries and from what angles they're comfortable being filmed, they can then work with the director to plan the scenes.
"I contact the actors about the boundaries I need to be aware of," said O'Brien. She gave an example of a scene with outdoor nudity in cold temperatures during which she checked with the wardrobe department to see if there were enough coverings, made sure that the temperature was accounted for and ensured that actors had access to a hot room where they could warm up afterward.
While going to school to become a stage combat instructor, Sina realized that there no guidelines for how to work with students on intimate scenes.
"I realized that there was a gaping hole in the industry," she said. "I started to research it and I looked into it online. ... In 2004, 2003, I looked up intimacy choreographers. I tried every phrase that I could figure out, and I couldn't find anything."
The lack of information motivated Sina to begin research at the Virginia Commonwealth University for her 2004 thesis on stage intimacy and sexual harassment. That research became the basis of her method for directing intimate scenes.
As of now, those NBC News spoke with in the fairly new industry are all self-accredited to be intimacy coordinators — since there is no official qualification for the work, they train themselves — and often come from a background focused on movement, whether it be dance or combat. Intimacy Directors International's belief is that expertise in those fields allows the coordinators to better bring out the emotions directors want to see in scenes, as well as to choreograph the minute details of intimate scenes.
Although O'Brien uses techniques and methods she developed herself for practicing intimacy on set, she also came from a background in movement. Her techniques are very similar to those practiced by Intimacy Directors International.
Not everyone in the field hails from the same work experience, however. In June, HBO hired another intimacy coordinator, Amanda Blumenthal, for the show "Euphoria." Blumenthal, 25, who comes from a film-industry family, draws from her experience as a sex and relationship coach, as well as her advocacy work for survivors of sexual assault.
"A lot of it is empathizing and creating safe spaces for them to experience all the nerves and anxiety," Blumenthal said. "You're dealing with such vulnerable material."
Blumenthal, Sina and O'Brien all said that within the next decade, they thought the role of intimacy coordinator would be commonplace in any production, like a choreographer. According to various intimacy coordinators, the role also earns a similar salary, which varies with the production. Blumenthal said a six-figure salary could be expected when working full-time in TV and film, although none of the coordinators NBC News spoke to confirmed individual salaries or costs for their services.
Sixteen people are currently training to be intimacy coordinators with Sina's company, she said. Sina hopes they will help fill the growing demand she anticipates for intimacy coordinators.
Although intimacy coordinators have gotten positive attention in the media, actor and director Andy Serkis compared guidelines for intimacy on set as "censorship," according to an article by BBC.
O'Brien disagrees. "We're developing the work ourselves. We're defining the work ourselves," she said. "Some people say that this is censorship, but it isn't. It's freeing."