On Jan. 12, 2004, 27-year-old Terrance D. Williams pulled his 1983 Cadillac into Naples Memorial Gardens Mausoleum in Collier County, Florida and was never seen by his family again.
While relatives have searched for answers for nearly 15 years, they've always suspected the man they say was the last person to see him: Sheriff's Deputy Steve H. Calkins.
On Tuesday, film producer Tyler Perry joined attorney Benjamin Crump, known for representing the family of late teenager Trayvon Martin and police brutality victims, to announce a civil lawsuit against Calkins that seeks unspecified damages and directly accuses the ex-lawman of first-degree murder.
NBC News reached out to Calkins but he did not immediately respond.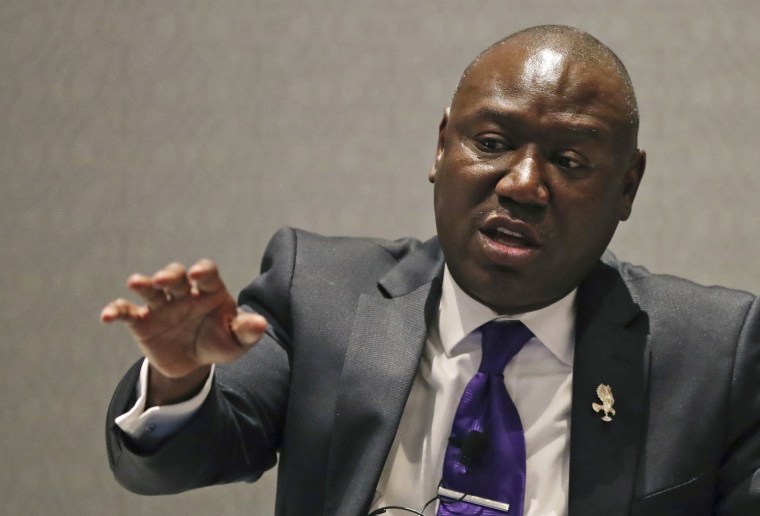 In a news conference Tuesday, Perry said the suit was important because cases of missing people of color generate relatively little attention.
"When somebody goes missing and they are a blue-eyed blond woman, it's all over the news," he said.
Crump said the aim of the suit is to "formally say what people for the last 14 years have been informally saying, and that is that he [Calkins] intentionally murdered Terrance Williams. "
As well as his unspecified support to the legal filing in Florida state court, Perry announced that he was doubling his reward offering — from $100,000 first offered in 2013 to $200,000 — for information leading to the clearing of the missing persons cases of Williams and 23-year-old Felipe Santos, whom the suit says was also last seen by Calkins.
The Collier County Sheriff's Office has said in a previous statement that both men were considered "missing and endangered."
"Both were last seen in the company of now-fired CCSO deputy Steve Calkins," the department stated in 2013.
The suit claims that on that January day Calkins was on-duty when he pulled Williams over at that mausoleum, put him in the back of his cruiser, and later had the Cadillac towed, all without ever entering or radioing information about the stop.
"After having Williams' vehicle towed as abandoned, Defendant performed a warrants search for Terrance D. Williams, which included providing Williams' date of birth," the suit reads. "Williams can be heard in the background of the aforementioned warrants search recording."
The circumstances of Williams' and Santos' disappearances helped to get Calkins removed from the force, and the suit says he's believed to be living in Iowa.
"We need the right piece of new information," local Sheriff Kevin Rambosk said in a statement in 2013. "We are hopeful that Tyler Perry's involvement will not only keep Terrance and Felipe in the public eye, but also prompt someone to step forward with the information we need."
The suit, filed on behalf of Williams mother, Marcia Williams, and his four offspring, who met the legal definition of minors (younger than 25 in Florida) at the time he was last seen, seeks unspecified damages greater than $15,000 for "loss of prospective net accumulations," "extreme mental pain and suffering," and other factors.
"These two people, black, white, Mexican — doesn't matter — would be put in the back of a sheriff's department's car — someone we are suppose to trust — put in the car and then they disappear and haven't been seen in 14 years," Perry said. "No matter who you are, being poor or rich, this has got to bother you."