Mourners vowing to be good Samaritans in the fight for racial justice packed a Houston church Tuesday and paid tribute to George Floyd, whose death while in police custody touched off worldwide protests against racism and police brutality.
Capping a three-state, nearly weeklong memorial, Floyd's loved ones said final goodbyes at The Fountain of Praise church, honoring the Minneapolis man who was born in North Carolina and raised in Houston.
Just as the service began, Floyd's golden casket was closed for a final time.
"This will be a home-going celebration of brother George Floyd," Fountain of Praise Co-Pastor Mia K. Wright told mourners. "We may weep, we may mourn, but we will find hope."
Full coverage of George Floyd's death and protests around the country
The Rev. Al Sharpton, founder of the National Action Network, a civil rights organization, recounted the parable of the good Samaritan, who lent assistance as passersby ignored a wounded man on the road.
Sharpton, the host of MSNBC's "PoliticsNation," compared the biblical tale to the stories of African Americans who died in confrontations with police and other authorities.
The families of Trayvon Martin, Eric Garner, Botham Jean, Pamela Turner, Michael Brown and Ahmaud Arbery all attended Floyd's funeral.
"The problem is too many of you have been walking by the Eric Garners, been walking by the Trayvon Martins, been walking by the Arberys," Sharpton said.
But Floyd's death has finally sparked an American outcry that can bring change, Sharpton said.
"Been walking by, and now we stopped for George Floyd," he told mourners. "All of you are here because we're not passersby."
Sharpton scoffed at anyone who believes systemic racism in America is a myth and praised protesters who are "fighting wickedness in high places."
He recalled the time genealogical researchers found that his ancestors were slaves once owned by the family of Sen. Strom Thurmond, R-S.C., a notorious segregationist. Sharpton likely got his family name from slave owners.
"Every time I write my name, I'm writing American history of what happened to my people," Sharpton told the church.
Sharpton's eulogy capped a four-hour-plus funeral carried live by cable news networks.
The funeral ended with pallbearers lifting Floyd's casket and carrying it through the audience as gospel singer Zacardi Cortez serenaded mourners with "I Shall Wear a Crown."
Earlier in the service, former Vice President Joe Biden, the presumptive Democratic presidential nominee, told mourners remotely that Floyd's death will bring long-overdue justice.
Biden, who met privately with Floyd's family Monday, told mourners that he has been thinking about the man's 6-year-old daughter, Gianna Floyd.
"I know you have a lot of questions, honey," Biden said in a statement recorded from his home in Delaware on Tuesday.
"Too many black children have had to ask for generations, 'Why? Why's Daddy gone?'"
Rep. Sheila Jackson Lee, D-Texas, brought mourners to their feet as she urged them to find strength from Floyd's passing — and to complete "his assignment," that "there will never be brutality faced by a man that says 'I can't breathe' and calls out to a mama who loves him so."
Family members said they were grateful for well-wishers who honored their brother, uncle and nephew, often called "Perry," his middle name.
"I would like to thank the whole world," said Kathleen McGee, an aunt. "But I just want to make this statement: The world knows George Floyd. I know Perry Jr."
Floyd's niece told mourners that she would never forget her uncle's last words, "I can't breathe."
"Hello, my name is Brooke Williams, George Floyd's niece — and I can breathe," Williams said. "As long as I'm breathing, justice will be served for Perry."
Music punctuated much of the emotional ceremony, which included recording artist Ne-Yo's singing "It's So Hard to Say Goodbye," an R&B classic originally by Boyz II Men.
And gospel singer Dray Tate delivered a stirring rendition of "A Change Is Gonna Come," the Sam Cooke song that became an anthem of civil rights protests of the 1960s.
As Tate sang, artist Ange Hillz quickly painted a black-and-white portrait of Floyd behind him.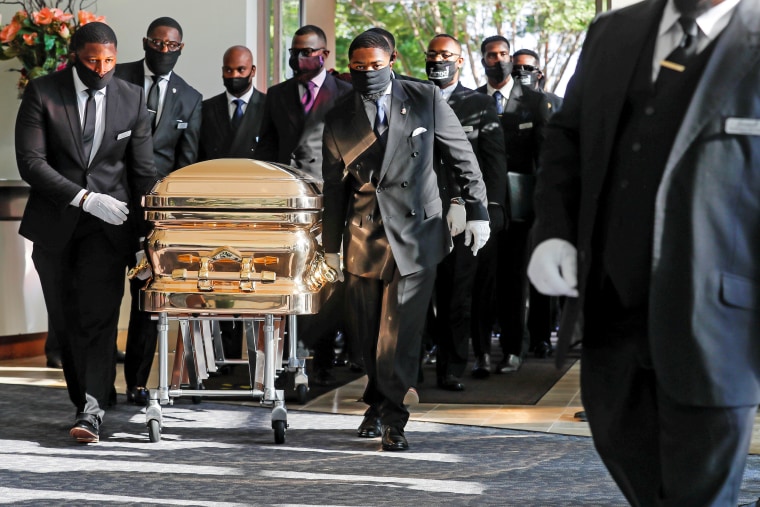 Biden said Floyd's death must yield justice before America can heal its centuries-old racial divide.
"Now is the time for racial justice. That's the answer we must give our children when they ask, 'Why?'" Biden told mourners. "Because when there's justice for George Floyd, we will truly be on our way to racial justice for America."
Ahead of Tuesday's funeral, organizers said just 500 people would be allowed inside the 2,000-seat sanctuary to keep mourners safely apart during the coronavirus pandemic.
But as the pews began to fill before the service, it became clear that such safeguards would not be possible.
"So much for social distancing today," a concerned Fountain of Praise Pastor Remus E. Wright said onstage.
Wright admonished mourners to keep their masks on and said anyone without a facial covering would be taken out. Congregants applauded.
"People are not expendable," he said as a final warning.
After the ceremony, Floyd's casket was removed from the church and eventually placed in a horse-drawn carriage, NBC affiliate KPRC reported. The glass-topped carriage pulled the casket for a mile — with hundreds gathering along the procession route — until it reached its final resting place at the cemetery in Pearland, a Houston suburb.
Floyd was then interred next to his mother, who he called for as he was dying.
Tuesday's final farewell caps nearly a week of memorials, which began Thursday in Minneapolis — where Floyd died after a Minneapolis police officer put a knee on his neck for nearly nine minutes — when mourners inside a sanctuary at North Central University said Floyd will get justice.
The four Minneapolis officers who confronted Floyd on May 25 have been arrested and charged in connection to his death.
Friends and family also gathered for a viewing and service near his birthplace in Raeford, North Carolina, on Saturday, where they demanded that Floyd's death spur substantive changes in police practices.
Then, on Monday, more than 6,000 people braved 90-degree-plus heat to file into The Fountain of Praise to honor Floyd.