A massive fire broke out Tuesday at a plastics recycling center in east central Indiana, prompting evacuation orders and concern over air quality as it produced a towering plume of black smoke.
Personnel from the Environmental Protection Agency and the Indiana Department of Environmental Management were in Richmond on Tuesday night evaluating the fire, Mayor Dave Snow said.
Officials declared mandatory evacuations for those within a half mile of the blaze. Evacuation orders were expected to remain in place overnight.
"There's a host of different chemicals plastics give off when they're on fire," state Fire Marshal Steve Jones said at a news conference Tuesday. "It's concerning."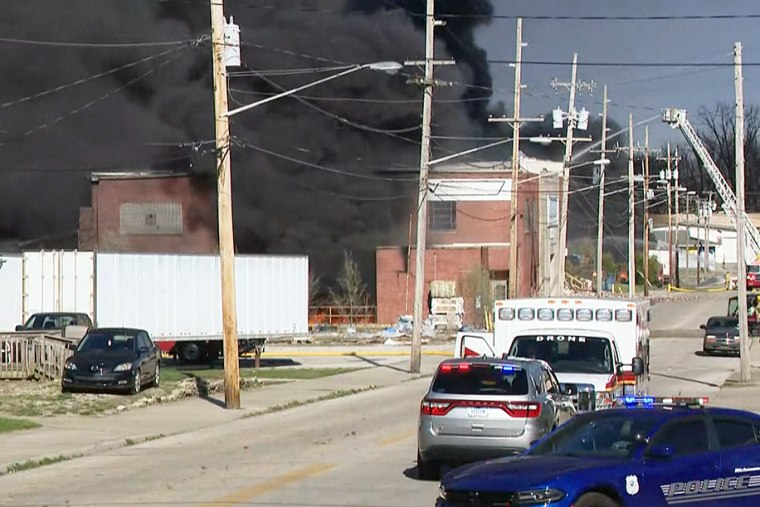 Burning plastic can release toxic chemicals such as dioxins into the air and groundwater, health officials say. The cancer-causing chemicals benzo(a)pyrene and polyaromatic hydrocarbons can also be released, they say.
"The smoke is definitely toxic," Jones said. "Elderly people who have difficulty breathing should stay inside."
The blaze started after 2 p.m. when a fire ignited for unknown reasons at the 175,000-square-foot facility and ravenously consumed mounds of plastic, Richmond Fire Chief Tim Brown said. He said the origin was a tractor-trailer, although it wasn't clear whether its cargo was the main fuel. 
The fire spread to six structures on the property. Brown said that it was contained at nightfall but that crews would remain on the scene as it continued to smolder and produce acrid air.
"It's going to burn for a few days," Jones said.
A firefighter sprained an ankle in a fall, but all four people believed to have been on-site when the fire started had been accounted for, Brown said.
Firefighters faced a nightmare of a battle because plastic containers filled the facility and were piled high outside, and parked tractor-trailers formed yet another obstacle, Brown said.
With all the city's fire vehicles at the scene, and with the help of other agencies, the firefighters beat back flames that had threatened homes, he said.
"It's probably the largest fire I've seen in my career," Brown said. "We only have access to one side of the building."
Officials didn't release the name of the facility's owner. Brown said the city of Richmond was a fractional owner.
Brown said the individual owner had been warned "several times" that the piles of plastic items and parked trailers were a fire hazard.
"We knew it wasn't a matter of if, it was a matter of when this was going to happen," he said.
Richmond is a city of around 35,700 about 71 miles east of Indianapolis and about 40 miles west of Dayton, Ohio.
The site of the fire was once home to Hoffco/Comet Industries, a maker of tractor parts, industrial farm implements and vehicle parts such as clutches, which closed in 2009. Weed Eater lawn-trimming products were manufactured at the facility in the 1970s, Brown said.