Evacuations and shelter-in-place orders remained in place for residents and businesses around a lightning-sparked tank fire that sent a plume of smoke over Lake Charles, Louisiana, on Saturday.
By evening, Louisiana State Police had determined a lightning strike caused the single-tank fire at the Calcasieu Refining Co. tank farm in Lake Charles shortly before 2 p.m., the agency said.
The company refines crude oil, operates a pipeline and runs a barge transfer facility for oil products.
No injuries have been reported. The refinery did not answer phone calls seeking comment.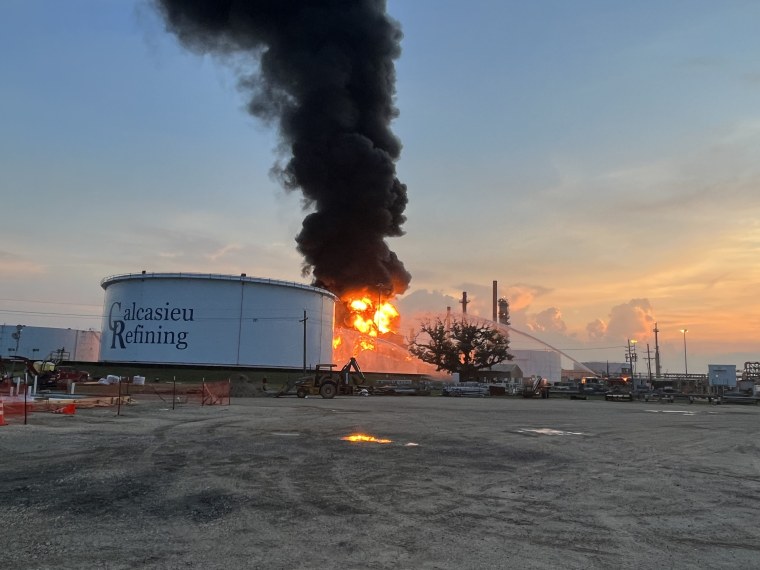 Mandatory evacuations were in effect for those as far as 1.5 miles from the tank farm. The outer boundaries of a shelter-in-place order have been reduced from 5 miles to 3 miles, the Lake Charles Fire Department said.
The fire was still burning around 10 p.m. local time, state police said.
Dick Gremillion, the director of the Calcasieu Parish Office of Homeland Security and Emergency Preparedness, said about 70 residents of assisted living facilities were among the people displaced, NBC affiliate KPLC of Lake Charles reported.
A shelter was opened at the Burton Coliseum for people who have to evacuate, Gremillion told the station.
Lightning spidered across the region as a front of unstable air moved east and produced severe thunderstorms, hail and the threat of flash flooding, the National Weather Service said Saturday.
In an earlier statement, the fire department described the blaze as a "crude oil tank fire."
Port Director Ricky Self told KPLC that the grounds were home to another fire Thursday that may have started in an area where motor oil was stored for company vehicles.
It wasn't clear whether the fires were related.