Alabama's Sunday school-teaching governor was accused by his former top cop on Wednesday of breaking the Seventh Commandment — thou shalt not commit adultery.
Spencer Collier claims he was fired from his post as head of the Alabama Law Enforcement Agency on Tuesday because he refused to cover up Gov. Robert Bentley's alleged affair with top political adviser Rebekah Caldwell Mason.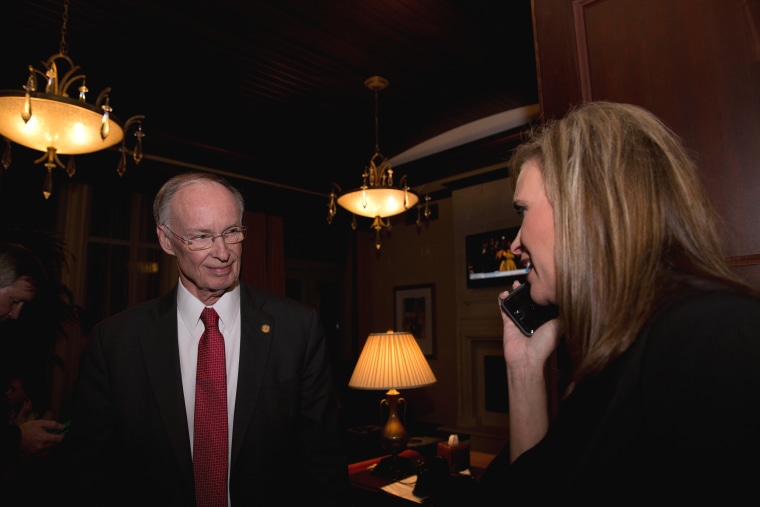 "I told Gov. Bentley that I loved him like a father, and there was nothing I wouldn't do for him, except lie to a grand jury," Collier claimed during a press conference.
Not long after Collier made his blockbuster allegations, Bentley called a press conference during which he admitted that "two years ago I made a mistake."
"I have dealt with that and I have moved on," he said. "I am apologizing for the things that I said."
But Bentley, a 73-year-old Republican, refused to be pinned down when asked if he and Mason had a sexual relationship.
"Well, first let me say I have stated that I have not had a physical relationship with Ms. Mason," he said. "I'm just saying that it was a period of time in my life that I have made inappropriate comments."
Mason did not say anything about the scandal swirling through the Alabama statehouse and could not be reached for comment.
Collier said he learned in August 2014 that Bentley was in an allegedly illicit romance when he was shown a text message from Mason on the governor's cell phone that was "sexual in nature."
"I made Gov. Bentley aware of the content of the recording that I heard," Collier said during a news conference. "Gov. Bentley gave me his word he would terminate the relationship immediately.
Collier said he also warned Bentley that it was a felony to use state equipment or resources for an affair.
But Bentley refused to break off with Mason, Collier said. And on Tuesday, Collier said he found out via social media that he'd been fired by the governor for allegedly misusing state funds — a charge he denies.
Collier said Mason "wielded a level of influence over both the governor and state government that I've never seen in all my years of public service, and that includes serving almost nine years in the state Legislature."
He said he'd gotten complaints about Mason from government officials, law enforcement — even members of the Bentley family.
Then in February, Collier said, the ALEA began investigating allegations of improper conduct involving the attorney general's office. Nothing illegal was found. And Collier said he was asked to submit affidavits in the case.
Bentley, he said, ordered him not to do the affidavits and to say the ALEA investigation "was still ongoing."
"That was untrue," Collier said. "The investigation was done and we had concluded it."
The governor and Mason were "furious" and yelled and ridiculed him in front of other staffers, Collier said.
Bentley is a father of four and grandfather of six who has taught Sunday school at his Baptist church in Tuscaloosa, Alabama. His ex-wife, Dianne Bentley, filed for divorce in August 2015 declaring that their marriage "has suffered an irretrievable breakdown," according to court records.