The husband of Tennessee's former vaccinations director said he and his wife are planning to move out of the state this fall amid growing tension over efforts to combat the Covid-19 pandemic.
Brad Fiscus told NBC News on Saturday that the couple's decision to move to northern Virginia sometime between mid-September and October was initially "precipitated by the actions of the Tennessee Department of Health" to fire his wife, Dr. Michelle Fiscus, this summer amid Republican outrage over her push to inoculate teenagers against Covid-19.
"Since Dr. Fiscus wanted to stay in public health, we were looking at where those opportunities would be," Brad Fiscus said.
As a member of the American Academy of Pediatrics board of directors, Michelle Fiscus already represents Virginia, Tennessee, Kentucky, North Carolina, and South Carolina.
"And Virginia, being near D.C., felt like the best place to move," her husband said.
While it was a difficult decision for the couple, who has lived in Tennessee for over two decades, "it was the right decision," Brad Fiscus said, especially after what he experienced during a contentious school board meeting that he took part in Tuesday to discuss mask mandates.
He is a school board member in Williamson County, where protesters held signs with messages saying, "I will not let you muzzle my child," and "My child, my choice." Some had to be escorted out by law enforcement. The county is just south of Nashville.
According to him, the meeting was just another example of why they feel they have to move — that public health has become more political in Tennessee during the pandemic.
The move to Virginia, which will take place after Brad Fiscus finishes his school board duties, is bittersweet because the couple had planned to stay in their home in Franklin, Tennessee, until retirement.
"We love this community," Brad Fiscus said, "but it's just not the same place where we raised our kids."
He said that when they built their house in 1998, they envisioned staying in Franklin long enough to be able to care for their future grandchildren in the same home where they raised their own two children. But the pandemic changed all of those plans for them and many of their friends who have also moved out of the state during the pandemic.
"We're in an age of misinformation, distrust, and quick to be angry, and quick to protest. And we have sort of shifted out of a timeframe of collaboration, understanding and empathy," he added. "I think maybe the pandemic has turned that up somewhat."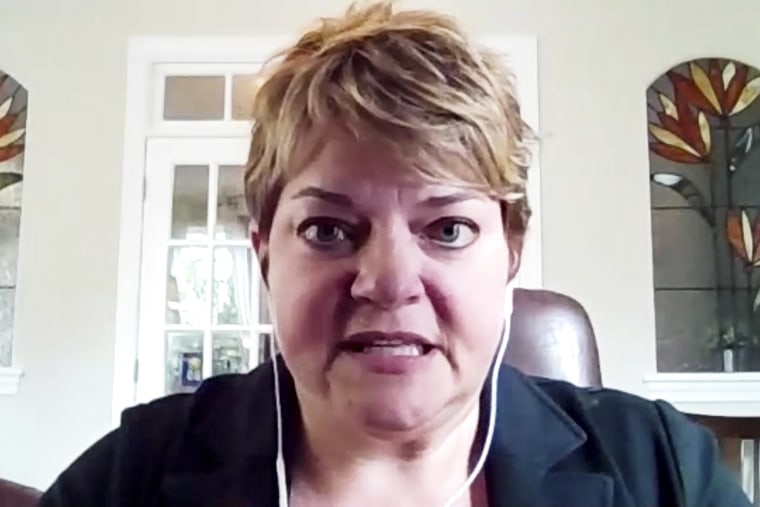 Michelle Fiscus formerly served as medical director for vaccine-preventable diseases and immunization programs at the Tennessee Department of Health. She said the state's elected leaders put politics over the health of children by firing her for her efforts to get more Tennesseans vaccinated.
A July letter from the state's chief medical officer said Michelle Fiscus should be removed due to complaints about her leadership approach and her handling of a letter explaining vaccination rights of minors for Covid-19 shots, an effort that had GOP lawmakers fuming. Michelle Fiscus issued a point-by-point rebuttal to the letter.
Fiscus also noted consistent praise for her job performance, including years of performance reviews deeming her work "outstanding," most recently for October 2019 through September 2020.