A string of fires at predominantly black churches in the South has fueled concerns about the potential for a new wave of racist violence in the days since a white gunman killed nine black worshipers in Charleston, South Carolina.
The worries persist despite FBI data showing a sharp decline in bias-motivated torchings of black churches in the past two decades and a corresponding drop in hate crimes that targeted places of worship.
Federal authorities, including the FBI and the Bureau of Alcohol, Tobacco, Firearms and Explosives, have joined local authorities looking into fires in Georgia, North Carolina and South Carolina.
In each case, the church was severely damaged or destroyed — with congregations left wondering if they were specifically targeted by bigots.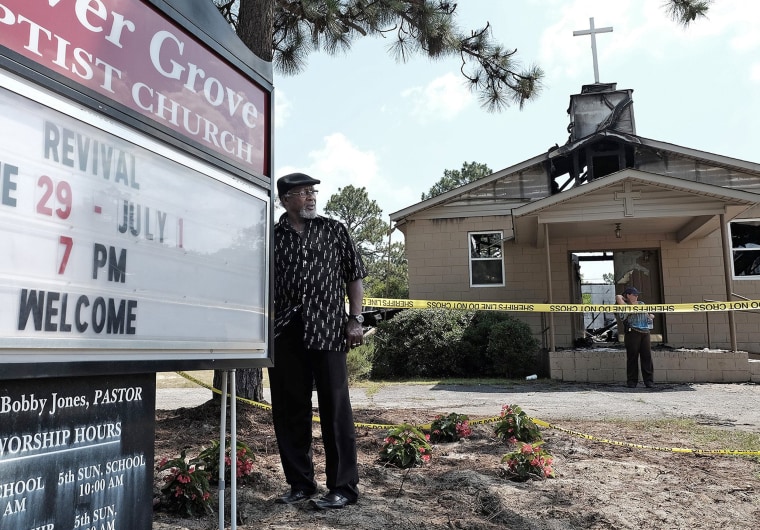 "I'm suspicious," said Angulis Williams, the deacon at Glover Grove Baptist Church in rural Warrenville, South Carolina. His small church, with 35 active members, was gutted by fire before dawn on Friday.
Investigators haven't determined a cause. But Williams said he doesn't believe it was accidental. All of the church's electric devices had been shut off following its last service days earlier, he said.
"We are taught to endure hardness as a good soldier ... So that's what we're doing."
He said he couldn't help but think of the other churches that have burned around the same time.
Two days earlier, Briar Creek Baptist Church in Charlotte, North Carolina, was set ablaze, ruining one wing of the building but sparing the sanctuary. Investigators determined that it was intentionally set.
"The next step is identifying who did it," Charlotte fire spokeswoman Cynthia Robbins Shah-Khan said. "Suspects are a top priority. We are looking for help from community."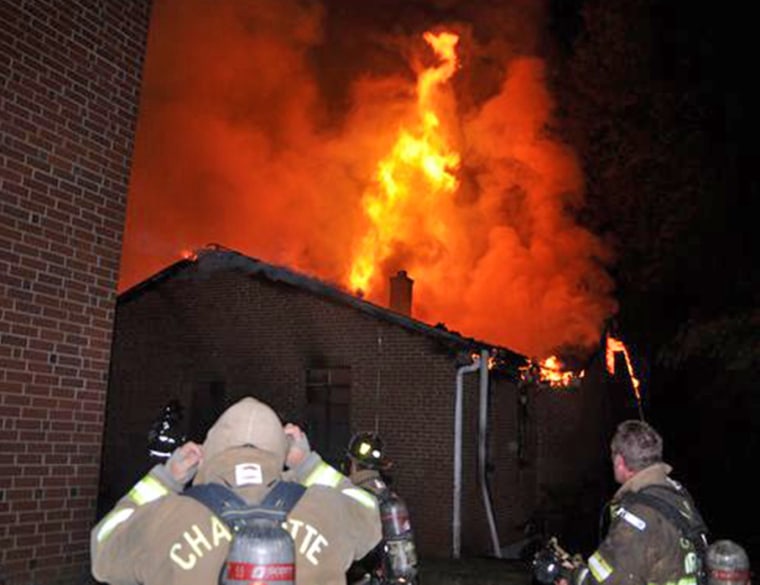 That fire came a day after one that heavily damaged God's Power Church of Christ in Macon, Georgia.
"We are taught to endure hardness as a good soldier," Assistant Pastor Jeanette Dudley told local NBC affiliate WMGT. "So that's what we're doing. We're enduring this. And we know that regardless of the bad situation, God is working it all for our good."
A Macon-Bibb County spokesman told NBC News Monday that the fire was being investigated as an arson but investigators have found no evidence that it was a hate crime.
On June 21, the College Hills Seventh Adventist Church in Knoxville, Tennessee was set on fire, but authorities said it appeared to be the result of vandalism, and not a hate crime.
The fires may not have attracted such national attention were it not for the June 17 killing of nine worshippers by an avowed racist at Emanuel African Methodist Episcopal Church in Charleston. The murders prompted a backlash against the flying of the Confederate flag, a stirring eulogy on race by President Obama, and a passionate discussion of race-related violence that has divided the nation since last summer's killing of an unarmed black man by a white Ferguson, Missouri, police officer.
But church fires have a much deeper link to America's history of racial violence, the most notorious example being the 1963 bombing of the 16th Street Baptist Church in Birmingham that killed four young girls.
Related: Even Houses of Worship Aren't Immune From Violence
Mike German, a former FBI agent who went undercover with white supremacist groups, said many of them targeted black churches "because they tend to be places where people congregate, so you can harm a number of people, but also that they tend to represent something in the community."
He added, "For decades we've had this in our society. It's something law enforcement has to pay attention to. I believe law enforcement has to try to understand this problem a little better."
A series of church torchings in the 1990s led to the creation of a National Church Arson Task Force and the passage of the Church Arson Prevention Act, which made the destruction of a place of worship a federal crime. The task force found that about a third of the 670 fires it investigated involved black churches. Along with many arrests, the effort included a massive public education campaign, aimed at helping congregations protect themselves.
Since then, the number of hate crimes at houses of worship, as well as arson offenses targeting blacks, has decreased precipitously.
FBI data show that there were 321 total hate crimes against religious organizations in 1996. By 2013, the last year for which figures are available, the number had dropped to 206. Of those, 13 were motivated by racial bias.
During the same period, the number of arson offenses motivated by anti-black bias dropped from 33 to 11.
Those numbers are considered by experts to be low because of gaps in reporting.
"The best thing happening right now is black churches joining with law enforcement and other church security professionals "
Carl Chinn, a church security specialist who compiles data from news reports, said he still regularly sees reports of arson at black churches but nothing so far that indicates an increase.
"Most often, people attack churches simply because they are a soft target. Most often, it has little to do with the theology or culture of the specific church," Chinn said.
That is why vigilance, and cooperation with authorities, is key to preventing attacks, he said.
"The best thing happening right now is black churches joining with law enforcement and other church security professionals in their area to form coalitions that share sensitive but not classified information with each other," he said.