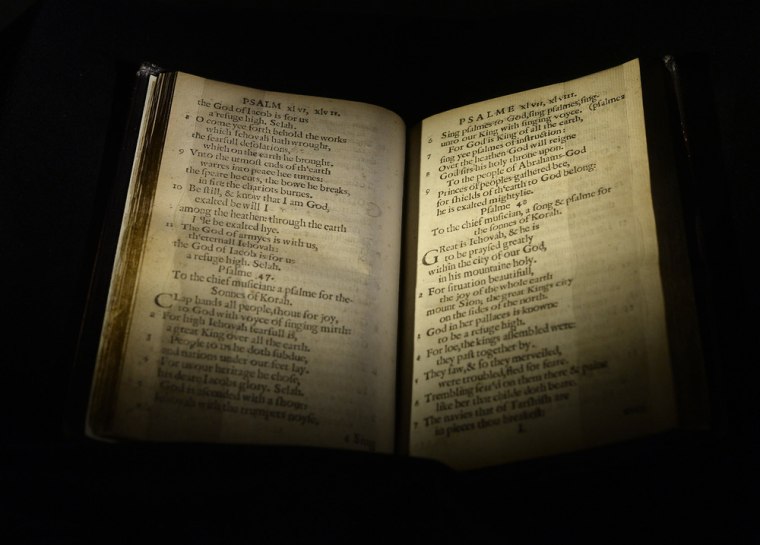 Who says print is dead?
A pamphlet of psalms believed to be the very first book ever printed in what is now the continental United States set an auction record for a printed book Tuesday — fetching $14,165,000 at Sotheby's, the auction house told NBC News. 
The copy of the Bay Psalm Book from 1640 that went on the auction block is one of just 11 known copies of the religious volume, said the Rev. Nancy Taylor, senior minister and CEO of Boston's Old South Church, which voted to sell one of the two copies of it owns to boost its grants and ministries.
It was purchased by American businessman and philanthropist David Rubenstein, "who plans to share it with the American public by loaning it to libraries across the country, before putting it on long-term loan at one of them," according to Sotheby's.
At one point, the nearly 350-year-old church owned five copies of the 6-by-5-inch book. One is now housed at the Library of Congress, with the others at Yale University and Brown University, according to the Associated Press.
"Of inestimable significance, 'The Bay Psalm Book' is not simply one of the great icons of book history, it is one of the greatest artifacts of American history," Sotheby's said in a description of the book on its website.
The tiny book was listed with a pre-sale estimate of $15 to $30 million — much more than the selling price of the previous record-holder for a printed book: a copy of John James Audubon's "Birds of America," which went for $11.5 million at Sotheby's three years ago.
The book was published in Cambridge, Mass., by the Congregationalist Puritan leaders of the Massachusetts Bay Colony, just 20 years after the Pilgrims first arrived at Plymouth seeking freedom from religious persecution.
The book was meant to be a faithful translation into English of the original Hebrew psalms, as Puritans believed that paraphrasing would undermine their salvation, according to the Sotheby's official website.
Some 1,700 copies were printed on a press that had been shipped from England.
A yellowed and faded title page reads: "The Whole Booke of Psalmes, Faithfully Translated into English Metre." At the bottom, an inscription reads: "Imprinted 1640."
The Associated Press contributed to this report.