Michelle Obama vowed to continue to fight for girls to have access to education around the world long after she leaves the White House in January — but she said she can't do it alone.
The First Lady teamed up with Glamour magazine on Tuesday to celebrate the International Day of the Girl by holding a global Skype panel on girls' education. Obama acknowledged that cultural barriers can prevent women from gaining an education, but she vowed to keep fighting for their place in the classroom.
"I know we can do it and I know it's something I'm going to spend the rest of my life working on, so I'm going to need a lot of soldiers out there like all of you to help me make this happen," she said.
Globally, more than 62 million girls do not have access to education, according to USAID. President Barack Obama and the first lady launched the "Let Girls Learn" initiative last March to raise awareness and ensure adolescent girls around the world are ensured a right to an education.
The First Lady was joined at the event by Glamour editor-in-chief Cindi Leive and 16-year-old actress Yara Shahidi.
The panel gave girls from Tanzania, Peru, Jordan and Cambodia, the U.S. and the U.K. an opportunity discuss how they can fight for equal education in their communities.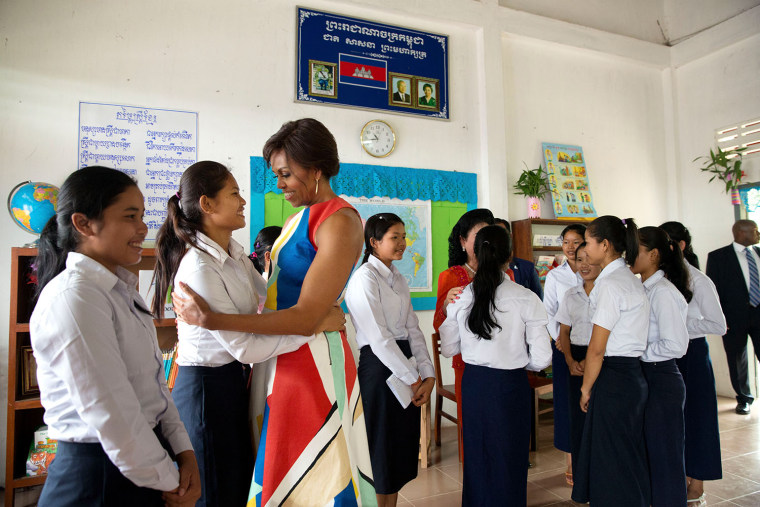 "You all are the ones that are going to change that culture, because you're going to raise your girls with a different understanding of why education is important," Obama told a classroom of girls from Jordan.
"It's going to be girls like you who are raising that next generation who are going to start to change those stereotypes and that's true for every girl all around the world."
Related:Girls' Education Threatened Across the Globe
Shahadi shared her own struggles with finding her voice and learning how to be comfortable with being confident.
"I had to learn it's okay to take up the space around me, unabashedly without the fear of being too 'aggressive,'" she said.
Obama said before tackling cultural barriers, girls around the world have to learn how to tame their own inner doubts about their place in society.
"We are haunted by the voices of other people who tell us what we can't do, and we have to work on that every single day," Obama said. "I want young girls to understand that and to be as hungry for their education as these girls who would give anything to get there's. We owe it to them to make that a reality."
Since Donald Trump's lewd comments about women from 2005 emerged last week, the national conversation around women has turned even more toxic.
But far from deterring women from participating in politics, degrading women on the national stage has led to more females in office in the past, said Michele Swers, a professor of American government at Georgetown University.
Related: It's Worse to Be Girl in U.S. Thank Kazakhstan, Report Says
Swers said the humiliation of Anita Hill during Justice Clarence Thomas' confirmation called attention to the lack of female voices in the Senate and helped elect a historic number of female senators that year.
The 1992 election was declared "The Year of the Woman" after Senators Diane Feinstein, D-Ca., Barbara Boxer, D-N.Y., Patty Murray, D-Wa., Barbara Mikulski, D-Md., and former Sen. Carol Moseley Braun, D-IL., won their campaigns.
Over time women in Congress have helped transform "women's issues" like health care and education into national issues. Swers said she hopes the 2016 campaign — for all of its divisiveness — has a similar impact.