For what's believed to be the first time ever, a senior NFL official acknowledged Monday that there's a direct link between playing football and developing degenerative brain disease — a significant shift in the discussion over head trauma caused by America's most popular sport.
Jeff Miller, the NFL's executive vice president for health and safety policy, acknowledged the connection during a roundtable discussion convened by the House Government and Commerce Committee, which is investigating concussions in the military, sports and other dangerous pursuits.
Asked by Rep. Jan Schakowsky, D-Illinois, whether he believed "there is a link between football and degenerative brain disorders" like chronic traumatic encephalopathy, or CTE, Miller noted research by Dr. Ann McKee of Boston University and said: "Certainly, Dr. McKee's research shows that a number of retired NFL players were diagnosed with CTE, so the answer to that question is certainly yes."
Schakowsky, as if surprised by the answer, interrupted to repeat, "Is there a link?" To which Miller replied, "Sure" — before noting that he is not a doctor.
The exchange begins about one hour and 26 minutes into the discussion, which the committee posted to YouTube.
NFL officials have acknowledged in that past that football can cause concussions and that concussions are dangerous. But Miller's statement is the first time any NFL official has agreed that there is a direct link between the sport and brain degeneration later in life.
As recently as Feb. 4, Dr. Mitch Berger, a member of the NFL's head, neck and spine committee, denied a link between playing football and development of CTE during a Super Bowl event.
"Well, again, we've seen evidence anecdotally of a number of players who have come to autopsy who have had the diagnosis made. We've also seen a number of players who have done very well," Berger said at a news conference.
Asked directly about a link between football and CTE, Berger answered, "No."
In 2013, the league settled a lawsuit brought by thousands of former players and their families, agreeing to pay $765 million in compensation — and to do research on concussions.
But the terms of the settlement stipulated that the league admitted no liability or that the former players' injuries were caused by playing football. And the league still faces litigation from hundreds of other former players who opted out of the settlement.
Miller's comments also come just a week after the Pop Warner youth football organization confirmed to NBC News that it had settled a high-profile lawsuit brought by the mother of Joseph Chernach, a Wisconsin man who was suffering from CTE when he hanged himself in his mother's shed in June 2012.
Related: Pop Warner Settles Major Lawsuit Over Youth Football Concussions
Chernach's mother alleged that her son killed himself because of brain injuries he suffered playing tackle football beginning at age 11. Terms of the settlement weren't disclosed.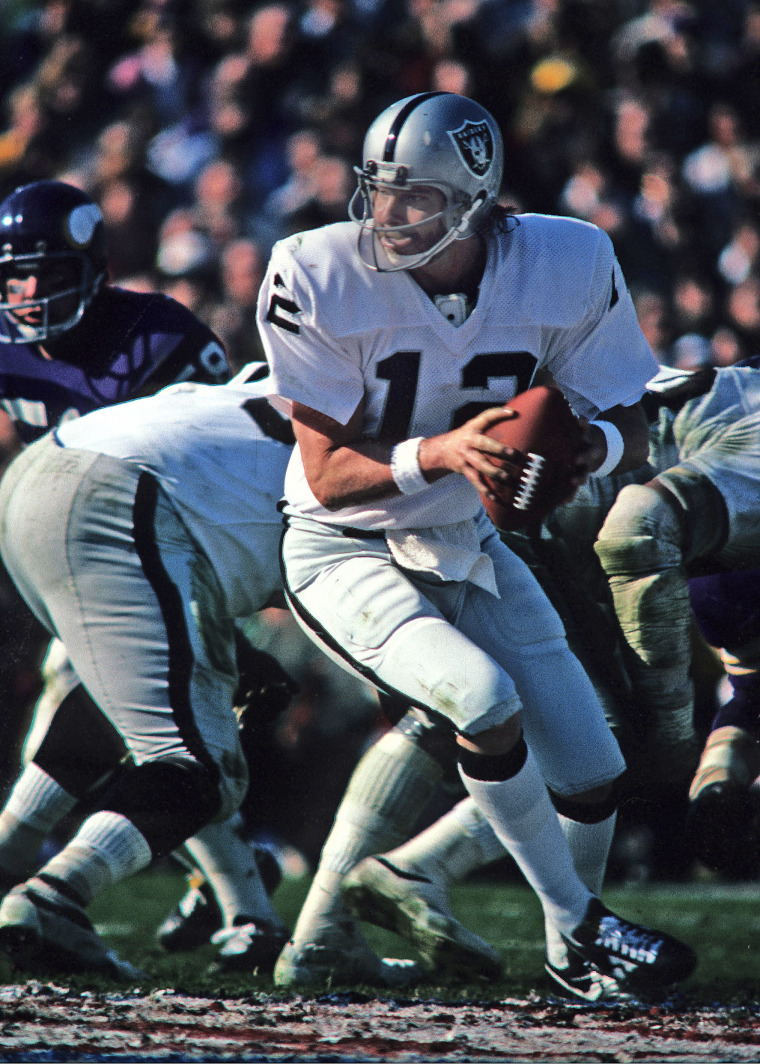 CTE can be diagnosed only after death, making it difficult to establish in a living subject. Research by McKee, which was disclosed in September, found that 87 out of 91 former NFL players had tested positive for the disease, which is believed to be caused by repeated trauma to the head.
The many former players diagnosed posthumously with CTE include Oakland Raiders quarterback Ken Stabler, New York Giants running back Frank Gifford, San Diego Chargers and New England Patriots linebacker Junior Seau and Pittsburgh Steelers center Mike Webster, all of whom have been inducted into the Pro Football Hall of Fame.