A Connecticut man who was charged with murdering his wife — after police built a case based, in part, on the victim's Fitbit data — pleaded not guilty on Friday.
The workout tracker showed that Connie Dabate was moving around her house well after the time that her husband, Richard, told police that a masked intruder with a "Vin Diesel voice" shot her dead, according to an arrest warrant filed in the case.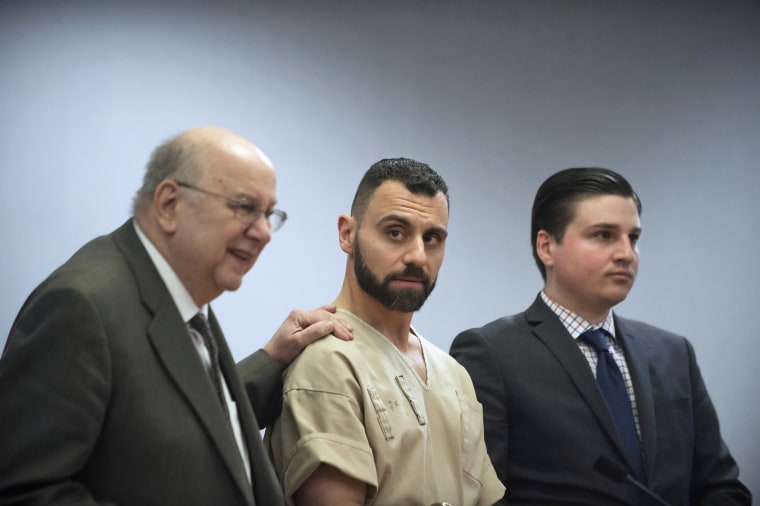 A slew of other digital fingerprints — including home alarm sensors, Facebook activity and cellphone records — also undermined Richard Dabate's elaborate account of his wife's shooting death on Dec. 23, 2015, police reports said.
And, investigators said, it wasn't hard to find a motive.
The 40-year-old computer technician had a pregnant girlfriend and had promised her he was getting a divorce, the warrant says. "I'll see you tomorrow my little love nugget," he wrote in a text message to the woman the day before the murder.
He also called about his wife's $475,000 life insurance policy five days after she was killed, the court documents say.
Watch: Connecticut Man Charged in Wife's Murder Appears in Court
Dabate's lawyer has said he is innocent and expects to be vindicated. It's not clear how much of the technological evidence will be used at trial, but criminologists say gizmos like exercise monitors and smart-home devices play a growing role in investigations.
"Ninety-nine percent of crime will now have a digital component," said Jonathan Rajewski, a digital forensics instructor at Champlain College in Vermont. "We have these little sensors all over. We're wearing them and they're in our homes.'
A 50-page warrant application lays out the state's case against Dabate in rich detail, from a minute-by-minute timeline of his movements culled from digital devices to a list his wife kept on her phone titled "Why I Want a Divorce."
"He takes money from a lot of accounts that don't belong to him, says he is sorry, but takes no responsibility for it," that list began. "He lies to people and makes them think we have a great sex life and that we are this super couple."
I'll see you tomorrow my little love nugget," he wrote in a text message to his pregnant girlfriend the day before his wife's murder.
When police arrived at the couple's Ellington house 16 months ago, Connie Dabate was dead in the basement, shot twice with a gun her husband had recently purchased. He was on the kitchen floor, with a chair zip-tied to his arm and leg and a bunch of "superficial" cuts on his body, police said.
He told investigators that he had left for work and then returned home because he was alerted that an alarm had been tripped. He claimed a robber clad in camouflage ambushed him and was holding him captive when his wife returned home from the gym.
He said he tried to warn the mother of two to get out of the house, but the intruder chased her, wrested away a gun and shot her. He claimed the man disabled him with "pressure point" techniques, tied him to a chair, began stabbing him with a knife, and burned him with a blow-torch.
He supposedly was able to turn the flame on the assailant, who fled. By Dabate's account, he then dragged himself up the stairs and called 911.
But police dogs picked up no scent of an intruder, and blood stains in the house didn't match up with his story.
And the details he provided kept changing, said authorities. First, he told detectives that his wife knew he had helped out a unmarried friend by impregnating her and that the three of them planned to co-parent the baby. Later, he admitted his wife was unaware of the affair or the baby, the warrant says.
The warrant includes a list of digital clues that goes on for pages. Among them: the last record on Connie Dabate's Fitbit recorded her walking 1,217 feet at home between 9:18 a.m. and 10:10 a.m.
That showed she was moving around an hour after her husband claimed the intruder killed her and that she covered 10 times the distance between her car and the basement — the path her husband said she took.
Rajewski, the forensics instructor, said that kind of evidence-gathering will only become more prevalent. A couple of years ago, a cellphone and a computer was all police had to worry about, he said.
Now there are cases being made with information from products like the Amazon Echo or tiny security cameras that upload automatically to the cloud.
It creates a challenge not just for criminals trying to cover their tracks, but for investigators who have to collect and analyze all the data and for courts that have to weigh privacy issues.
"It can be a case of too much information," he said.
Dabate, who was charged in mid-April with murder and evidence tampering, is free on $1 million bond. He said little at Friday's hearing but did make a statement shortly after his wife's death — on Facebook, naturally.
"Many questions, unanswered, but we are all doing our best to move forward, as impossible as it seems," he wrote.