The first all-girl quintuplets born in the United States were delivered in Houston last week and are "thriving," their proud father said Wednesday.
The girls, born at Women's Hospital of Texas, are also the first all-girl quintuplets known to have been born anywhere in the world since 1969.
Their parents, Danielle and Adam Busby, spoke to reporters from the hospital, flanked by doctors who supported them during the pregnancy and delivery — a cesarean section April 8.
"The doctors, we owe a lot to them. We had the best team of doctors there. We had the A-team to assist with this birth," Adam Busby said. "Now we have five baby girls back in the NICU that are thriving."
The girls were born at 28 weeks and two days gestational age. It took just four minutes to deliver Olivia Marie, Ava Lane, Hazel Grace, Parker Kate and Riley Paige, the hospital said. Ava and Olivia are identical twins.
More than a dozen medical personnel assisted in the delivery — and five medical teams were assembled to provide care after the babies' arrival.
Danielle Busby "followed all the recommendations" and carried her pregnancy "extremely well," said Dr. Alexander Reiter, who delivered the quintuplets with the help of the other medical personnel.
While a pregnancy with that many multiples is risky, the babies "were all jumping inside the uterus" and healthy, he said.
Danielle, already mother to a 4-year-old daughter, said she had been very active before she got pregnant with the quintuplets, running and getting in shape. Once she was pregnant, she said, her focus was on keeping them healthy.
"I had a 4,500-calorie diet, which is laughable. I tried my best to do it," she said.
The parents smiled as they talked about how long it took them to come up with names, and said they were grateful that so many friends, family and church members had volunteered to help them once they bring the babies back to their three-bedroom house.
The Busbys conceived both their first pregnancy and the quintuplets with the help of intrauterine insemination (IUI) fertility treatments and said their deep Christian beliefs made them certain they wanted to proceed, risks and all.
"I don't see life without them now that I've seen them in person," Danielle Busby said.
The babies were all born between 2 pounds and 2 pounds 6 ounces, doctors said. All are on oxygen to help their premature lungs, Dr. Jayne Finkowski-Rivera said on Wednesday.
The newborns are exceedingly rare. The number of quintuplets and other higher-order births in 2013 totaled just 66 nationwide, according to the latest figures from the National Center for Health Statistics.
Higher-order multiple gestations — pregnancies with three or more fetuses — carry big risks for both the mother and the babies, who are more often than not born prematurely, said Dr. Edith Gurewitsch Allen, associate professor of OBGYN in the division of maternal fetal medicine at Johns Hopkins University.
"The first and biggest risk is survival," she said. "We generally agree in the United States that at around 23 and a half weeks is the earliest that a baby could be born and still survive ... And then we worry of those that survive, how many will have long-term complications, the most significant of which are things like cerebral palsy, chronic breathing problems, chronic feeding problems, blindness, things like that."
For the mother, the greatest risks are pregnancy loss, because the more fetuses there are, the less likely they are to make it to the age of viability, she said.
"Beyond that, the delivery itself very commonly in higher-order multiple gestations is going to going to be a cesarean delivery, which is riskier," she said. "There's also risks of anemia, preeclampsia, gestational diabetes — that's more common, the more fetuses there are."
Such pregnancies need to be followed very carefully, and options are always discussed with the expectant parents.
"There is something called multi-fetal pregnancy reduction. That is where solely based on the idea that reducing the number of pregnancies will improve the outcome for the rest of the babies who are left behind, you terminate one or more of the fetuses," she said. The procedure carries risks, but may result in some babies surviving versus none.
"Of course people have moral objections to it. It's a highly personal decision," she said. "We try to give real objective, statistical outcome for as many babies as possible."
Adam Busby said it's taken a while for the realization that he's the father of six girls to sink in, but that he is "overjoyed by it."
But the financial challenges are already clear to the parents: On a website to help cover expenses, the Busbys wrote, "We are in for a long road ahead."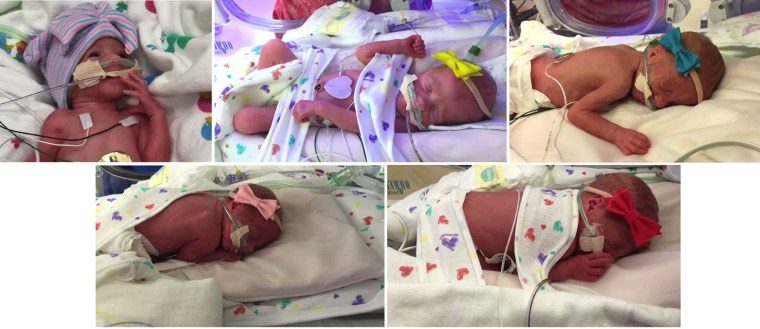 The newborns are exceedingly rare. The number of quintuplets and other higher-order births in 2013 totaled just 66 nationwide, according to the latest figures from the National Center for Health Statistics.
Doctors did not say when the girls might be able to leave the hospital, but said they are doing well.
Big sister Blayke can't wait to have her sisters home, her parents said.
"She thinks it's normal for mommies to have five babies," Danielle Busby.