The father who drove his family into an Arizona lake early Sunday morning, killing himself, his wife and their three children, possibly committed "murder-suicide," Tempe Police Lt. Michael Pooley said Monday.
The family has been identified as 27-year-old Glenn Edward Baxter, his wife, Danica, 25, and their three children: Zariyah, 1, Nazyiah, 2, and 3-year-old Reighn.
Glen Baxter "took deliberate actions," Pooley said, "when he drove his family into the Tempe Town Lake."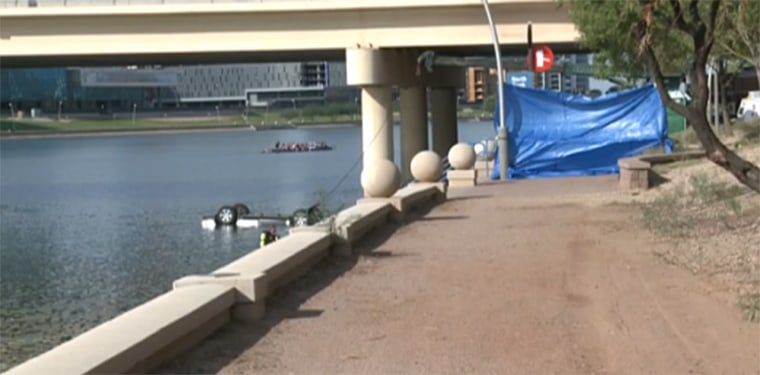 When the family's SUV plunged into a reservoir in the middle of Tempe just after midnight, witnesses and police followed it in and pulled the parents and two children to shore. The body of a third child, Reighn, wasn't discovered until 10 a.m. Sunday by a dive team.
Nazyiah briefly survived the incident, though after spending Sunday in "extremely" critical condition, Pooley said, the boy died that afternoon.
Reached by phone, a relative of Baxter's declined to speak to NBC News.
The Associated Press reported that the couple married in April 2012 but separated earlier this year. A relative, George Britt, told the AP that Danica — citing her estranged husband's anger management problems — refused his efforts to get back together.
An aunt of Danica Baxter, Tamika Franklin, told the AP that her niece "would never do anything to hurt her kids."
"Everything she did was for her kids," Franklin said. "Her kids were her life."