Black Friday isn't just on Friday anymore.
The annual holiday mega-retail event began Thanksgiving evening in many stores, and the corresponding deals, continuing through the weekend, are predicted to yield the biggest Black Friday sales in history.
In its annual holiday shopping forecast, the National Retail Federation expects holiday sales to increase 3.6 percent — higher than the seven-year average since the Great Recession. The growth is expected to create 690,000 new seasonal jobs as consumers relieved that a nasty presidential campaign is behind them open their wallets, the federation said.
Caity Jackson of Lima, Ohio, was one of many who got an early start by walking off her Thanksgiving turkey dinner at Lima Mall on Thursday.
"We had dinner at 1, then we were at Penney's by 3, waited in line at Old Navy and have been in line at Victoria's Secret waiting to get in," Jackson told NBC station WLIO on Thursday night.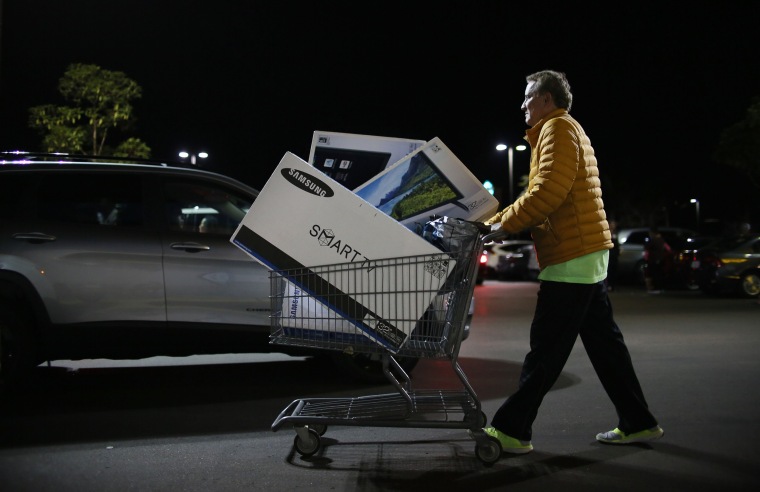 "A lot of people take this time to be together," she said. "They may eat early and then come out and shop early and spend all night shopping — and we love it."
A line of shoppers snaked around a Best Buy store in Williston, Vermont, before 5 p.m. Thursday. Some told NBC station WPTZ of Burlington that thay'd been there since 9 in the morning.
"I'm buying one laptop for my mom and then another for my friend, and they're both paying me backm because they didn't want to wait in line," one of them, Niki Rodgers, said Thursday night.
But people aren't necessarily going to the stores. Shoppers continue to take more and more of their business online.
Adobe Digital Insights said in its annual holiday shopping predictions that it expects sales to go as high as $8.4 billion in three days of online shopping: $2 billion on Thanksgiving Day, $3.05 billion on Black Friday and $3.36 billion on Cyber Monday — which it said would be biggest online shopping day of all time.
"The deals are on," said Vitaly Pecharsky, head of tech operations for the online deals site Slickdeals.
"Basically, until a week before Christmas, we're going to see a lot of sales," Pecharsky told NBC station KSNV of Las Vegas. "You'll see Black Friday 2.0 and Black Friday 3.0."
Related: Black Friday Is Also the Best Time to Get a Travel Steal
Pecharsky said Thursday that the big sales drivers are TVs, gaming consoles tablets and laptops.
"We've seen deals go in 60 seconds," he said. "You have to have your credit card ready, you have to have your shipping address ready and you have to go."
In case you do miss your deal online, physical stores are pulling out all the stops.
Walmart made sure it had plenty of stock on hand to meet its Black Friday promises, filling its digital and physical aisles with more than 1.5 million televisions, nearly 2 million tablets and computers and 3 million video games.
Related: Black Friday Shopping: Your Guide to Avoiding the Duds
Macy's opened its doors at 5 p.m. on Thanksgiving Day and remained open until 2 a.m. for holiday shoppers looking for the department store's promised deals. The stores reopened at 6 a.m. on Black Friday.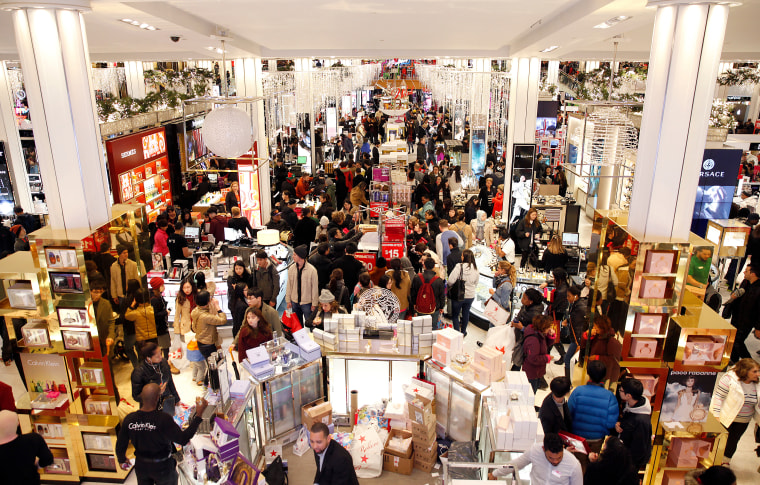 Macy's said that it's staffing stores with every associate who volunteered for the shifts, all of whom will get overtime pay.
But some stores and organizations are telling consumers to forget about the deals and to "opt out." The outdoor clothing and equipment chain REI went dark for Thanksgiving and Black Friday to promote "#OptOutside" with the help of 275 other organizations.
The company closed all of its stores and said it would process no online sales — while still paying its more than 12,000 employees for a full day's work.
But this favored day of retailers also takes on a tinge of politics, as protesters aim to disrupt a few shopping opportunities.
In New York City, demonstrators opposed to President-elect Donald Trump plan to take to the streets outside Niketown inside Trump Tower. The protesters want the store not to renew its lease, which ends in 2017 — and earns Trump, the landlord, a princely (or should that be presidentially?) chunk of change.
Related: How to Keep Your Spending in Check This Holiday Season
Meanwhile, the Chicago Alliance Against Racist and Political Repression has organized a boycott of Black Friday sales on Chicago's Magnificent Mile, the stretch of Michigan Avenue that's filled with upscale retailers.
The boycott is in response to the city's refusal to create an elected Civilian Police Accountability Council to ramp up oversight of the city's police.
"We have called for a Boycott of the Magnificent Mile on Black Friday because if we can have no justice then the corporate power brokers, and corrupt politicians, will no longer be allowed to profit from our misery and oppression," the organizers said in a statement.