A crew is searching a Chicago lagoon for a roughly five-foot alligator after residents reported seeing the reptile lurking in the waters.
Chicago Police tweeted Tuesday that they had received several calls about a gator at Humboldt Park Lagoon and notified animal control so the reptile could be "humanely trapped" and relocated to a zoo for evaluation.
"We've independently confirmed the alligator is in the lagoon and state reptile specialists say it's between 4 and 5 feet long," Chicago Police spokesman Anthony Guglielmi tweeted, saying it was an "unusual news day."
As of Wednesday afternoon, a crew was still trying to safely catch the gator.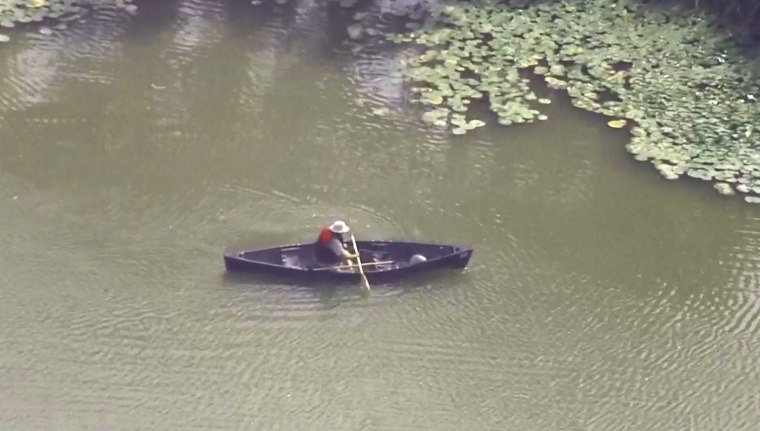 A member of the Chicago Herpetological Society, who only describes himself as "Alligator Bob," said in an interview with Chicago's Animal Care and Control that they set up three traps containing a chicken, a rat and fish to try and lure the alligator.
"We hope to make it quick and safe for everyone," he said.
Bob said they believe the alligator was raised as a pet and then dumped into the lagoon. According to NBC Chicago, American alligators are illegal in Illinois.
Bob also said he doesn't think the gator will "jump out of the water and attack people," but they are expecting it to become "vicious" once it's trapped.
"He's going to do anything and everything he can because he's never been trapped before," he said. "He's in shock already."
Although gators in Chicago waters are rare, it's not the first time one has been captured in the area. In 2008, Bob helped catch a five-foot alligator in Bubbly Creek, he told Animal Care and Control. In 2010, he also helped trap a gator in the North Branch of the Chicago River, the Chicago Tribune reported.