One person is dead and four others injured after a shooting unfolded toward the end of the route of Sunday's Krewe of Bacchus parade, one of the largest of Mardi Gras season in New Orleans, police said.
The shooting was reported at 9:30 p.m., police said, along the busy Uptown parade route. It's a stretch, populated with bars, where large crowds assemble.
A reporter for NBC affiliate WDSU of New Orleans was at the scene and said the parade stopped when gunfire broke out.
"I thought it sounded like 20 gunshots," witness Stacey Morigeau told the WDSU reporter. "It was rapid-fire. And everybody started running."
Police officials said at an informal news conference that officers were nearby, heard the gunfire and rushed to the scene, near St. Charles Avenue and Terpsichore Street. There, they found the five victims and two handguns.
Police initially said five people, a girl, a woman and three other people identified as males, had been injured in the shooting. All were taken to a hospital, where one of the male victims was later pronounced dead, they said. The other four victims were in stable condition as of early Monday morning.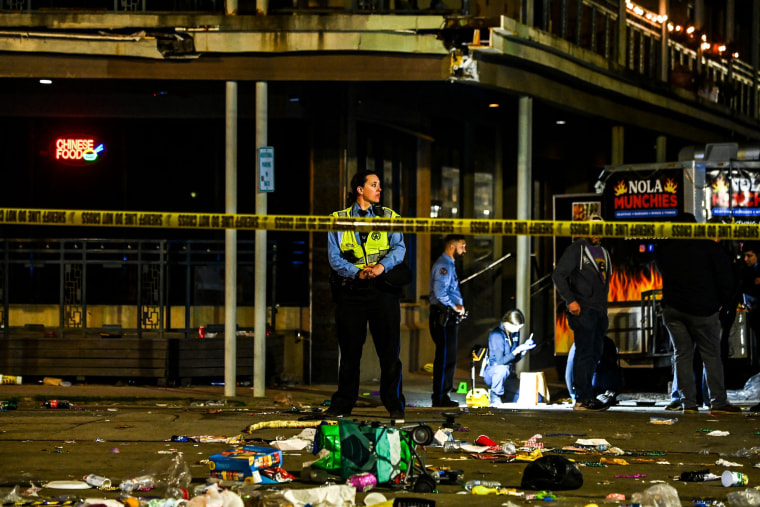 It wasn't clear what led to the violence.
A suspect was apprehended less than a block away and two weapons were confiscated, police said.
The parade, a major event in Carnival season in the city, had been scheduled to begin at 5:15 p.m. Sunday.
Mardi Gras is Tuesday.
Deputy Police Superintendent Hans Ganthier expressed disappointment and said local law enforcement was doing all it could to ensure a safe Mardi Gras this year.
"With the quick apprehension they made, they were able to keep the rest of the public safe," he said of responding officers.
"That said, this is really not something we wanted to see," Ganthier said. "We really wanted it to be a safe Mardi Gras, and we continue to work toward that end."