The suicide of a transgender teen from Ohio — who wrote an anguished note pleading, "Fix society" before walking into the path of a truck — has struck a chord across the country.
Others who have transitioned from one gender to another took to Twitter to post their stories under the hashtag #RealLiveTransAdult. An advocacy group called for a national effort to ban "conversion therapy." And an online petition calling for the teen's family to use her chosen name on her tombstone has gathered 35,000 signatures.
The death of 17-year-old Leelah Alcorn, who was called Joshua by her family, also highlighted the high suicide rate in the transgender community. Advocates say 40 percent of trans youth report attempting to take their life at some point, although data is limited.
"Suicide attempts are higher for trans youth because they face high rates of discrimination, rejection, fear and hatred than other youth," said David W. Bond, a clinical social worker who is vice president of programs for the suicide-prevention group The Trevor Project.
"These youth are trying to understand and build their identities in a world that tells them they are wrong for who they are."
In a posting on her Tumblr account, verified by NBC News, Alcorn said her parents did not accept her identification as a female and she felt shunned by the world at large.
"Either I live the rest of my life as a lonely man who wishes he were a woman or I live my life as a lonelier woman who hates herself. There's no winning. There's no way out. I'm sad enough already, I don't need my life to get any worse," Alcorn wrote.
"People say 'it gets better' but that isn't true in my case. It gets worse. Each day I get worse."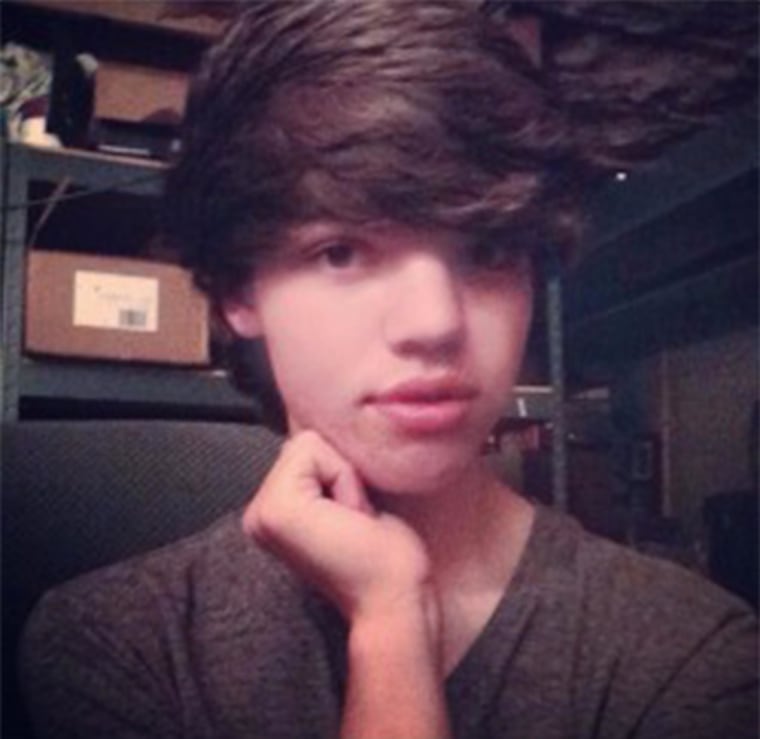 Early Sunday, Alcorn left home in Kings Mills and walked in front of a tractor trailer on Interstate 71. The Warren County coroner is waiting for toxicology results before issuing a cause of death, but lead investigator Doyle Burke told NBC News, "It's going to be ruled a suicide."
Alcorn's parents did not return phone calls Wednesday. A minister at the church where her wake and funeral service will be held said in an email that he could not comment. "Our focus right now is to help a family broken by tragedy to grieve and heal," Tim Tripp of Northeast Church of Christ said.
In the suicide note, Alcorn said she had felt like a girl trapped in a boy's body since she was four but did not learn what transgender was until she was 14. She came out to her parents, who took her to Christian therapists and denied permission for transitioning treatment, she wrote.
A friend who worked with Alcorn at the Kings Island amusement park last summer said she didn't agree with the parents' reaction — or the vitriol heaped on them after the note went viral.
"They did what they thought was right and it's very difficult to actually put ourselves in the situation. They lost a child," said Azalea Laverde, 16. "We need to stop harassing them and focus on bringing awareness and promoting equality to transgenders."
Laverde said she called Alcorn Josh until about a month ago, when she came out as transgender. "I told her, 'I'm proud of you for telling me, and I support you 100 percent,'" she said. "She never told me how depressed she was."
Alcorn said in her note that she wanted her belongings sold and the money donated to transgender rights and support groups, and she begged for change in the way her community is treated.
"My death needs to mean something. My death needs to be counted in the number of transgender people who commit suicide this year," she wrote. "I want someone to look at that number and say 'that's f---ed up' and fix it. Fix society. Please."
Bond said he was concerned that the attention Alcorn's death received could have negative repercussions.
"Many people think it's going to spread awareness," he said. "But an enormous challenge is that contagion is very real in suicide. We don't want to send the message that being trans means being suicidal or that if you take your own life the world will respond to you in this way."
He encouraged trans youth considering suicide to call the Trevor Lifeline: 866-488-7386.