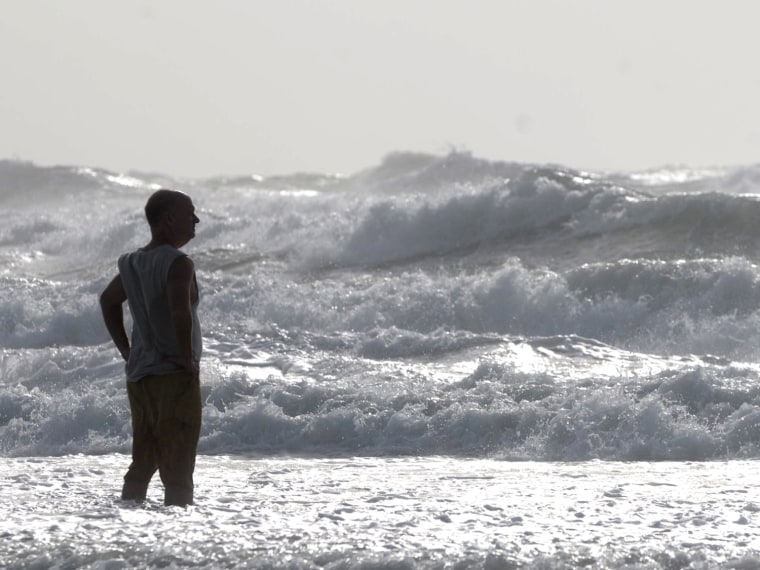 Weakened but still plenty wet, Tropical Storm Andrea steamed up the East Coast on Friday, prompting worries of flash floods and watches for tornadoes.
The first named storm of the hurricane season won't likely be the worst, but a broad swath of the Interstate-95 corridor still will receive 2 to 4 inches of rainfall before the storm spins off Nova Scotia on Saturday night.
The National Weather Service said at 5 p.m. ET that the storm had been reduced to a post-tropical cyclone as it made its way northeast.
The threat of tornadoes and possible thunderstorm wind damage was expected from eastern North Carolina to southeast Virginia, southern Maryland, Delaware and southern New Jersey on Friday, the Weather Channel reported.
Flooding from heavy rain became the main concern of meteorologists early Friday.
"From Florida to Maine, we're expecting a swath of two to five inches of rain, so there could be some localized flash-flooding, especially in urbanized parts of the Northeast," Weather Channel meteorologist Jon Erdman said.
In South Carolina, a male teenage surfer has gone missing, NBC affiliate WMBF reported early Friday afternoon. A search team is spread out along the beach where he was surfing with his brother, but they have only been able to recover a surfboard.
Flood watches were in effect over a huge part of the East Coast, from Maine to Georgia, and Northeasterners who lived through Hurricane Sandy were on alert Friday.
Hoboken, N.J., resident Brian Smalleys, who spent hundreds of thousands of dollars repairing his home after Sandy, told NBCNewYork.com that he has trouble sleeping when it rains heavily now.
"I just get nervous. I don't want it to happen again," he said.
Flash-flood watches were announced for major cities including Washington, Philadelphia, New York and Boston.
New York has activated its flash-flood plan — ready to send alerts to people's cellphones -- and issued a hazardous travel advisory as moderate to heavy rain was expected through early Saturday.
In Florida, Andrea left behind considerable damage. 
The weather service recorded eight tornado reports in the state, with damage to houses and trees and downed power lines.  Over 12 inches of rain accumulated in North Miami Beach and one person was injured in Palm Beach County, the service said.
The weather service predicted that Andrea would clear the United States and head to sea by late Saturday.
Related: