There was a flashback to 1973 in a Michigan town over the weekend when the price of gas plunged to 47-cents a gallon at one station.
The Beacon and Bridge Market in Houghton Lake stuck it to their competitors by slashing prices Sunday to a level not seen since Richard Nixon was president and disco was king.
And Michigan motorists went mad.
"It was ridiculous," a clerk named Ronda at the popular stop on Lake City Road told NBC News. "There were so many cars the police were called in to direct traffic."
By Monday, the price of regular was back up to 2016 levels — a still low $1.43-a-gallon.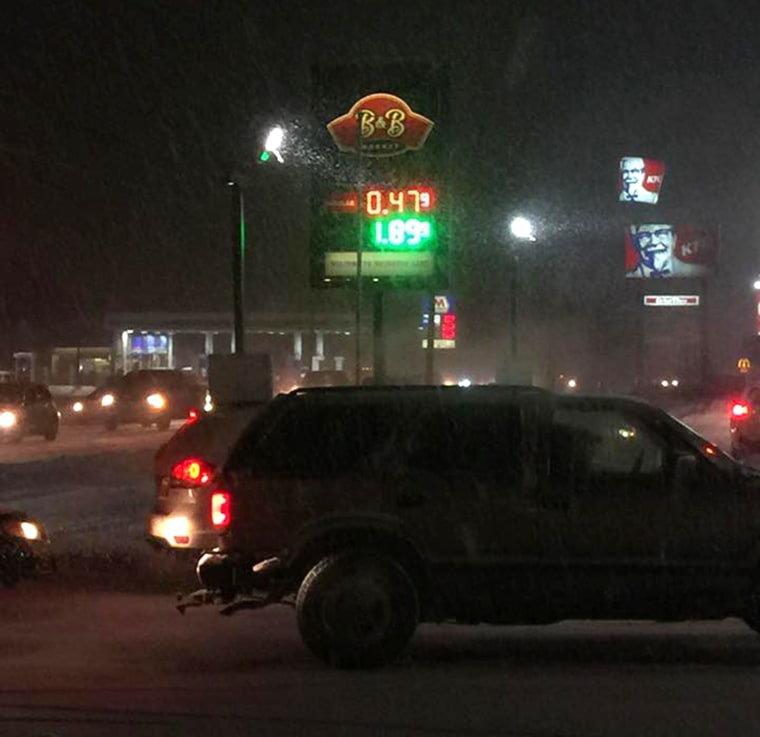 Asked if they plan to lower the price below 50 cents anytime soon, a spokesman at Beacon and Bridge Market's corporate office in Flint, Michigan said, "No comment."
But the GasBuddy.com website, which tracks petrol prices across the country, reported Monday that gas prices were continuing to fall or stay the same in every state except South Dakota, Hawaii, Nevada and Iowa.
As of Monday, the average cost per gallon in the U.S. was $1.889 — down 17.2 cents from last year's average of $2.061-per-gallon, according to the web site.
Gas prices have tumbled during President Obama's two terms, a decline due to a doubling of domestic oil production and the plunging price of a barrel of crude, which has been cut by more than 60 percent since the June 2014.
The highest recorded average for a gallon of regular was July 16, 2008, according to GasBuddy.com. A former Texas oilman named George W. Bush was in the White House at the time.