Five people were taken to hospital – one of them in a critical condition – after a United Airlines jet ran into severe turbulence on a flight from Denver to Billings, Montana, on Monday.
A passenger said one woman hit the cabin ceiling so hard that she cracked a panel during the incident, which happened as the Flight 1676 was making its descent for a scheduled landing at 1:23 p.m. local time (3:23 p.m. ET).
Three flight attendants and two passengers went to hospital, the airline said in a statement. All were released except for one flight attendant.
St. Vincent Healthcare in Billings said the remaining patient was in a critical condition.
Joe Frank, 20, a passenger on board on the Boeing 737-700 told The Denver Post in an e-mail that the aircraft dropped suddenly and with such force that an infant flew from a parent's arms and landed, unharmed, in another seat nearby.
"The sudden drop pulled everyone out of their seats, and I mean hard," Frank told the newspaper.
Another passenger, Bill Dahlin, told local station KTVQ that one woman hit the ceiling so hard it cracked the panel above her head.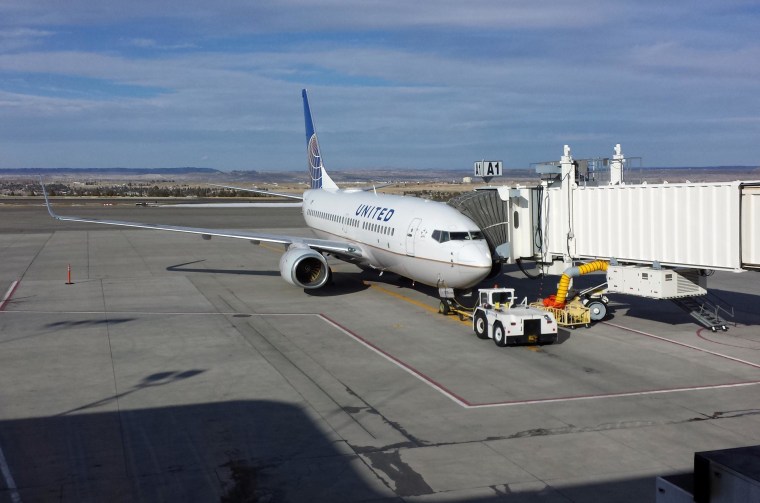 "There was a lot of screaming, a lot of hollering," Dahlin told KTVQ.
In a statement, United Airlines said there had been 114 passengers and five crew members on board the flight.
"The flight encountered severe turbulence upon descent into Billings, Montana," the statement said. "Three crew members and a number of passengers were injured. Our primary focus is assisting our employees and passengers who were injured, and our flight safety team will review what happened. "
Tricia Culligan of NBC News contributed to this report.